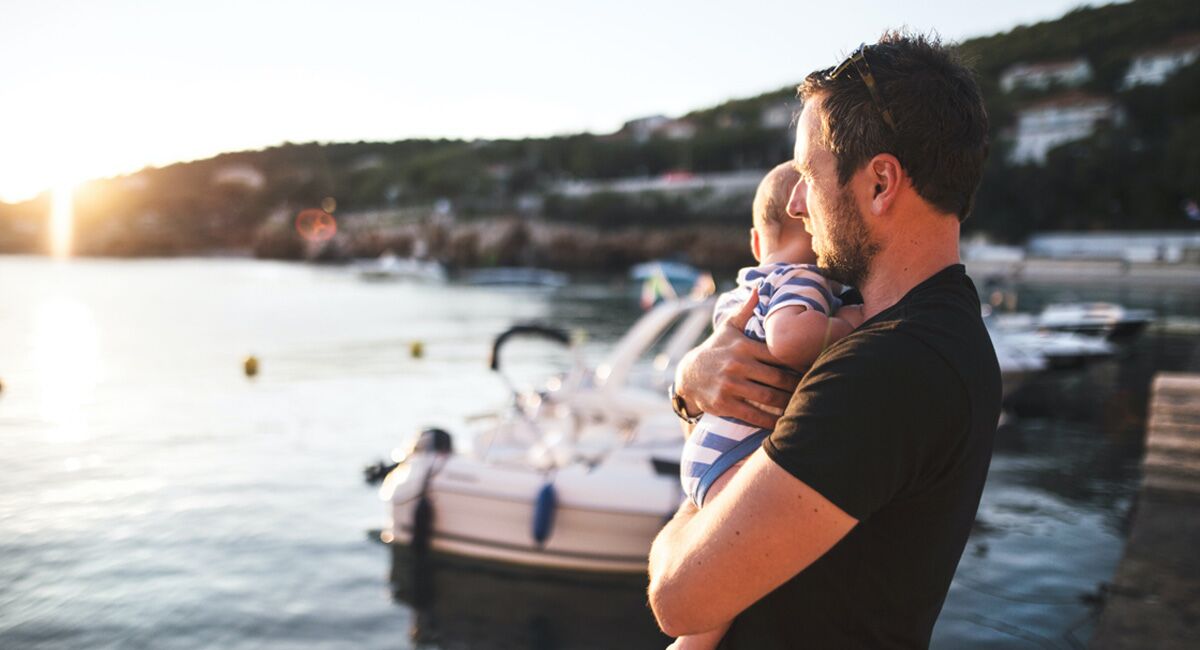 Bringing Babies And Infants On A Boat: Is It A Good Idea?
You may be apprehensive about taking your new baby or infant on a boat as a new parent.
Can they go on boats? Is it a good idea?
In this blog post, we will explore bringing infants and babies on boats. We will discuss the pros and cons of taking infants on a boat, and give you some tips for making the experience safe and enjoyable for everyone involved!
Don't Become A Boating Statistic.
Boating is a very popular family activity in the United States. Just over 17 million recreational boats are in use in the country, according to the 2021 figures from the National Marine Manufacturers Association.
Yet, there are risks involved.
For example, in 2021, the Coast Guard reported 5,265 boating accidents that involved 767 deaths, the vast majority of which were due to drowning.
Of those drowning victims, 86% were not wearing a lifejacket – even though the law requires life jackets to be worn by every occupant on board.
(Related: How To Prevent Your Child From Drowning).
11 Rules For Boating With An Infant.
The biggest hazard to boaters with infants isn't weather, water or other boaters. It's complacency.
People ignore simple rules that, as mundane as they may seem, are very effective at ensuring boating safety.
1. Wait Until They're Older.
Newborn babies do not belong on a boat. As a rule, don't take infants weighing less than 18 pounds on your boating adventures.
Your baby will reach this weight at about 7 months (if it's a boy) or 9 months (if it's a girl) of age.
By waiting until your infant baby reaches sufficient weight, you're ensuring that they'll be able to wear a properly fitted infant life jacket.
Expert Tip: an exception to this rule is if the boat is anchored or is moving slowly no further than a few hundred feet away from the marina.
2. Create A Pre-Departure Checklist.
The problem with recurring tasks (like packing lots of small items for a boat trip) is that becoming complacent is easy.
Their menial nature lulls you into a false sense of confidence. You tell yourself that you can remember every item you must bring. Yet, your life is busy; getting distracted and leaving an important item behind is easy.
I've seen it happen on many occasions. Do any of the following sound familiar?
Your phone rings while you're looking for an infant life vest.
Your older child decides to have a meltdown while you're packing food for the infant.
Expert Tip: Checklists are also important when multiple people are involved. Your partner may assume that you're responsible for bringing extra clothes for the kids, while you also do the same.
Quite a few free smartphone checklist apps are available. Todoist and Google Tasks are my favourites, but you should choose the best one for you by checking out this list.
(Related: 10 Best Baby Floats).
3. Create A Boarding Process.
Boarding is inherently risky because it involves transitioning from a stable surface to a floating one, often via a water gap.
Two of the best approaches for boarding are:
The Football. You pass the infant to another adult who is already on the boat.
The Catch. You hold the baby tightly and step across while another adult, who is already on the boat, is ready to steady you upon arrival.
(Related: Best Life Jackets For Infants).
4. No Alcohol While Infant Is On A Boat.
You should never drink alcohol while you're operating a boat, and this rule is doubly important when you have an infant on board. The person who is responsible for the child should not be consuming alcohol.
Not only can alcohol impair your judgment, but it can also make it harder for you to react quickly in an emergency situation.
(Related: Best Floaties For One and Two Year-Old Toddlers).
5. Bring An Infant Life Jacket.
Never take your infant on a boat ride without them wearing an infant life jacket. Resist the temptation to think you don't need one – even if you're going for a short ride on calm waters.
Your infant should be wearing a life jacket at all times while on the boat. No exceptions.
(Related: How To Choose The Right Life Jacket For Your Child).
6. Don't Rely on Swimming Aids
Water wings or pool noodles are great for entertaining your youngsters, but you should never use them in place of a U.S. Coast Guard-approved personal flotation device (PFD) or a lifejacket.
(Related: Is Kayaking Dangerous?)
7. Know How To Contact The Coast Guard.
What will you do if your infant falls into the water and needs medical help?
Expert Tip: Infants can drown in as little as 20 seconds, and it only takes two minutes to suffer irreparable brain damage.
Have the local Coast Guard's office phone number stored in your phone, so that you can call them in case of an emergency.
Yes, the boat will have a marine radio with a direct line to the US Coast Guard, but you need to have a backup process in case the radio is damaged or the people who know how to use it are incapacitated.
(Related: Best Life Jackets For Toddlers).
8. Keep Your Infant Warm.
During boat trips, infants can get cold easily, so bring a blanket or two to keep them warm. Marine weather can change quickly, so bring them even if you think you won't need them.
Expert Tip: It's also a good idea to dress the kid in layers, as this will give you more flexibility in regulating their body temperature.
9. Create Dedicated Shade For Your Infant.
Because of infants' gentle and sensitive skin, you should avoid using sunscreen. Instead, protect them from the sun by:
Making sure your boat has a sufficiently large shade canopy.
Dressing your baby in a long-sleeved swim shirt.
Putting a wide-brim hat on the infant's head.
(Related: Best Life Jackets For Kids).
10. Ensure That The Weather Is Calm.
Check the weather radar and forecast before heading out. Babies and infants are sensitive to jerky movements, so choosing a calm day with smooth waters is important for your water adventure.
Weather can change quickly. Keep checking the weather forecasts every hour to avoid bad weather.
Expert Tip. More than three-quarters of boating accidents occur in fair weather and broad daylight, with good visibility, light winds and calm waters. And boaters are 10 times as likely to die on a lake, pond or bay than on the high seas.
11. Don't Be Frugal When It Comes To Packing.
Think like a scout! Be overprepared. Bring extra waterproof diaper bags, food, pacifiers, waterproof toys, clothes, baby formula and sunscreen.
Expert Tip: Make sure your diaper bag is waterproof. You'll thank me later 🙂
Frequently Asked Questions About Infants On A Boat.
Which Waterways Are Best For Boating With Kids?
If you're new to boating and live on the East Coast of the United States check out the Intracoastal Waterway, which runs for 3,000 miles along most of the Eastern Seaboard.
It starts in Norfolk, Virginia, passes through Fort Lauderdale, Florida and ends in Brownsville, Texas.
West Coast families need to be more careful, as waves here tend to be larger than in the Atlantic or the Gulf of Mexico. Nonetheless, Seattle, San Diego, and San Francisco offer plenty of calm waterways that you can explore with your infant on board.
Alternatively, go for boat rides in your local river or a lake. Avoid heading out into the ocean, where the waters may be more unpredictable and rough.
(Related: Are Puddle Jumpers Coast Guard Approved?)
Do Small Babies Need To Wear Infant Life Jackets?
Yes, absolutely. Moreover, you're responsible for ensuring that the life jacket fits properly. Visit USCG Boating for help with the sizing of a personal floatation device for your youngster, and use this test as an additional measure:
Put it on your infant.
Tighten the straps.
Lift the baby by the life jacket's shoulders.
The life jacket is too big if your infant's chin slips down through the opening.
Can Infants Get Seasick?
Yes. While seasickness is most common in older children (usually between the ages of two and twelve) babies can get it, too.
Can Infants Go On A Boat?
Yes, infants can go on a boat, as long as you follow the rules in this guide and follow precautions.
Infants are more vulnerable to the elements than adults, so keeping them warm and protected from the sun is important. You should also avoid taking them out in rough waters.
Tamara