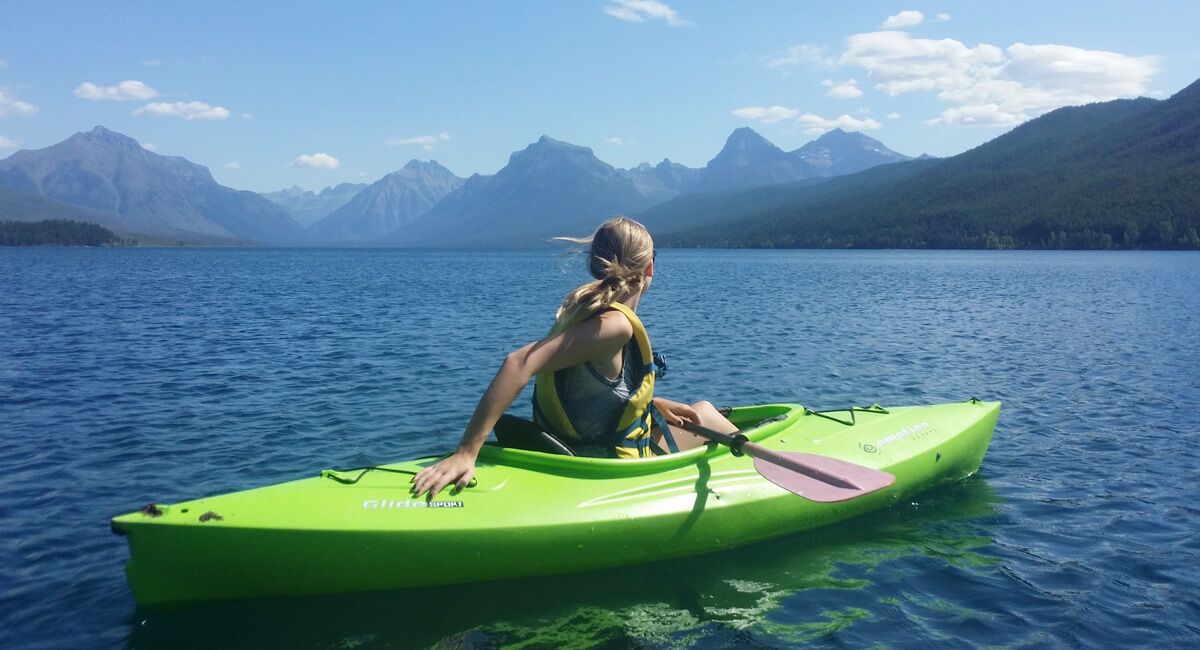 How Old Do Kids Have To Be To Kayak Alone?
Kayaking with children can be challenging, even more so when they are excited to explore independently. Whilst younger children should never kayak unsupervised, the good news is – tandem kayaks exist!

Kayaking is an activity that can strengthen your relationship, foster your child's appreciation for nature, and allow your child to feel capable and confident.
Read on to learn more about the proper age for children to kayak alone, plus our tips to ensure you and your child feel safe on the water!
(Related: Is Kayaking Dangerous?)
At What Age Can Kids Kayak Alone?
Most companies state that children can kayak as young as six.

If your child has experience swimming and kayaking, there is less concern. There should still always be an adult present to assist in the event of an accident.
If your child is older than ten, they may be ready to kayak alone for short distances in an area they are familiar with. You should ensure the following:
Familiarity with the route.
Ability to follow instructions.
Calm water and air conditions.
Shallow waters.
Prioritising safety will allow your child to focus on paddling and enjoying the activity in a comfortable environment. Like anything, practice makes perfect!

It's important to note that you know your child best. If they need more time and guidance to feel confident kayaking, there is no need to rush.
What Do Kids Need To Kayak Alone?
Kids need the same safety precautions, and equipment adults need for kayaking, and a little more care, encouragement, and a watchful eye.

Your child should be equipped with the knowledge of what to do if the kayak tips over – most importantly, not to panic.

Make sure your children also have the below essentials before they're allowed to tackle their kayak.
1. Life Jackets.
Life jackets are essential for child safety whenever in and around water.

These jackets:
Ensure your child will float in the event of the kayak tipping.
Provide the child with a sense of safety and confidence.
Show the child which way is up (if they fall into murky water).
Always ensure the life jacket sits correctly and remains tightly secured before taking off on your journey (explore the most recommended options for kids' life jackets).
2. Spare Paddle.
Every kayaker should have a spare paddle ready, children especially.
While paddling, it's common for children to lose their grip and drop their paddles into the water.
An extra paddle will ensure your child isn't stranded or stuck if they can't get their paddle back.
You can shop for paddles here.
3. Sun Hat.
A sun hat is a must on American waterways.

Not only does it prevent sunburn and keep your child cool, but it also allows them to see clearly without the sun in their eyes. You should also consider the following:
Waterproof sunscreen reapplied every four hours (SPF 50+).
A rash vest or shirt.
Sunglasses.
Water shoes for grip and stability.

For US sun safety guides, please read here.
4. Water.
Kayaking can exhaust energy – it is a sport, after all! It's so essential for little ones not to become dehydrated or overheated when spending time outdoors. Our tips:
Pack extra water in your child's kayak.
Take frequent water breaks and encourage them to drink.
Pack a cooler bag with juice or other cold drinks.
Other tips for preventing heat stroke and exhaustion are here.
5. Snacks.
Snacks are essential for your child's energy throughout a day of kayaking. This type of strenuous effort requires regular carbohydrates and natural sources of fat to maintain energy.
You should add easy snacks to a day pack for your child to eat while sitting in a kayak.

We love trail mix. It's a great option as it's made of calorie-dense seeds, high-fat dates and nuts that will give your child an energy boost without needing utensils or excess packaging.
Other excellent options include:
Crackers with cheese.
Apple slices and peanut butter.
Yoghurt pouches.
Veggie sticks and hummus.
Berries or a banana.
Granola bars.
Kayaking With Kids: Parent Tips.
Kayaking is a fun bonding experience, but it can often be challenging for both children and parents.
The below tips will ensure your day of exploration on the water is fun. Remember to take kayaking slowly, choose familiar routes, and allow your child to learn from their mistakes without pressure.
1. Have Patience.
It can be easy to lose your cool with your child while kayaking. The added power of the elements can be stressful!

It's crucial to model patience with children as they learn new skills.

It takes a lot to learn how to maneuver the kayak, find the strength to steer and look ahead for direction. The main takeaway is that if you're having fun – they will be too.
(Related: Are Inflatable Kayaks Safe?)
2. Take It Slow.
There will be plenty of time to explore challenging routes with faster water, which children can often be excited by.

However, it's best to work up the courage and ability to handle rougher waters before embarking on that adventure.
We recommend that you:
Let your child get used to kayaking the same way you'd let yourself as a beginner.
Focus on swimming skills outside of kayaking to feel confident in the water
Remove time pressure. It may be years before your child can kayak confidently.
3. Choose Familiar Routes.
Choosing similar routes or rotating the same routes is the best option whilst your child learns.

This ensures your child:
Can familiarise your local area.
Will be aware of where to go for help if needed.
Have the focus to learn to paddle and maneuver without being distracted by their new surroundings.
Familiar routes can also help your child build fitness, improve their stroke technique, and have fun without worrying about where they are going.
Consider local lakes for learning before venturing into harbours or beaches.

(Related: Best Lake Water Games Your Kids Will Love).
4. Allow For Mistakes.
When learning a new skill, allowing your child to make mistakes without consequence is essential.
Remember – children are beginners at everything and will make plenty of mistakes you may easily avoid as an adult.
Children will need to learn everything from how to step into their kayak, put on a life jacket, remove their kayak from the water and more.
Your child may already have a hard time with self-criticism, so allow them to make their mistakes and gently redirect them to make the experience as positive as possible. It should be fun.
5. Encourage And Empower Your Child.
Consider using incentives for a job well done after you've finished kayaking.

Simple things like a family meal at their favourite restaurant can help them feel like they've achieved something substantial and have something to look forward to after a challenging task.
You should use encouraging words during the process to help motivate your child and support their emotional health and wellbeing.
Final Thoughts About Kids Kayaking Alone.
As you can see, many factors come into play with children feeling confident and capable enough to kayak alone.

Ultimately, kids shouldn't kayak alone if they aren't familiar with the route or area or if they are without parental guidance.
If your child is familiar with kayaking and its route, they can experiment with kayaking in safe and shallow waters from the age of six and up.
Regardless of age, please ensure your child always has an extra paddle, a life jacket, and water and sun protection.
With patience and practice, you and your child will be in for an unforgettable day bonding and exploring the water.
Tamara