Summer is here, and what better way to beat the sizzling heat than by basking in your own above-ground swimming pool with a cold drink in hand? Naturally, you're going to want to spend your summer relaxing, not cleaning or maintaining your pool. You'll also want to choose an inflatable pool that's appropriate for your outdoor space, factoring in both size and appeal. And you'll want to ensure you pick one that's robust and can withstand wear and tear. There are tonnes of options out there, but fear not! We've got you covered with our detailed review of the nine best above-ground pools. Whatever the occasion, however large your party is, keep reading to find the best pool for you.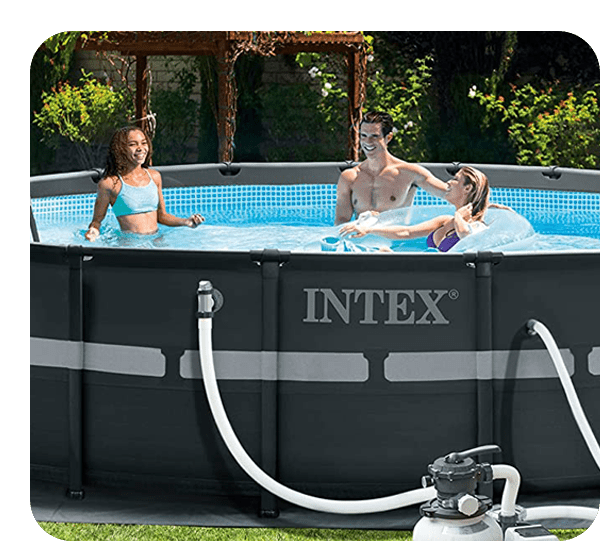 1. Intex Ultra XTR.

Best overall above-ground pool.
Pros
Cons
Bottom Line
Price
This Intex pool is the best all-around pool out there by a country mile! I mean, look at the size of this thing. And when it comes to brand, you really can't beat the market leader Intex. This pool is built from tough stuff. It has a durable and sturdy steel frame, a high-quality sand filter pump system for easy maintenance, and a removable ladder for convenient access.
It comes in black and wouldn't look out of place in any outdoor space. Not just a pretty face, it also features a puncture-resistant three-ply material liner that's easy to install and provides a comfortable and smooth surface for swimmers.
Some manual work is required to prepare and level the ground. And if you're in a dry region, and you need to dig, it's best to water the ground well in advance. You definitely don't want to rush or skip this part, as this can affect the ground pool's stability, not to mention longevity. The silver lining is that it takes two people around 90 minutes to assemble.
The pool ladder is flimsier than you would expect from a company as renowned as Intex, and attaching it to the pool frame is fairly tricky. It'll hold up to around 300 lbs, but you might require something more robust with child security features.
With such a large capacity, the Intex Ultra XTR is perfect for hosting large families, friends, and couples. There's even enough space to do laps in this pool. Absolutely, definitely, without question... dig out and LEVEL your ground. You don't want a lopsided pool.
The Intex Ultra XTR is certainly not the cheapest, but it's certainly the best value for money. If properly maintained, this thing will last years – decades, even. Seriously!
2. Bestway Pro Max.

Best budget above ground pool.
Pros
Cons
Bottom Line
Price
Think all above-ground pools are expensive? We're busting that myth here with the Bestway Steel Pro Max. While it's not as big as the Intex Ultra XTR steel frame pools, it's perfect for smaller families and those lacking space in their gardens. From a safety perspective, it's nowhere near as deep, so young children (taller than 80 cm) will be able to stand up and splash around with ease when it's full to the brim.
Who the heck wants to waste time on pool maintenance? Not us. Fortunately, the high-quality filter pump system makes maintenance a breeze, and the flow control drain valve allows for easy draining. That's way more than we'd expect for a product at this price.
Our main gripe is that the pool's steel frame isn't as robust as that of the Intex XTR, so it may bend if you (or your kids) abuse it too much. It's better suited to lazy days relaxing in the sun than for a boisterous afternoon of splashing and dunking.
Also, it only comes in light grey, and it's easy to imagine how this would start to look unsightly after a few years of use. It's better to store this away once the warmer months are behind us. If you're looking for something that will look great all year round, check out the Summer Waves Natural Teak pool (below).
For the price it's being offered at, we think this round pool is an absolute steal. It's got all the features you'd want that more expensive models offer. And just because it's smaller, doesn't mean it's any less practical. In fact, for those who lack the garden space, this is a no-brainer.
If you're on a tight budget or have limited space, be sure to snap this up. They frequently go out of stock.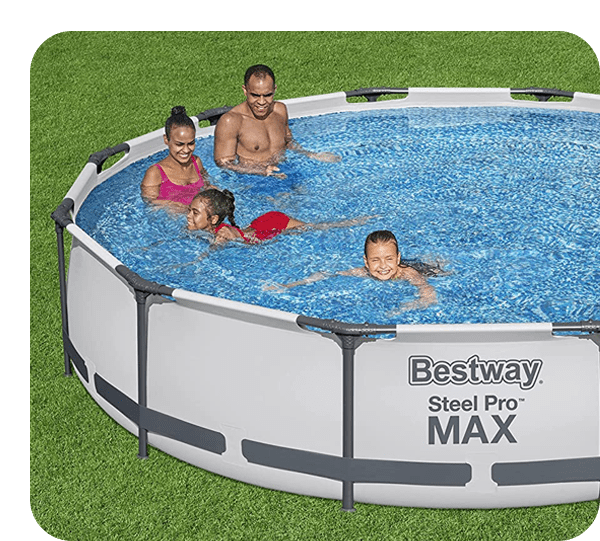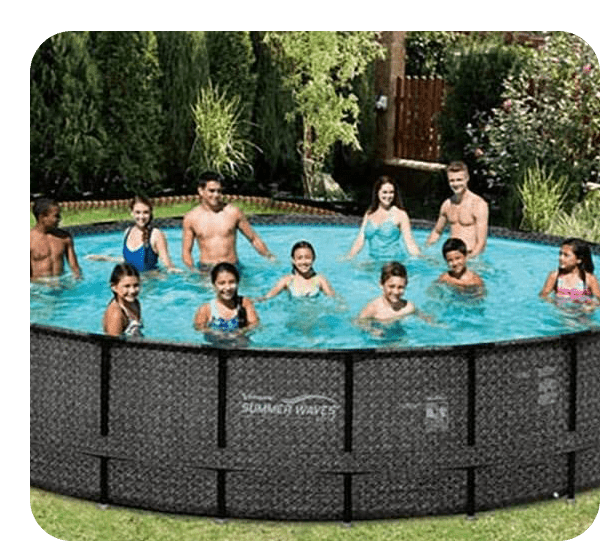 3. Summer Waves Elite.

Best premium above-ground pool.
Pros
Cons
Bottom Line
Price
We love the look of the Summer Waves pool. Above-ground pools can be an eyesore. So often, they're either bright blue, multicoloured, or they end up sun-bleached. Not this one! Its outer finish is made out of heavy-gauge PVC material and comes in two colours: dark herringbone and grey rattan.
With a 15-foot diameter, it's one of the more spacious and larger pools in this review, so you and your friends won't be packed like tinned sardines. It can comfortably fit around six adults, maybe more. Considering its size, we were surprised at how easy it is to set this up, and it requires no tools whatsoever.
Some customers have complained about the quality of the pool's included air pump. You might need to purchase a better quality model a few months into the pool's life. We recommend looking for a quality sand filter pump and a pool sk
The Summer Waves Elite Above Ground Swimming Pool offers a combination of durability, convenience, and affordability, making it superb value.
If you're looking for a bigger pool and the convenience of one that's easy to assemble, this is a great bet. It's also one of the more stylish models, and it's not an eyesore like some.
4. Intex Easy Set Pool.

Best inflatable above-ground pool.
Pros
Cons
Bottom Line
Price
You don't have to splash out to, you know... splash out this summer. If you're wanting a pool without the expense and permanence like some of the other above-ground pools in this article, the Intex Easy Set Inflatable HAS to be on your shortlist. It comes in various sizes (18FT x 48in; 12FT x 30in; 8FT x 24in; and more) and is made from puncture-resistant material.
It's a doddle to set up. We're talking a matter of minutes for it to inflate. Less time breaking a sweat means more time for fun. Oh, and the pool also comes with a cartridge filter pump that keeps the water clean and clear – saving you even more time.
There's no point in beating around the bush... It's no oil painting. But for many, that will hardly matter, since it can be packed down and stored in almost as little time as it takes to set up.
As for the air pump, it works great and is a beefy bit of kit. However, it weighs down the pool (because the pool is made of plastic), so the side with the pump sags a little.
We can't think of many better options for those who want to enjoy a refreshing dip in the backyard this summer without splurging lots of money.
This is one of the few models where you have the flexibility to choose from several sizes – which means you can find the right one for your budget and available space.
Inflatable pools are typically better value for money when compared to their framed counterparts.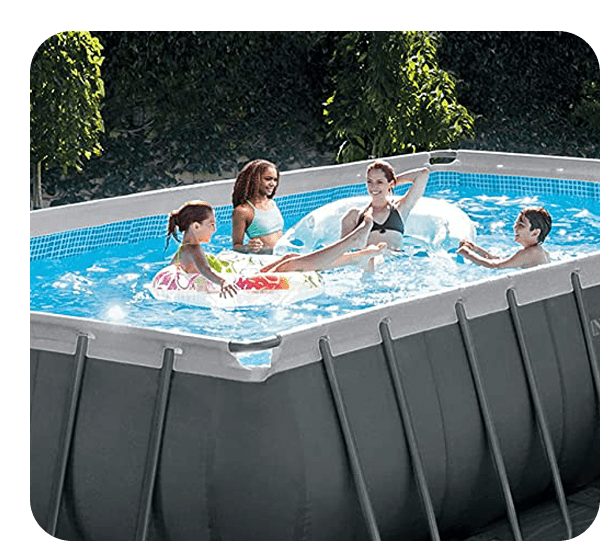 5. Intex XTR Deluxe.

Most spacious above-groound pool.
Pros
Cons
Bottom Line
Price
Oh, my GOD... You can actually swim in this behemoth of a pool!
This thing is fantastic and comes highly recommended. Its sheer size and shape make it one of the most functional pools on the market. It's big enough to exercise in and do a few lengths, if that's your thing. If not, well, you'll still appreciate the extra space it gives when paddling and lounging about. It's so big that you could fit a floating island on it.
With a pool of this size, sturdy credentials are a must.
Thankfully, it has a galvanised rust-resistant steel frame with inner and outer powder coating, which provides powerful rust protection. It's built to last and will look great for many summers to come. Some have even suggested that it's outlasted a couple of hurricanes!
The pool depth (1.14m) and size mean it's also slightly more dangerous for younger children. Only confident swimmers should swim in a pool as big as this unsupervised.
And with a pool of this size, it's even more important to spend extra time levelling the ground beforehand. It's amazing once it's been assembled, but getting it set up is a tough gig.
This Intex metal frame pool will cost you a pretty penny, but its ruggedness makes it an excellent investment that will provide years of enjoyment.
As the saying goes, buy nice or buy twice (speak to anyone who's ever owned an above-ground pool before, and I'm certain they'll attest to this).
This rectangular above-ground pool is not cheap.
But when you consider that it costs 1/10th of an in-ground pool's price, you may realise it's a relative bargain.
6. Summer Waves Teak Elite Pool.

Best-looking above-ground pool.
Pros
Cons
Bottom Line
Price
A pool with a natural teak aesthetic? Yes, please! This one features a durable and stylish natural teak design that would add a touch of sophistication to any backyard.
The frame, feet, nozzles, and pumps come in matching sleek black, which is a vast upgrade on the industrial galvanized steel frame that accompanies many of the others reviewed in this article.
The frame is made of durable metal that ensures long-lasting use, and the liner is heavy-duty, too. No complaints from us regarding the strength of this.
The pool pump is basic and not up to the same standards as the others, so we recommend adding a saltwater pump to your basket. It's worth bearing in mind that this is one of the most affordable models, and it's still superb value for money. And that's really it.
You need a filtration system that keeps your pool water clear and clean – unless you prefer spending your time maintaining your pool rather than being in it.
If you're looking for something to match the garden furniture and outdoor decor, this one will be a subtle addition to your garden.
It's one of the best above-ground pools on the market right now - and won't cost you an arm and a leg.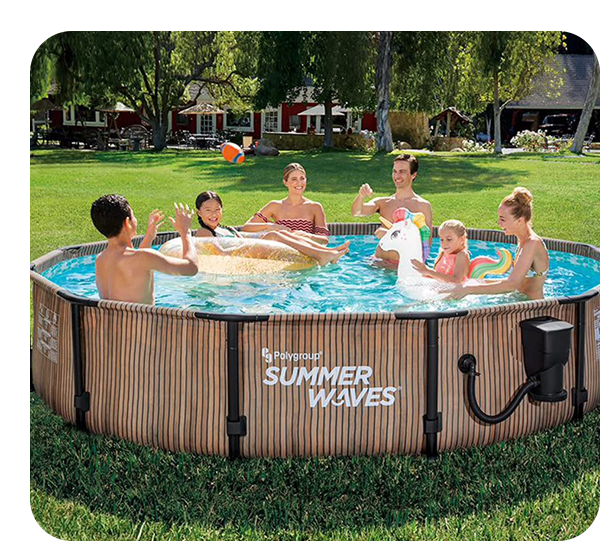 7. Costzon Water House Combo.

Most exciting above-ground pool.
Pros
Cons
Bottom Line
Price
Step aside, kids. Ah, if only... Whilst adults may not be able to relive our youths (sorry!), you can live vicariously through your children, watching as they climb, jump, bounce, slide, and splash on this giant inflatable water slide.
And with it being an inflatable, you can literally have this set up in less than ten minutes (it actually only takes a couple of minutes to inflate).
There's no need to level the ground meticulously with this one, nor is there much maintenance required. Simply fill and drain as appropriate.
What's not to love about an inflatable bouncy castle? The only downside is that it serves a single purpose: keeping kids entertained.
It's unsuitable for more than 3 kids (under 99lbs) playing at one time. So if after a few beverages in the garden, your inhibitions get the better of you, you might want to refrain from getting too carried away. You'll likely damage it, and the children won't thank you for that
This is perfect for birthdays, parties, and BBQs. And while adults might not be able to join in the fun, it might buy them a few hours where they can relax with a drink in hand while the kids play.
As far as inflatable bouncy castle and pool combos are concerned, it's one of the best. If you've got young ones, our advice is to go for it!
You'll make memories this summer that you will treasure forever. That's not something you can put a price on.
8. Intex Prism Rectangular Pool.

Best-priced compact pool.
Pros
Cons
Bottom Line
Price
This is one of the most highly sought-after above-ground pools, and it's no surprise that it's one of the most competitively priced. It's a spacious pool and so easy to set up, taking around 30 minutes (though it takes a few hours to fill up using a garden hose owing to its size).
We were pleasantly surprised by how durable it is! I mean, to look at, you could be forgiven for thinking that its skeletal frame wouldn't be up to much, but that's simply not the case.
The photos don't do this pool the justice it deserves. It's one of the toughest out there; which is quite remarkable considering the rock-bottom price.
This wouldn't score many points if it were entered into a beauty competition. But who cares? It's on the inside that counts, right? Aside from its looks, the steel frames protrude from the actual pool, which is hazardous when you've got young children running around the garden. It's not a deal-breaker, but caution is advised if you have little ones present.
If you don't want to sink a load of money when buying a rectangular above-ground pool, you'll want to seriously consider getting one of these. Why pay more?
Not just very affordable, the Intex Prism is also the cheapest buy on the list. You might want to purchase sooner rather than later, as they often go out of stock temporarily. There are cheaper products out there (mainly inflatable above-ground pools), but we wouldn't recommend looking at those. Most are unsightly and prone to punctures.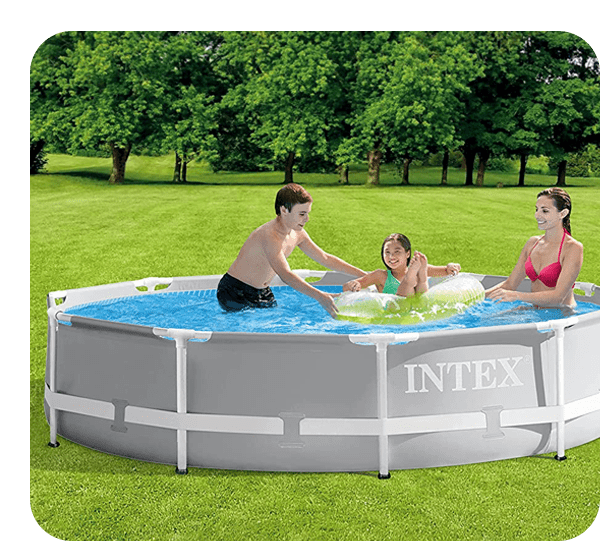 9. Prism Round Pool.

Best no-frills above-ground pool.
Pros
Cons
Bottom Line
Price
Okay, so the Intex Prism Frame isn't going to set the world on fire, but it's a great "also ran".
It comes in lots of different sizes, so you can get one that doesn't take up all your garden space. You'll love how easy it is to assemble with its t-joint system that requires no fastenings, and how low-maintenance it is compared to other pool cleaning systems.
We love it for its durability. Looks can be deceiving, which is certainly true in this case. It's so much stronger than our first impression of it.
It's one of the more basic models in this review, but that's sometimes all we need.
Despite its durability, it comes in a light grey, and it's more likely to reveal stains and look worn after a few months of use. Be sure to regularly hose down and chemically treat to avoid algae stains. If aesthetics are more important, you can't go wrong with the Summer Waves Natural Teak pool.
What you see is what you get: a great pool that does exactly what you'd expect.
If you're wanting something for the odd occasion and don't plan on using it week in week out (or daily), there's no point splashing out on an all-singing all-dancing pool. So go for something like this.
Considering the size and functionality, this backyard pool is one of the most affordable purchases you'll find this summer.
What To Look For In The Best Above-Ground Pool?
1. Size and Shape.
If in doubt, measure out. So many people buy the wrong size. If you wait a few weeks to install it and go beyond the 28-day return period, you'll be stuck with a pool that's either too big or small for your yard. Think about how many people will be using the pool at the same time to ensure you get the right one.
2. Materials.
Look for above-ground pools made of durable and sturdy materials such as resin, steel, and aluminium, and those with a thick ground cloth. These materials will ensure your pool lasts for years without rusting, corroding, or deteriorating.
3. Liner Quality.
Look for liners made of thick vinyl, which can withstand harsh weather conditions and resist punctures and tears. A good liner also provides a comfortable and smooth surface for swimmers.
4. Maintenance Requirements.
I hate to break it to you, but above-ground pools require regular maintenance to keep them clean and functioning optimally.
Consider the maintenance requirements of the pool, such as the need for a pump and filter system, pool chemicals, and cleaning tools like a pool vacuum or skimmer.
How To Balance The Water Chemistry Of Your Pool.
You should clean the pool and its accessories regularly, and also check and balance the water chemistry.
The pH level should be maintained between 7.2 and 7.8. If the pH is too high, you can add a pH reducer, and if it's too low, add a pH increaser. The total alkalinity level should be between 80 and 120 parts per million (ppm). If the level is too low, add an alkalinity increaser, and if it's too high, add a pH reducer.
Chlorine sanitises your pool and keeps it free of bacteria and algae. The ideal chlorine level in ground pools is between 1 and 3 ppm.
You can add chlorine tablets, granules, or liquid to maintain the appropriate levels. Beware that too much chlorine can cause skin, lung, and eye irritation.
What Are The Best Upgrades And Accessories For Your Pool?
Here are some upgrades and accessories you might want to consider if you fancy splashing out (pun intended!):
Pool Heater: A pool heater can extend your swimming season by allowing you to heat the water in your pool. You can choose from gas, electric, or solar-powered heaters.
Pool Lights: Adding pool lights creates a beautiful nighttime atmosphere for your pool area. Perfect for a romantic evening with the other half.
Pool Cover: A pool cover protects your pool from debris and other outdoor elements when not in use.
Saltwater Systems: A saltwater system can be a more natural and cost-effective way to sanitise your pool and keep it free of bacteria and algae.
Pool Vacuum: Vacuuming removes dirt, debris, and other contaminants from your pool, improving the overall quality of the water. It'll also save you time from having to use a skimmer.
How To Level Ground In Your Backyard?
You're will to want to spend some time considering the right location for your pool.
Choose a place that's flat and free of rocks, roots, and other debris. Avoid areas with slopes or uneven ground. Then measure the diameter of your pool, and mark the area with stakes and string to determine the exact area to level.
Remove the topsoil with a shovel and compact the soil (by standing on a plank of wood) to create a firm and level base. Use a spirit level to check the ground.
Once level, add a layer of sand, as this will help to create a smooth surface for the pool liner to rest on.
After adding the sand, perform a final check of the levelness and make any final adjustments as required.