Youth life jackets are designed to provide buoyancy to children over 50 lbs. While kids' life jackets are rated for younger and smaller children (30 to 50 lbs), youth life jackets cater to older kids and teenagers who weigh between 50 and 90 lbs. If your kid has had a growth spurt during the last 12 months, be sure to check their weight before heading out onto the lake this summer – they may be due for an upgrade. Choosing the best life jacket for youth is quite easy – make sure they're both highly buoyant and comfortable. Teenagers are notorious for being image-conscious, so a smart design won't hurt. Below are the 9 best youth life jackets I found after doing hours of research. Enjoy!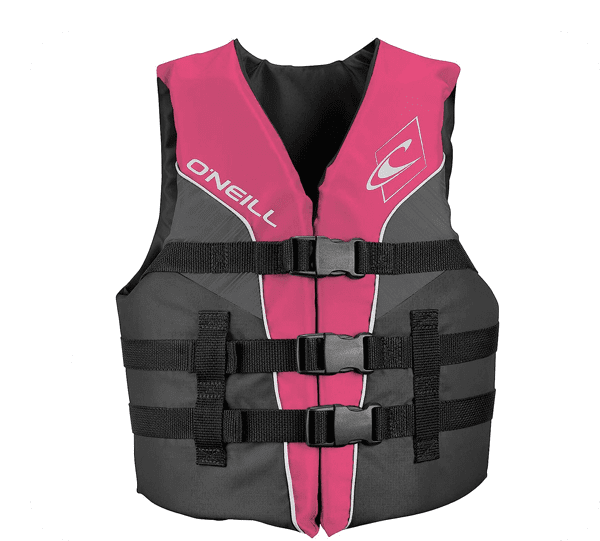 1. O'Neill Youth Superlite USCG Life Vest.

Best overall youth life vest.
Pros
Cons
Bottom Line
Price
The O'Neill Youth Superlite Life Jacket is comfortable, safe, and lightweight. It comes with triple safety straps that make the jacket secure yet easy to Put on and off.
This life jacket ticks all the safety boxes with its behind-the-neck safety loop, US Coast Guard approval, and proper durable exterior material.
It comes in different designs and colors, and the upper buckle prevents the kids life jacket from pushing up against your child's cheeks.
The life vest runs small. Although it claims to support children up to 90 lbs, I don't see that happening. Also, the top strap is a little shorter than the bottom two. So while your child will have no problems closing the two bottom straps, as they grow older, the top one will become that much more difficult to close.
I also noticed that the colors they advertise are way brighter than the pastel-looking vests they actually deliver.
The O'Neill Youth Superlite Life Vest is a Type III life jacket approved by the US Coast Guard, and the winner of my review of best life jackets for you youth.
It's an excellent all-rounder from the most well-known life jacket brands.
The O'Neill Youth Superlite Life Jacket offers solid features at an affordable price.
2. Seachoice Deluxe Adjustable Boat Vest.

Another very good youth life vest.
Pros
Cons
Bottom Line
Price
The Seachoice Deluxe Adjustable Boat Vest is a life vest that provides outstanding buoyancy. The life vest is soft and comfortable with its foam-lined material. The vest comes with a grab handle that makes rescuing quick and easy.
The head pillow is great, and provides comfort and safety to your kids when floating on their backs, and makes them float face up.
The life jacket promotes mobility with its open armholes, and the security is spot on with its adjustable body straps. The vibrant yellow and red colours of the vest also make it easy to spot your child even in the water, and it does not fade.
The oversized collar makes the shoulder area quite bulky, which hinders head mobility. It's definitely a life jacket optimised for safety, not freedom of movement!
And I'd also have preferred if the life jacket came in multiple colors.
A few customers also complained about receiving defective units, while some complained that they got flat-out wrong orders. Make sure you properly inspect the vest once it arrives.
Seachoice Deluxe Adjustable Boat Vest is the best life jacket for youth boating adventures.
Type II construction also makes it the best choice for kids who are weak swimmers.
The Seachoice Deluxe Adjustable Boat Vest is well priced.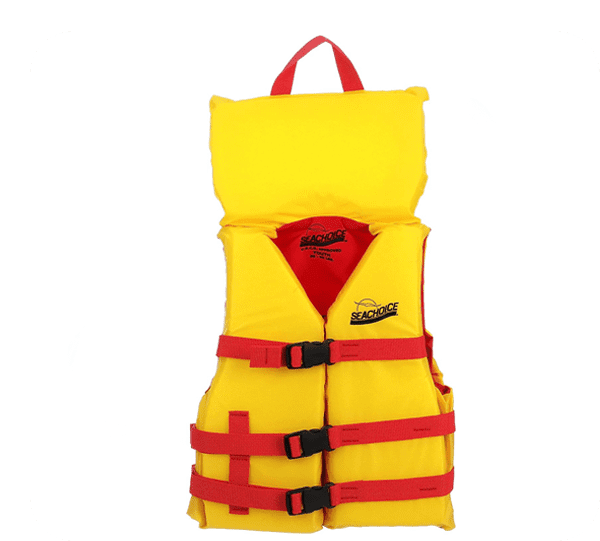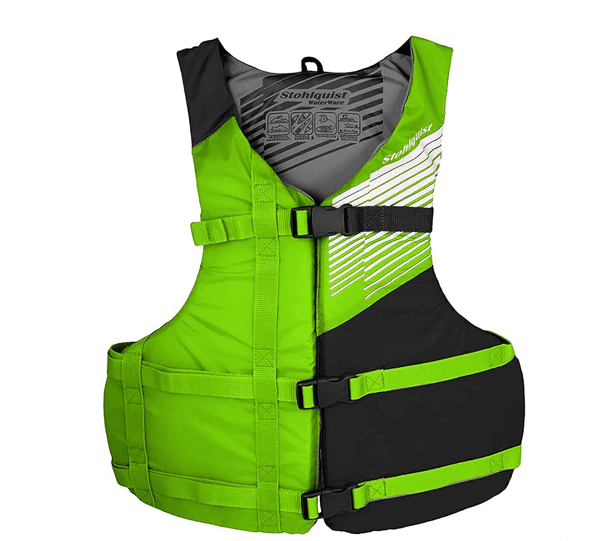 3. Stohlquist Fit Youth Life Jacket.

Another great budget youth life jacket.
Pros
Cons
Bottom Line
Price
The Stohlquist Fit Youth Life Jacket is a solid all-round life jacket with a nonrestrictive wide armhole cut that allows a great range of movement. It comes with a thin back panel that makes it light and comfortable.
Like the O'Neil, it also comes with three buckles, and all the foam corners are well-sculpted and rounded.
While this might not seem like a like critical detail, the rounded corners ensure that your child doesn't suffer from scrapes and rashes when moving around.
The vest comes in multiple bright colours, and it has boxed stitched webbing which makes it more durable than most life jackets.
The Stohlquist Youth Life Jacket would have been perfect if it came with a crotch strap.
Many customers complained that the life jacket slips up to the kid's cheeks when in the water.
This could have been prevented with a crotch strap.
The Stohlquist Fit Youth Life Jacket is a great life jacket for mobility.
It is approved by the US Coast Guard, and its bright colors make it very visible on the water.
The Stohlquist Fit Youth Life Jacket is well-priced, and cheaper than the O'Neill.
4. Vaikobi Youth VX Race PFD Life Jacket.

Best for paddling and kayaking.
Pros
Cons
Bottom Line
Price
The Vaikobi Youth VX Race PFD Life Jacket is an excellent life jacket. It has neoprene shoulder and side panels that reduce the chance of accidentally catching on to anything while your child is in water, and nice clean lines in front that help a lot in getting out of the water.
The vest is slim fit yet very flexible. And while it is one of the lightest personal flotation devices on the market, it still has a lot of buoyancy. It has an excellent sleek design, and the materials are good quality.
The vest has a very bright red variant that makes it easy to spot and it has a small front pocket to put all your essentials. Mobility is also great in this vest. It has a large scooped neckline and wide arm openings that don't obstruct any form of movement.
The Vaikobi Youth VX Race's chest strap retreats into the life vest when unused. You will have to fish around for a while to get to it. It also happens with the side zip and buckles.
Red is the only color option available. While it offers impressive visibility, I would have preferred to have a few other color options.
Vaikobi Youth VX Race PFD Life Jacket is the best life jacket for youths who take their paddling seriously.
It's great for mobility, very secure, and frankly, there's little to dislike about this life jacket.
The Vaikobi is definitely expensive. But if you want the absolute best life jacket for kayaking and paddling, this is the one.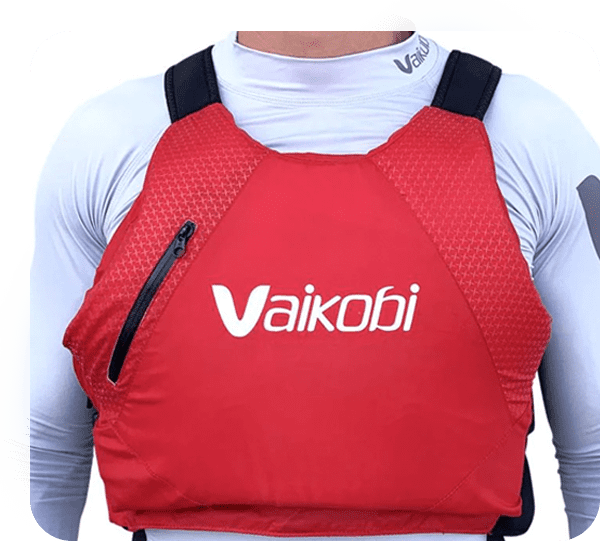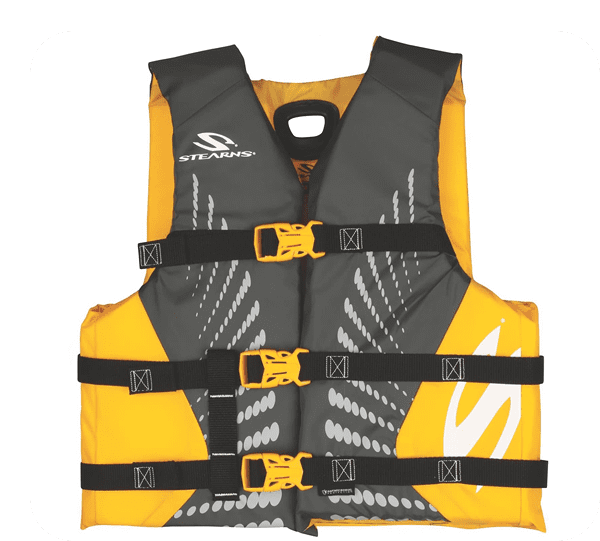 5. Stearns Antimicrobial Youth Life Vest.

Best for preventing funky smells.
Pros
Cons
Bottom Line
Price
As the name suggests, the Stearns Antimicrobial Nylon Youth Life Vest has great antimicrobial protection. This feature delays mold growth, mildew, and other odour-causing bacteria. So even after using it for a long time, the vest will still smell good.
But it's not just antimicrobial protection. You expect life jackets to offer good security, and this one delivers. The three adjustable body straps make the vest firm and secure, and it also also has a man-down loop on the back.
The life jacket is great for mobility and comfort, the fit is excellent, and it has a lot of room for growth. The vest is lightweight, dries quickly, and customers have remarked that it retains its colour over a long period of time.
The life jacket rides up a little bit. It would have been great if a crotch strap had been included to help hold the life vest down and prevent it from riding up to the cheek. Also, many customers have complained about the size of the jacket. It either runs so small that you could classify it under infant life jackets or it is so big that it seems more suited to the adult life jackets category.
Also, very few customers complained that no matter how tightly they secured the strap, it just did not stay. This could be an isolated occurrence, but check yours as soon as you get it.
Stearns Antimicrobial Nylon Youth Life Jacket is US Coast Guard-approved. Its fabric is antimicrobial treated, but it's notoriously known to be too big or too small. It would be perfect if your youth were on either end of this scale.
The Antimicrobial Nylon Youth Life Jacket would have been classified as a great value life jacket.
But taking into account the sizing issues and the fit of the strap, it's definitely overpriced. You're better off going for the O'Neill Youth Superlite USCG Life Vest.
6. Stearns Youth Boating Vest.

Best budget life vest.
Pros
Cons
Bottom Line
Price
The Stearns Youth Boating vest is very straightforward. Nothing fancy, but it gets the job done. It is suitable for most water activities, comfortable, easy to wear, and your child can easily put it on themself. The vest is also quite durable, and the colour doesn't fade.
The life vest comes in bright red and blue colours, and it's easy to make out even in the water. It's also easy to clean, and it dries fast.
The Stearns Youth Boating Vest runs small. That's not to say it's in the same class as infant life jackets. Although the company recommends it for youths that weigh between 50 to 90 lbs, it is better for kids below 75 lbs. Also, the life vest does not have a crotch strap. A crotch strap would have been nice to hold down the vest.
The Stearns youth boating vest is an excellent type III US Coast Guard-approved life jacket. While it does everything right, it's more suited for kids or lightweight youths.
If your youth is within the preferred weight limit, the Youth Boating is the best budget youth life jacket on this list.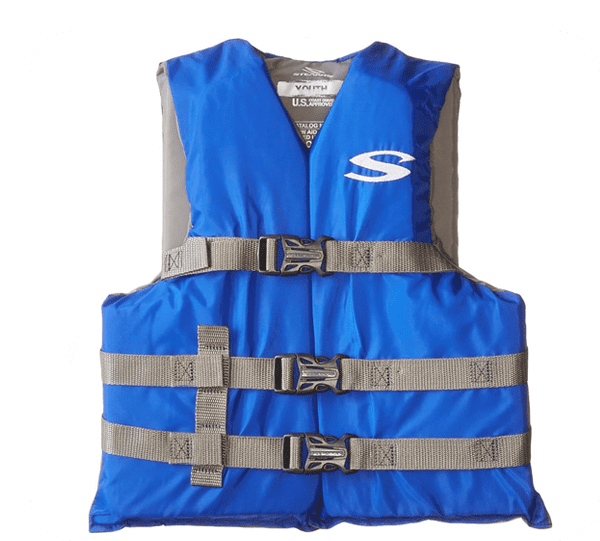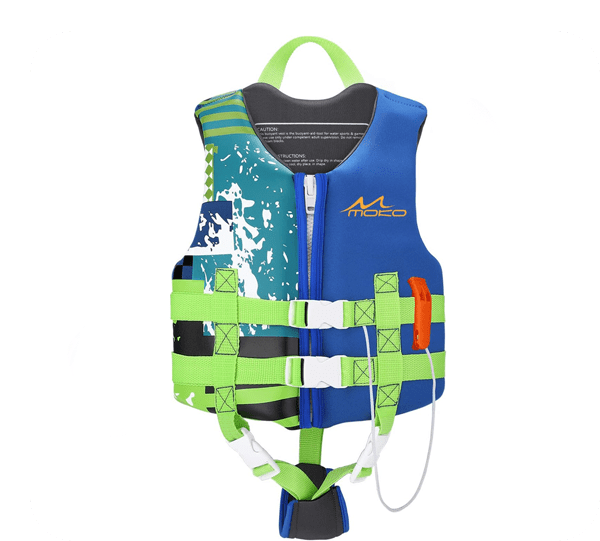 7. MoKo Swimming Vest.

Most fashionable youth swim vest.
Pros
Cons
Bottom Line
Price
The MoKo Swimming Vest is quite the looker. It comes in various designs, with the pink & pony, red stripes, and coconut & whales being my favourites. The funny pattern designs make it easy for your youngsters to fall in love with the life jacket.
With its unique inbuilt whistle, the Moko swimming vest stands out from other adult life jackets. The whistle makes it easy to call for help in a dangerous situation.
The vest has a nicely padded adjustable crotch strap that keeps your child comfortable and prevents any form of chafing.
My main concern with the MoKo Swimming Jacket is that it isn't US Coast Guard-approved. Yes, it has admirable features, but not having USCG approval is a big no-no for many people, myself included.
Asides from that, some customers noted that the vest had durability issues. Apparently, the vest was quick to rip, and wherever it rips, mould begins to grow there, even if you dry the vest properly before storing it.
MoKo Swimming Jacket is a Type III PFD. It comes in prominent colors, essential for quickly finding your child. The life jacket is light and comfortable.
The Moko Swimming Jacket is quite affordable and it's not hard to see why. But you'll be better off with the similarly priced, but USCG-approved Stearns Youth Boating Vest.
8. BOTE Youth Life Jacket.

Decent, but not outstanding.
Pros
Cons
Bottom Line
Price
The Bote life jacket is very light, comfortable, and its large armholes ensure full mobility.
A thin and flexible back is excellent for sitting - and aids breathability.
Thanks to the wrap-around design, it also captures heat, to provide extra warmth, making it a good choice for youth who get cold easily
The colour is easy on the eyes and rather unique. Its safety feature are also on point with its two encircling hidden body straps. The straps give the life jacket a secure fit, and the zipper makes the life jacket relatively easy to wear.
The Bote is a Type III life jacket, meaning it's not buoyant enough to keep your child afloat for long periods of time in rough water.
Th wrap-around design means it's not adjustable, so you'll have to upgrade once your kid starts outgrowing it.
I don't love the color scheme, either. Why does it look faded already?
The Bote Foam Personal Floatation Life Jacket is a decent life jacket for youths.
It's a fair option, but there are much better options out there.
For a decent life jacket, the BOTE is overpriced! The similarly priced O'Neill Youth Superlite USCG Life Vest is much better.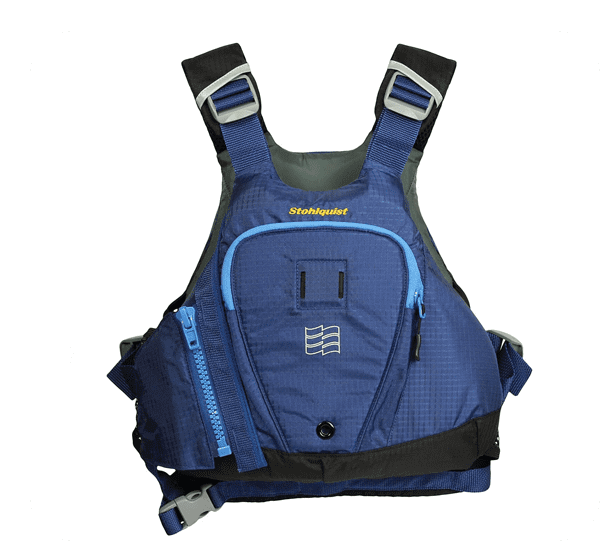 9. Stohlquist Edge life Jacket.

Best youth life jacket for water sports.
Pros
Cons
Bottom Line
Price
The Stohlquist Edge is an excellent life jacket that has similar design elements to the Vaikobi Race PFD.
More expensive than the Vaikobi, it's made of premium materials, is ultraslim, flexible, and it offers excellent mobility while retaining a high degree of buoyancy.
It also one-ups the Vaikobi with its wider range of colors.
It also comes with adjustable shoulder and body straps, and its ergonomic WRAPTURE design prevents the jacket from riding up.
The Stohlquist Edge life jacket is quite specialized.
Optimised for watersports, it is intended to be worn by strong swimmers during training or competitions.
It's also not not cheap!
Stohlquist Edge is a very well-made premium Type III life jacket.
Designed for youth who participate in sports, it offers top notch durability and mobility, going toe-to-toe with the Vaikobi as the best sports life vest on this list.
The features are great, but it is pricey. It is one of the most expensive youth life jackets on the market!
You could save a little by going for the Vaikobi.
10. Stearns Kids Life Vest.

Best for for preschoolers.
Pros
Cons
Bottom Line
Price
Designed like a wraparound life jacket, this Stearns model has two waist straps and a zipper for securing your kid.
This life jacket has a weight capacity of 50 to 90 pounds, making it best for larger kids aged 3 to 9.
It has an ergonomic fit that enables great mobility. Available in blue and pink, it's rated as Type III by the USCG.
Unlike the previous two Stearns life jackets on this list, this one has no crotch or grab strap.
That is quite understandable, as it's designed for big kids and preschoolers. If you need a vest for smaller kids, any of the previous two Stearns vests will do.
That said, some kids aged 8 to 9 and above found it hard to zip up the jacket, despite Stearns claiming that the jacket would fit kids in their age range.
A proper weight or height classification would be more appropriate than age.
The Stearns is a very popular life vest for youth, but I find it to be OK without being outstanding.
Its biggest strength is its ability to accommodate larger (up to 90 lb) kids.
The price is not bad, but it is more expensive than the Seachoice Type II Deluxe Vest, which has additional features like a grab handle and pillow support.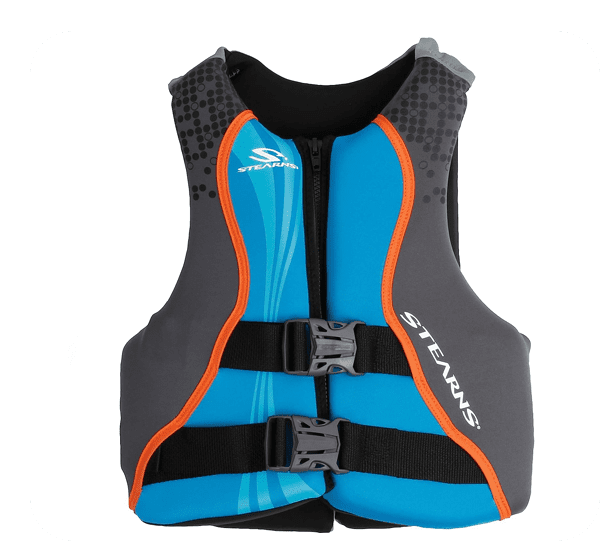 Factors To Consider When Buying A Youth Life Jacket.
Comfort vs Safety.
Nothing ruins a beautiful summer day more quickly than a kid's meltdown caused by an uncomfortable life jacket.
Unfortunately you can't have it all.
Life jacket comfort is always achieved at the expense of buoyancy.
Safety always comes first, which is why I always recommend starting with a Type II life jacket, and only downgrading to Type III if your kid absolutely refuses to wear it due to discomfort.
Do Youth Life Jackets Have An Optimal Weight Range?
Yes.
Youth life jackets are designed to accommodate children who are between 50 lbs and 70 lbs.
A few models are able to provide support for heavier kids, up to 90 lbs.
Never buy a life jacket that is outside of the correct weight range for your kid. If the jacket is too small, it will fit poorly and your kid will "swim" inside of it. If it's too large, your kid will feel squished and uncomfortable.
What To Look For In A Youth Life Jacket.
When deciding on the best life jacket for youth, you'll find that you have a lot of factors to consider. Too many, in fact.
Prevent analysis paralysis by focusing on two most important details:
How active are your kids? Will they be doing a lot of waterskiing, wakeboarding or just hanging out on the boat/beach? Choose a jacket optimised for mobility if the former (e.g., Stohlquist Edge) and one optimised for safety if the latter (e.g., O'Neill Superlite).
Which material is best? Most life jackets are made of nylon, neoprene, or both. Neoprene is the most comfortable, but is the least durable. It's also the most expensive!