You're about to spend weekends by the lake or at the family swimming pool, which means you need to buy the best life jacket for your toddler. But where do you start? Which type of jacket do you need? Do you prioritise comfort or floatation ability? The good news is that most modern toddler life jackets are very good, and it's almost impossible to make a terrible choice. But the closer you look, the more small (but important) differences appear. This is why I compiled a list of the 12 best life jackets for toddlers who are between 20 and 30 lbs, so you can spend less time doing research and more time on the water. Most of these jackets also offer a smaller size for infants that weigh between 8 and 20 lbs.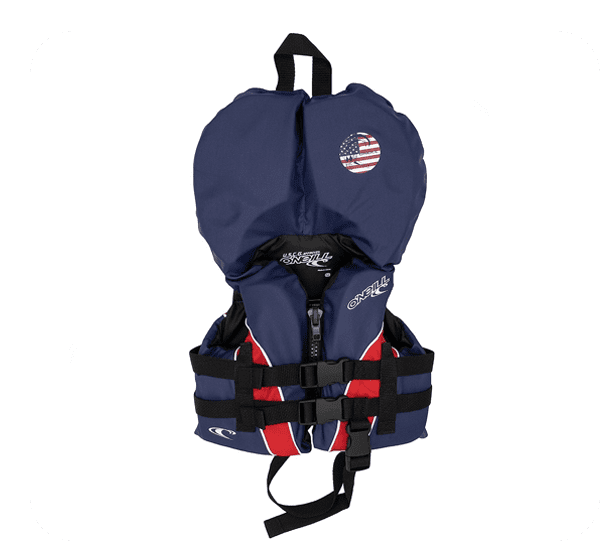 1. O'Neill USCG Vest.

Best overall life jacket for toddlers & infants.
Pros
Cons
Bottom Line
Price
This US Coast Guard-approved life jacket takes safety to a whole new level. Thanks to the grab handle on the headrest, you can easily retrieve your toddler from the water, while the jacket's adjustable crotch strap tethers it securely in place and prevents it from riding up into the toddler's face.
Most importantly, it's the best life jacket for toddlers because of its Type II rating. Most life jackets in this category have a lower Type III rating, meaning they're less likely to flip your toddler on their back in an emergency.
Other aspects that make this product great include its adjustable straps, secure, easy-to-handle buckles and a comfortable, supportive headrest that offers your toddler extra head support.
The O'Neill toddler life vest would have been perfect except for its front bulk. Because of its Type II rating, it is somewhat more restrictive than Type III life vests.
While most toddlers have no issues wearing it for extended periods of time, a small minority will prefer more streamlined life jackets that prioritise comfort over floatation.
The O'Neill USCG Vest is the best life jacket for infants and toddlers who weigh between 8 and 30 lbs.
Highly rated by the Coast Guard, comfortable and durable, it is optimal for active kids who want to spend a lot of time on the water.
The Type II rating seals the deal, but sacrifices some comfort to achieve it.
Parents shopping for the best toddler life jackets should expect to pay between $40 and $80.
The O'Neill vest is usually priced at the top end of this price range, but currently on sale for 40% off! That's excellent value for your money.
2. Airhead Kwik-Dry Life Jacket.

Best life jacket for fussy toddlers & infants.
Pros
Cons
Bottom Line
Price
The Airhead Kwik-Dry was designed with active water play in mind. Supremely comfortable, light, and easy to wear for prolonged periods, it has the reputation of being "the life jacket you buy when your toddler refuses to wear all other jackets".
Its sides are low but closed, creating a secure fit that still allows a great range of movement. Also, infants can enjoy water with their heads up thanks to the sizeable headrest. In an emergency, the life jacket is equipped with a sizable bright yellow rescue handle, and the jacket itself is highly visible in the water.
On days with low temperatures and high winds, the Kwik-Dry Neolite material retains warmth yet dries out rapidly.
Like O'Neill, it is a Type II life jacket.
Some customers complained that the Airhead's zipper does not close all the way.
Being a Type II jacket, it's also quite bulky, but less so than the O'Neill.
Finally, I think that the colour scheme could be better. While I don't dislike it, I much prefer the smart, sleek colours of the O'Neill vest.
But I'm nitpicking here. This is a fantastic product, and one of the best life jackets for fussy toddlers.
The US Coast Guard-approved Airhead is the ideal all-rounder for toddlers who are uncomfortable in other vests.
Be sure to choose the "Infant" size, as the manufacturer has sizes that suit kids of all ages.
Relative to other life jackets on this list, the Airhead is definitely at the upper end of the market, though it's cheaper than the O'Neill above.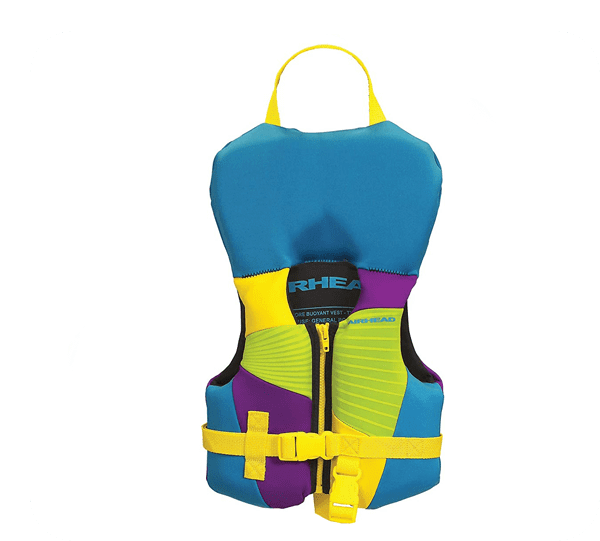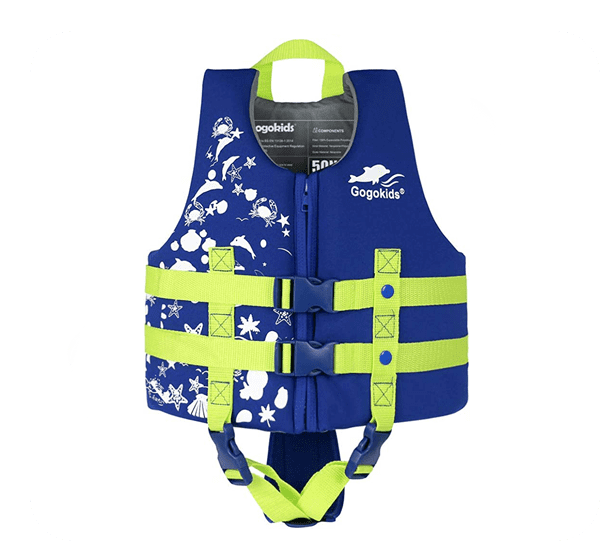 3. Gogokids Life Jacket.

Amazing option for larger toddlers.
Pros
Cons
Bottom Line
Price
The Gogokids toddler vest is constructed of high-quality, non-toxic neoprene.
In addition to making it quite lightweight, this type of construction also makes it efficient at rapidly drying out. If your children frequently participate in swimming practice, fishing, boating you will find this product to be extremely useful.
But its biggest pro is its ability to fit larger toddlers. While most life jackets in this review carry a maximum of 30 lbs of human cargo, the Gogokids will accommodate up to 35 lbs. Only the Boglia vest, below, beats this with a maximum capacity of 40 lbs.
The size sometimes runs smaller than what was ordered, so you need to check the dimensions well, and you could try ordering one size up.
It's also not USCG approved, so you can't use it in certain public water bodies.
Gogokids is known for building some of the best life jackets on the market, and this one lives up to the brand's reputation.
Because it can fit larger toddlers you may not need to replace it as soon.
The Gogokids vest is affordable, robust and worth the price.
4. Protauri Toddler Vest.

A very stylish toddler floatation device.
Pros
Cons
Bottom Line
Price
The Protauri is made from premium materials that feel very comfortable on the skin. The quick-drying outer neoprene layer is available in 3 stylish and bright colours, with Navvy being my favourite.
Colours don't fade or run over time, and the little anchor emblem on the chest adds a touch of class.
The vest is comfortable to wear thanks to its vest design, and is ideal for toddlers between 20 and 30 pounds.
I must point out that this is a Type III floatation aid, not a toddler life jacket. Use it to help your kid stay afloat when adults are around - but don't rely on it as a life-saving device.
Unlike most other vests in this review, the Protauri doesn't offer any support for your child's head.
Because it's not Coast Guard-approved, you cannot use it in water parks and certain lakes.
The Protauri is one of the better toddler life vests, but it must be used for its intended purpose.
I don't recommend using it as a boating life jacket because it's not likely to flip an unconscious person from a face-down position on their back.
The Protauri is quite affordable, but I recommend spending your money on an O'Neill or an Airhead - they're by far the best toddler life jackets you can buy.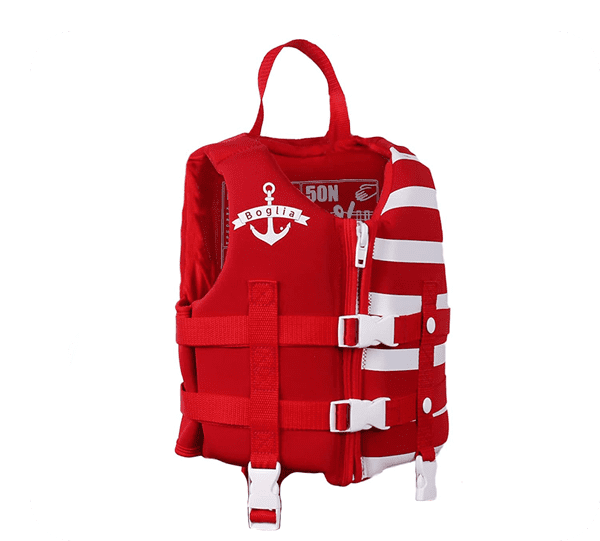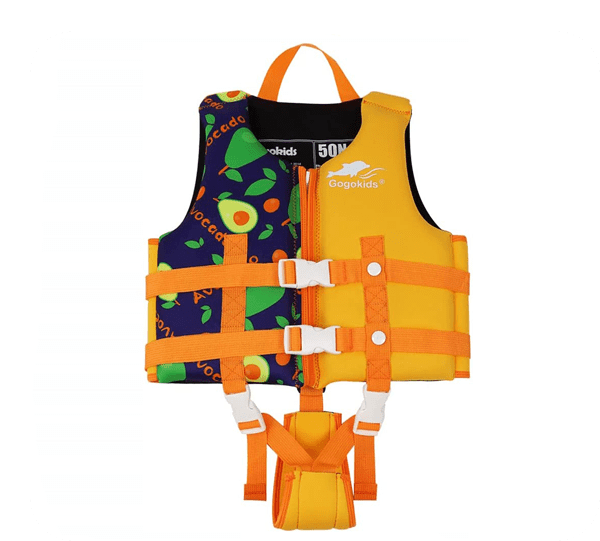 5. Boglia Toddler Swim Vest.

Good floatation device for larger toddlers (18 lbs-40 lbs).
Pros
Cons
Bottom Line
Price
The Boglia kids life vest has more carrying capacity than any other toddler life vest in this review. While other vests max out at 30 lbs, the Boglia will happily carry a 40lb toddler in its caverns.
It means your investment lasts longer, and you may be able to skip buying a kids' life jacket (30-50 lbs) and graduate straight to a youth life jacket instead.
This affordable personal floatation device jacket is sturdy and durable, so it's likely to survive a few seasons.
It comes with built-in grab strap for plucking your toddler out of the water and a clip-on buckle on the leg strap to keep it from riding up.
I feel like you know what I'm about to say!
Not a Type III. No head support. Not Coast Guard approved.
Are you surprised?
Also, some customers with children weighing more than 25 lbs complained that the vest was too snug around the neck and made their toddler uncomfortable.
The Boglia is a good floatation device. But it's a jack of all trades and a master of none. You can find better options on this list.
Low price is Boglia's redeeming feature. It's one of the most affordable toddler life vests on this list.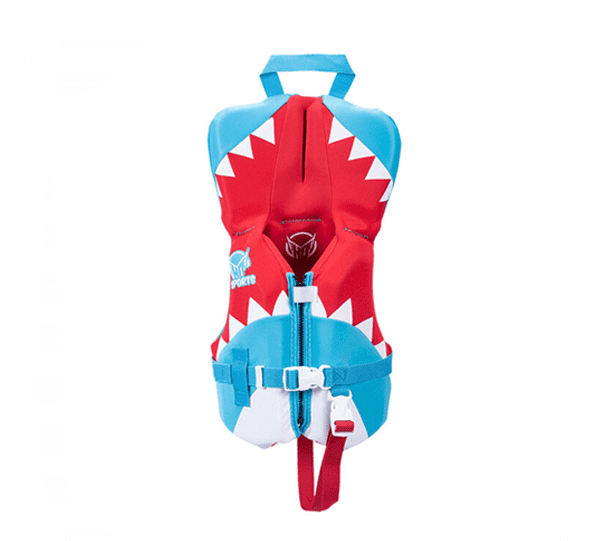 6. Overton's Pursuit Toddler Life Vest.

One of the cutest Type II toddler life jackets ever.
Pros
Cons
Bottom Line
Price
This is a legitimate Type II life jacket - and probably deserves to rank much higher in this review of the best toddler life jackets!
But it didn't - largely because it's Overton's website doesn't have any user reviews.
While I trust the Overton's brand, and the jacket itself appears to be built under license from the well-known Hyperlite brand, I'd like to hold off from making strong endorsements until I either have first-hand experience with the jacket or see a strong track record of positive customer reviews.
That aside, it has all of the essential safety features, including a grab handle, adjustable crotch strap and highly visible colors.
Lack of existing reviews means you'll be taking a moderate risk by purchasing this USCG-approved toddler life jacket.
That said, Overton's is a huge, trusted American brand that offers a money-back guarantee, so you won't lose money if the jacket isn't quite right.
I'd like to hear from you if you have first-hand experience with this vest! It appears to tick all boxes, but I'm reluctant to rank it higher until I know more about it.
The Pursuit is very well-priced for a Type II vest. It is a very promising life jacket that perfectly balances security and comfort.
7. Genwiss Todder Girl Vest.

Fun and cute swimming aid for toddlers who are confident in the water.
Pros
Cons
Bottom Line
Price
Created for comfort, the Genwiss is a lightweight vest that gives your toddler a moderate amount of buoyancy without restricting their mobility. The materials are great and the zippers are surprisingly strong.
This aid is great for a toddler with decent swimming skills who needs just a bit of extra help swimming. It's fun for a kid who is relatively confident in the water, but it's not a reliable life-saving device.
Your child can go under while wearing it (but the jacket will keep them just under the surface), and you need to be close by.
This device almost doesn't belong in a list of best life jackets for toddlers because it's not designed to preserve life.
I decided to include it, with ample warnings, because water safety is also a product of swimming skills, and this device is great for teaching toddlers how to tread water, blow bubbles, go underwater and so on.
I also have reservations about its bright colours, and would not be surprised if they fade in the bright sun.
The Genwiss is a great swimming aid for toddlers who are learning to swim and want more freedom to expand their skills.
At its price, this toddler jacket can be considered a budget buy.
At its price, this jacket can be considered a budget buy.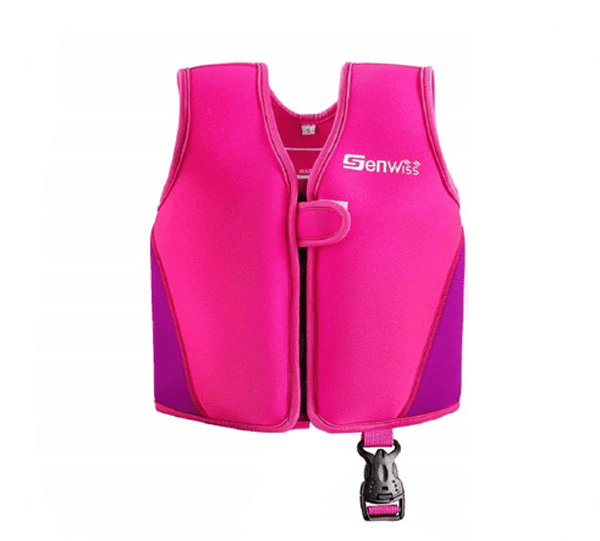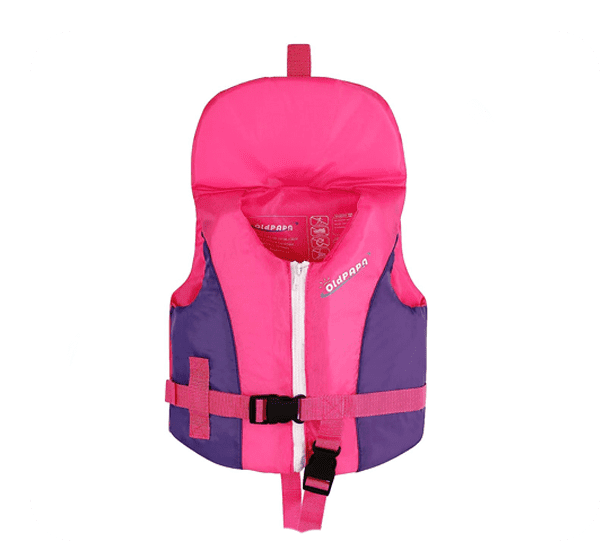 8. OldPapa Swim Vest With Headrest.

Best for toddlers over 30lb.
Pros
Cons
Bottom Line
Price
I'm tempted to call the OldPapa "yet another Type III vest". It's cheap, cute and designed to help young toddlers stay relatively buoyant in the water.
The high-density PE flotation foam and nylon used in this personal floatation device, coupled with the built-in head pillow, make it very supportive and comfortable for toddlers who weigh about 25 lbs.
You can choose from two vibrant color options, and the chest strap can be adjusted to provide a snug fit for both skinny and .. err, robust toddlers.
Some parents complained that the life vest was bulky and made their children uncomfortable.
There were also complaints that it was way too thick and made their toddlers hot.
All in all, The OldPapa Vest is a good option for mid-size toddlers who are about 18 months of age.
It's not an expensive buy, but the Airhead offers much more value for about $20 more.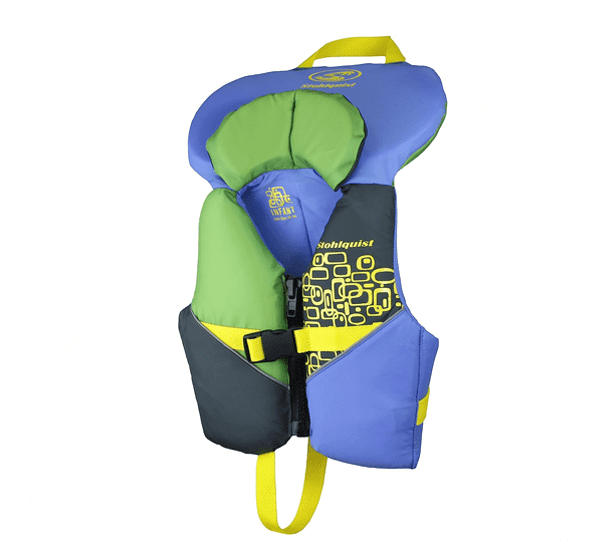 9. Stohlquist Toddler Life Jacket.

Great toddler life jacket for 20 lbs-30 lb kids.
Pros
Cons
Bottom Line
Price
This toddler floatation device is made of very soft foam, and you will love that it features a grab collar for quick retrieval.
Also, the crotch strap and front buckle can be quickly adjusted to accommodate a wide range of sizes, which means your baby will fit this until they're almost 30lbs.
Unlike other toddler life jackets, this one was designed to allow for a full range of motion in the arms. Your toddler will not feel restrained or restricted while wearing it.
Like other Type III toddler life jackets, the Stohlquist is optimised for comfort. It's not designed to flip your toddler belly up to prevent drowning.
We recommend that toddlers without strong swimming skills wear Type II life jackets.
While a Type II won't guarantee safety, it is more likely to be of help in an emergency.
Always stay close to your children when on the water.
This Coast Guard-approved toddler life jacket is a decent all-rounder. Using it around swimming pools is OK - as long as close adult supervision is available.
It's not the best life jacket for boating; I recommend either the O'Neill or the Airhead models instead.
A little more expensive than I'd have liked, but it's also durable enough that it doesn't really feel overpriced.
10. Bafeil Swim Vest.

Decent, but unexciting toddler life jacket.
Pros
Cons
Bottom Line
Price
This swimming vest has an adjustable strap, quick-release buckles, and is adequately buoyant for your playful toddler to bounce around in the water. The adjustable buckle increases mobility, so your child has enough range of motion, and the padded headrest on the jacket makes it easier for kids to float to the surface.
It is fitted with high-density cotton and a polyester filling that is gentle on the skin and lightweight. This vest is ideal for the pools, less so for boating.
The biggest problem with this vest is the strength of its straps.
Many customers complained that the straps broke under pressure.
Also, it's not USCG approved, so you won't be able to use it in certain lakes and public water parks.
This toddler life jacket is built for comfort but may not be the most durable option.
It's best for non-vigorous fun in the water. But what toddler is OK with being non-vigorous? You can find better options on this list.
This vest is one of the best-priced options in this review, but cheap price does not mean great value. You can find better options for the same price.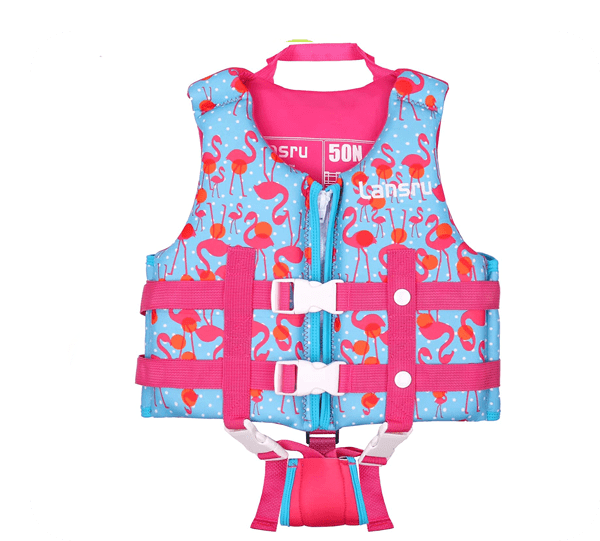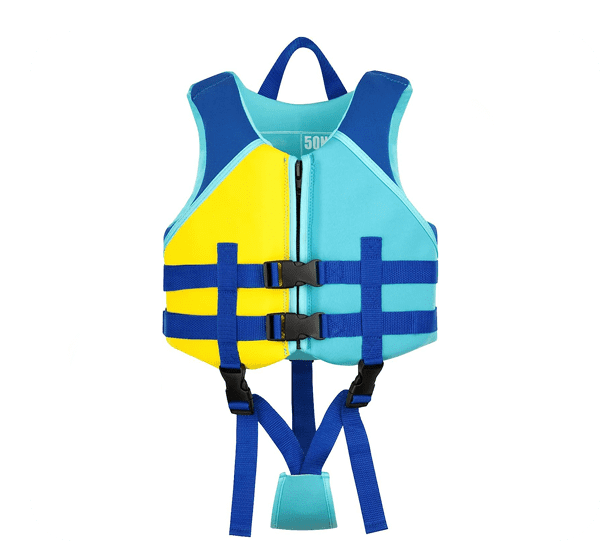 11. OldPapa Toddler Swim Vest.

Most patriotic life vest 🙂
Pros
Cons
Bottom Line
Price
Made in the bright blue-and-yellow colours of the Ukrainian flag, this OldPapa can help you shoot two Russians birds with one stone.
Your kids have fun in the water while you feel a bit patriotic 🙂
The swim jacket's crotch straps add a layer of security, and the adjustable straps with quick-release buckles make it easy to get a good fit. You won't have to worry about the jacket loosening. The jacket can also float toddlers as heavy as 35 pounds.
A few customers complained that this jacket could be a little close fitting and it tends to rub up on the underarms of their children, making them very uncomfortable.
It's also not USCG approved, so you can't use it in certain public water bodies.
This life jacket is designed for children ages 2-3 who weigh between 22 and 35 pounds. It's not Coast Guard approved, so you might want to restrict using it to pools.
The vest is well priced and best suited for people on a budget.
What's The Difference Between Type II And Type III Life Jackets?
Do you remember how old you were when you realised that you can't have everything in life? Well, life jackets present us with the perfect metaphor for this realisation.
Life jacket design always involves a set of compromises, the most fundamental of which is balancing buoyancy with comfort.
Type I life jackets offer extreme levels of safety, but are very impractical and restrictive. They're almost never used in recreational situations, especially for toddlers. Let's not mention them again.
Type II life jackets are our #1 recommended option for toddlers in recreational settings. They will attempt to upright an unconscious person, or a child with poor swimming skills, in the water (but don't guarantee to). Their biggest downside, when compared with Type III vests, is their increased bulk. That said, technology has improved throughout the years, and the two top choices in this review are surprisingly compact.
Type III life jackets are life jackets in name only. Think of them as floatation accessories or aids, designed primarily with comfort in mind.
What To Consider When Looking For The Best Life Jackets For Toddlers?
Amazon has more than 200 well-priced, highly-rated kids life jackets and personal flotation devices. Where to start? Use my guidelines below to separate the wheat from the chaff.
Type II Rating.
The Coast Guard recommends a Type II vest for toddlers, especially when boating. I agree with their recommendation.
Freedom Of Movement.
A life jacket shouldn't be overly restrictive. Yes, the feeling of having a shell around you is unavoidable, but modern life jacket manufacturers have become quite good at balancing buoyancy with bulk.
When your toddler's life jacket arrives, take your time. The key is allowing your kid to get used to it while you figure out whether the jacket offers enough freedom of movement. Slide it on without zipping it up and watch their arms. Can they move without impediment? Is the neck collar choking your kid?
After a while, zip the vest up and make the checks again.
Colours & Designs.
In theory, kids are more likely to wear something cute. In reality, cute colours and prints exist primarily for parents' amusement (and to generate the obligatory "ooooooohs" and "aaaaaahs" from fellow parents at the pool.
While those are "nice to have" features, don't allow them to take centre stage. Choose the best life jacket for your toddler by its safety credentials only.
Price.
A lot of parents complain about a toddler life jacket costing $80, then go out and spend more on a case of beer.
Don't fall into that trap. Think about the life jacket's value rather than its price. The most expensive children's life jackets cost less than $90. It's not a lot in the grand scheme of raising a child.
Durability.
A toddler life jacket will get used for 1-2 seasons before your kid outgrows it, and you need to upgrade. Extreme durability isn't necessary for this reason, but a reasonable amount of durability is necessary. The highest-rated jackets in this review are sufficiently robust, but be sure to check the seams and fabric thickness when the life jacket arrives. It's not uncommon for any relatively cheap product to arrive with defects.