Summer is only a few months away, and like many, I'm excited to swim, paddle and go boating on the lake with my kids. You must be, too, but are you well prepared? Right now is a good time to inspect all of your kids' life jackets, river tubes and floating mats, ordering replacement items before they sell out during the summer rush. What's the key to choosing the best kids' life jacket? Start by choosing one that's appropriate for your kid's weight. Kids who weigh less than 30 lbs need a toddler jacket, while kids who weigh more than 50 lbs need a youth vest. This guide focuses on the best life jackets for kids between 30 and 50 lbs. I did the research so that you don't have to – enjoy!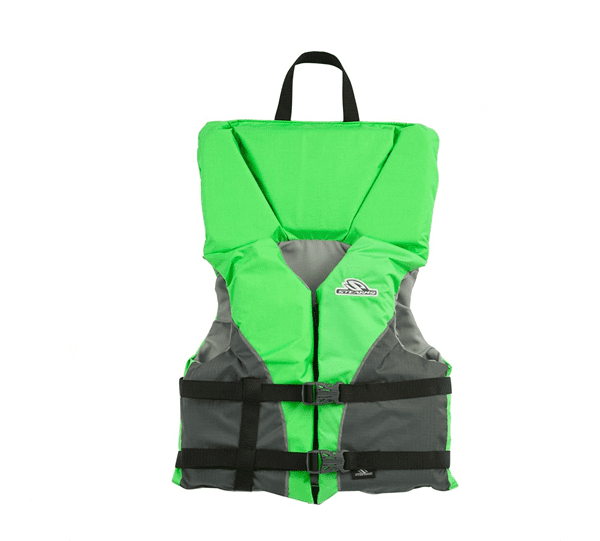 1. Stearns Heads-Up Kids Life Jacket.

Best overall life jacket for kids.
Pros
Cons
Bottom Line
Price
The Stearns Heads-Up is a genuine Type II Coast Guard-approved kids' life jacket. It is much more likely to turn an unconscious kid on their back than a Type III design.
Type II kids life jackets are and hard to find, which is why this Stearns model won the title of the best kids life jacket.
A number of safety features seal the deal, including a grab strap for yanking your kid out of the water, a highly visible lime green color that you can spot anywhere, as well as belly adjustment straps that ensure a snug fit with plenty of room to grow.
Because this Type II kids life jacket is designed with extreme buoyancy in mind, it's not ideal for teaching your kid to swim.
It will continue to force your kid on their back, preventing them from padding efficiently. It's also bulky compared to Type III designs like the O'Neill Reactor and the Stearns Classic below.
The Stearns Heads Up is the best life jacket for kids between approximately 3 and 5 years of age and 30 to 50 lbs in weight.
Its Type II rating and bright colors seal the deal for me.
Yes, it's more bulky than the O'Neill Reactor below, but it's optimised for best flotation rather than best freedom of movement.
The interior foam is also well-padded and rests nicely on kids' bodies. So say goodbye to those harsh life jackets that irritate the skin.
The crotch strap has a neoprene rash guard, which I greatly appreciate. Most kid life jackets do not have any form of rash guard for their crotch straps.
The Stearns Heads-Up is very well-priced. You'll find the price right if you're both safety and price-conscious.
2. O'Neill Reactor Life Vest.

Most comfortable life jacket for kids.
Pros
Cons
Bottom Line
Price
The O'Neill Reactor came 2nd in our review of best kids life jackets because of its focus on comfort. Your kid will love wearing it for hours.
The fit is perfect, and the neoprene outer shell is soft on the skin. Unlike cheaper kids life jackets, the O'Neill Reactor won't chafe your kid's legs or cheeks.
US Coast Guard-approved, it features double waist buckles, an adjustable crotch strap for a tight, secure fit and a safety loop at the back of the neck for additional safety.
O'Neill jackets are known for being quite fashionable, and the Reactor doesn't disappoint. Available in 6 high-visibility designs, it makes the Stearns Head-Up and Classic Series look pretty plain.
This is a Type III life jacket, which makes it less buoyant than the winner of this review, the Stearns Heads-Up.
Apart from that, I have no complaints.
It's also one of the most expensive kids life jackets on this list.
The O'Neill Reactor is the most comfortable kids life jacket on this list, and is one of the best-looking.
It is the best option for fit for active kids who are between 2 and 5 years of age.
This life jacket is about 30% more expensive than the Stearns Heads-Up, but it's definitely worth the money if you're looking for a strong, attractive, kids life vest that doesn't restrict movement.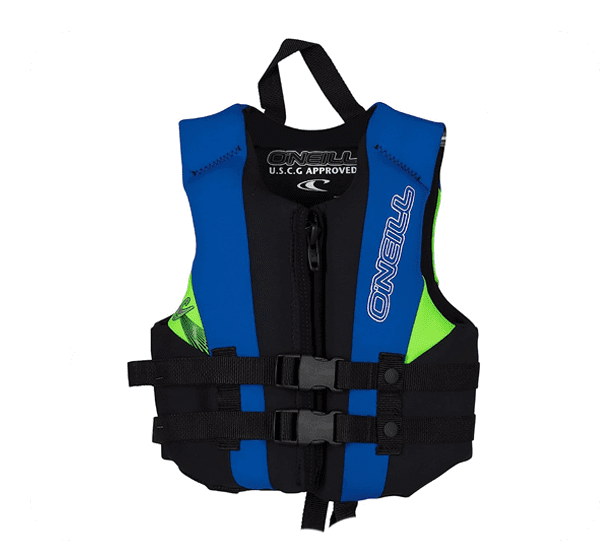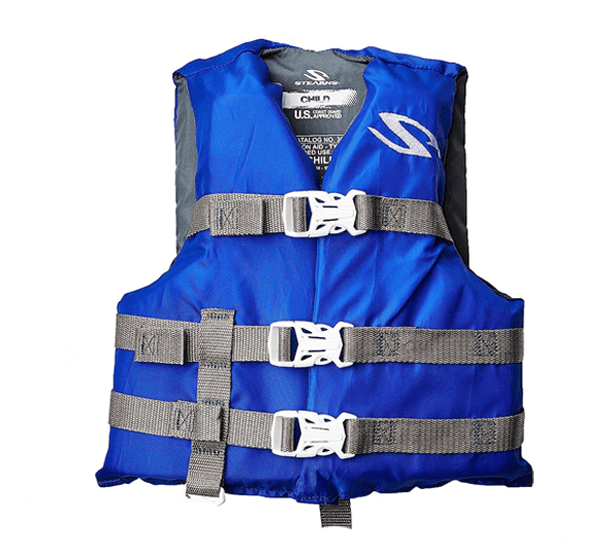 3. Stearns Classic Series.

Best budget life jacket for kids.
Pros
Cons
Bottom Line
Price
The Stearns Classic Series is one of the cheapest kids life jackets on the list. Approved by the United States Coast Guard, it has a chest strap and two abdomen straps for a snug fit and a crotch strap for preventing the vest from floating up and over your kid's face.
Durable construction with substantial snap buckles means this vest will survive at least a couple of seasons.
Bright blue color is also highly visible without being overbearing.
The Classic Series feels less quality than the O'Neill Reactor and the Stearns Heads-Up. The differences are subtle but noticeable.
The crotch strap, for example, is quite rough to the touch and may cause chafing, while the outer nylon shell feels quite inflexible .. almost like cardboard.
Also, where is the grab strap, Stearns? I was disappointed to find that it was missing. This is a dealbreaker for me; I want to always be able to pluck my kid out of the water with one hand.
The Stearns Classic Series Vest is a no-frills kids life jacket that offers good protection at a very low price.
Build construction is reasonably robust, but quality of materials may make some kids uncomfortable.
This jacket is a bargain.
It's almost one-third of the price of the Stearns Heads-Up and one-quarter of the price of the O'Neill Reactor.
4. Gogokids Vest.

Best for for preschoolers.
Pros
Cons
Bottom Line
Price
The Gogokids vest has wide open sides and two adjustable straps for a comfortable fit, making it a good option for all-day wear on the boat or at the beach.
This is also the only kids life jacket with double straps under the crotch, preventing it from riding up to your kid's face.
Moreover, it features an innovative wedgie guard between the straps that prevents chafing.
A lot of cheaper kid life jackets only have one thin strap that is likely to irritate the kid's skin.
Gogokids does not offer antimicrobial protection on its vests, making them more susceptible to mold.
Blue colour scheme is also not the best for providing visibility on the water.
Unless you live near the Red Sea, ha 🙂
Gogokids is a great all-rounder. You get the best crotch strap in the business and a grab handle for yanking your kid out of the water if an emergency occurs.
This kids life jacket is sharply priced. While not the cheapest, it is significantly better priced than the O'Neill Reactor.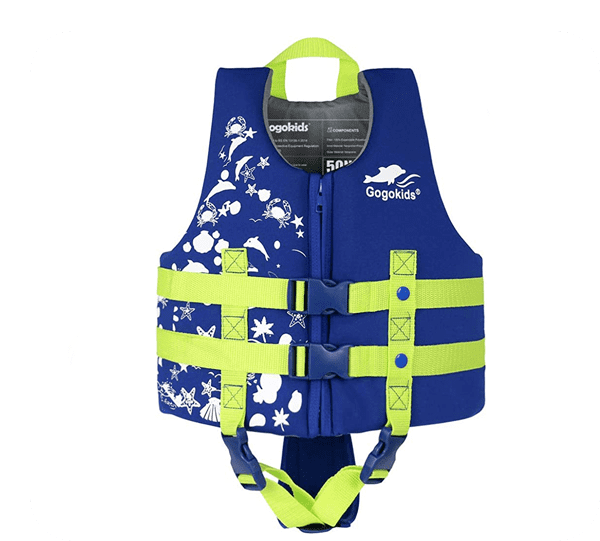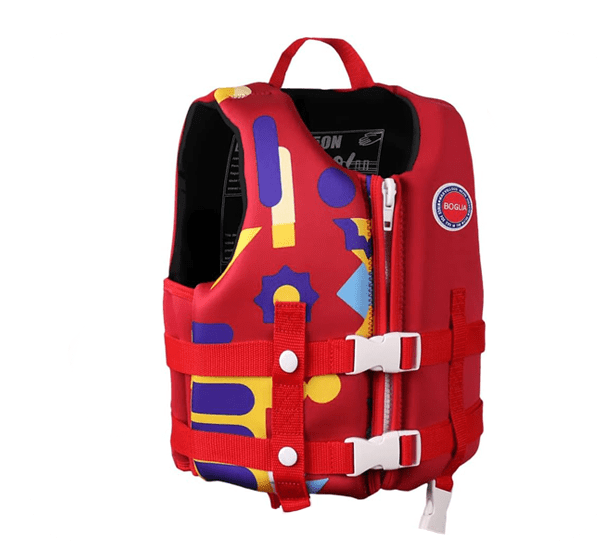 5. Boglia Kids Swim Vest.

Most funky life jacket for kids.
Pros
Cons
Bottom Line
Price
The Boglia Kids Swim Vest has a wide, comfortable crotch strap that is super comfy. Unlike other life jackets whose crotch straps consist of a single, uncomfortable strap buck, this vest has two quick-release waist buckles, two additional crotch buckles, and a front zipper closure for a tight, snug fit.
It is made with neoprene for stretchy warmness, softness, and comfort, and it offers UV protection.
The Boglia is available in two options with bright colors and three sizes for children ages 1 to 9. Each color option has lovely bright patterns that your kid will love.
This product isn't US Coast Guard-approved, and that is definitely worth noting. And also, the life jacket sometimes pushes smaller kids facedown into the water instead of flipping them on their backs to float.
And then the grab strap isn't that durable, especially for larger kids. Grabbing your kids using the grab strap could lead to it tearing off.
The Boglia Kids Swim Vest is a good swim vest for any kid. Extra features like the zipper front and the comfortable crotch support make it a good purchase. But it's not US coast guard-approved.
Well-priced. Nothing to complain about regarding the price. But you might want to get slightly less comfortable but US Coast guard-approved Stearns Child Classic Series Vest.
6. Airhead Kwik-Dry Vest.

Great if your kids swim every day.
Pros
Cons
Bottom Line
Price
This quick-drying life jacket is designed with your child's utmost comfort in mind. The PVC foam front is soft and feels lush on children's skin, and the NeoLite outer shell dries up fast when your kid leaves the water.
The quick-drying material makes the jacket weigh less and keeps it light and airy, so your kids won't get water from their life jackets dripping on the floor of your boat, car, or pool deck. The dry technology also makes the jacket easy to store.
The US Coast Guard-approved jacket has a zipper closure, two waist straps, and an adjustable strap for the crotch, and it's available in multiple sizes for infants (15 -30 pounds) and little kids that weigh between 30 to 50 pounds.
Some users reported that their toddlers couldn't float as they should, even after wearing the appropriate-sized life jacket. And then, the jacket is only available to order in one color. You will have to get another product if you don't like its zebra and pink colors.
You'd also have to adjust the crotch strap well enough so it doesn't cause discomfort or a rash on your child's thighs.
The Airhead Kwik-Dry life vest is a decent life jacket.
It's the best pick for families that make frequent (i.e., daily) visits the local lake during summer.
Its quick drying capabilities will ensure that your kids don't have to put on a damp jacket every day.
When you consider the quick-drying capabilities, it's fairly priced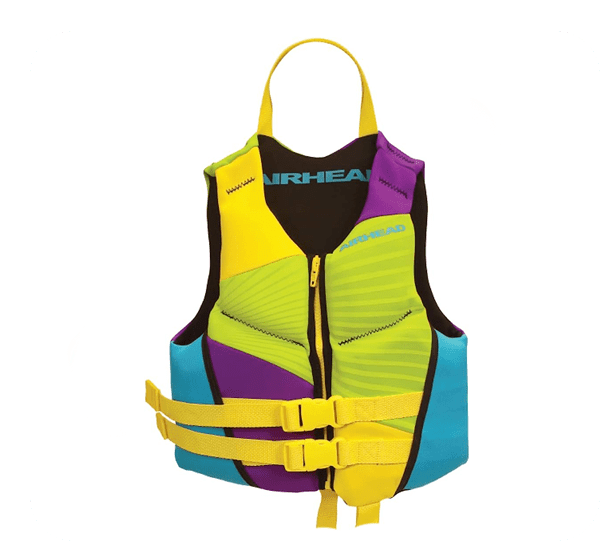 7. Airhead Gnar Life Jacket.

Another quick-drying life vest.
Pros
Cons
Bottom Line
Price
Boasting a lovely multi-coloured design, the Airhead GNAR life vest is a cute quick-drying life vest. The quick-drying neoprene material used in the vest will help keep your kids dry and light when they are away from water, and the material is very comfortable and soft against the skin.
The vest comes with two waist belts, a crotch strap, and a quick grab collar for lifting kids or rescuing kids in the water. The vest also does a great job of keeping your children strapped in while ensuring they remain as comfortable as possible, and it's available in two sizes for children and infants.
Keep an eye on your kid even when this life jacket is on. If they fall, the life jacket may not keep them upright immediately. They will likely remain face down for moments before they tilt over.
Like the previously reviewed Airhead WICKED , this vest is available in only one colour. I'm not sure why Airhead doesn't want the variety.
The Airhead GNAR vest is another great life vest from Airhead. Frankly speaking, I couldn't tell any major difference between it and the Airhead WICKED life vest. The only noticeable difference is the varying color schemes used in their designs. But other than that, they are very similar. Any of the two vests will do.
The price is all right. It's hard to complain about the price when getting a good quick-drying life jacket.
8. O'Neill Superlite USCG Life Vest.

Best life jacket for small-sized kids.
Pros
Cons
Bottom Line
Price
Designed for smaller kids, the O'Neill Child Superlite vest is a budget offering from O'Neill compared to the previously reviewed Wetsuits Child Reactor
Despite being a budget option, the Superlite comes in the multi-colored design schemes of the Reactor life vest. The interior of this budget vest is made with polyethylene foam, while the exterior is made up of a polyester and nylon combination. In simpler terms, the jacket is super comfortable yet durable.
The Superlite vest weighs less than 0.5 lb, making it perfect for small kids who can't support the weight of more oversized life vests. The small size also makes it compact and super-easy to pack. It is US Coast Guard-approved and can be used in most water bodies.
Many customers complained that the jacket isn't true-to-size. So if your child isn't small, this life jacket will feel tight and uncomfortable. Instead, go for the larger-sized O'Neill Child Reactor or the STERNS PFD.
Unlike the Child Reactor, this vest doesn't have a back grab handle and doesn't come with head support. Smaller kids, especially infants, will need the head support feature in a life jacket.
Perhaps the most worrisome part of this life jacket is that a few users complained that their kids ended up face down in the water, even with the life jacket. It might just be that their child is above the weight limit, or they got a defective unit. So once again, pay close attention to your kids the first few times they use this jacket.
This vest is the perfect-sized lightweight jacket for small kids. You get a perfectly working personal flotation device that functions well.
Costing less than half of the O'Neill Wetsuits Child Reactor, this life jacket is much more affordable. Get this one if your child is not so big and you are on a budget.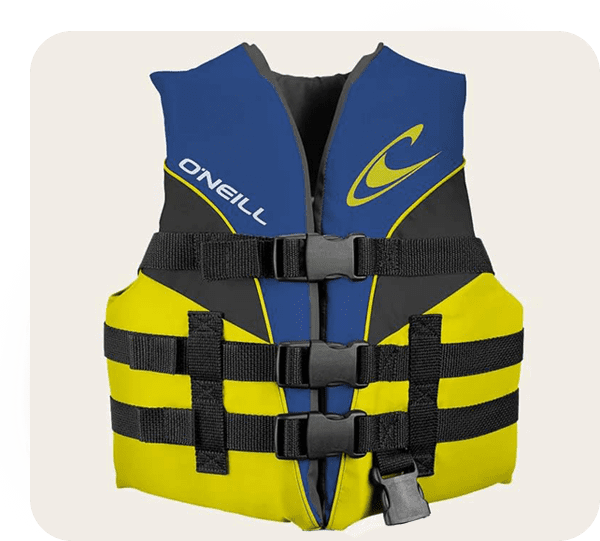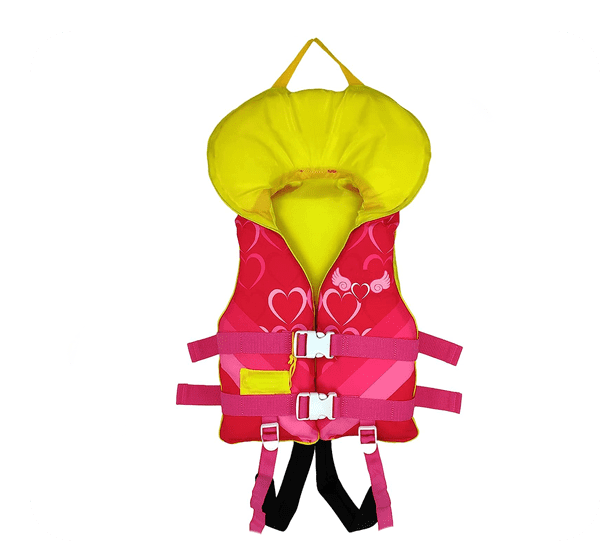 9. Vine Swim Vest.

The cutest life jacket ever.
Pros
Cons
Bottom Line
Price
Imagine a swarm of lovely colored bees playing on beautiful sunflowers. You get that with the Vine float jacket when your kids wear it.
I absolutely love the color schemes of this life jacket. It is available to order in four lovely colors, with additional colors used for the insides and the collar support for a beautiful finish. The jacket is also available in three different sizes for kids aged two to nine.
The Vine jacket is a budget kid life jacket with two belly straps, two crotch straps, and a grab strap. The collar support aids with buoyancy and supports your kid's neck. It uses a rare combination of cotton and polyester for a soft, comfortable feel on your kid's skin. A bonus whistle is attached to the life jacket that serves as both a toy and a distress signal device.
First and foremost, the Vine jacket isn't Coast guard-approved. You'd need to constantly watch your child when playing in water because they might flip face down in the water, and the jacket doesn't automatically stabilize them. The jacket is also not durable and might quickly rip after a few uses.
Vine Toddler Swim Vest Float Jacket is a pretty life jacket for kids of a diverse age range. And that's all to it. It's okay for safety, but it has questionable durability.
This life jacket is decently priced, but the equally budget Stearns Child Classic Series Vest is US Coast guard-approved.
10. Full Throttle Kids Life Vest.

An eccentric life jacket for kids.
Pros
Cons
Bottom Line
Price
Not every life jacket for kids has a child-focused design. The Full Throttle Child Water Buddies Life Vest breaks the mold with its unique designs that are themed around animals like turtles, ladybugs, dinosaurs, and a princess for girls. Your kids will love the design of this life vest, and they will always want to put it on.
This jacket is made of nylon and foam, and it has a zippered front, double belly straps, and a single crotch strap. The US Coast Guard-approved life vest is enjoyable for kids and fits them cozily.
Its hassle-free buckles and large smooth zip make it easy to put on and off, and it supports kids that are 30 pounds to 50 pounds in weight.
The Full Throttle doesn't hold children on their backs face up like type II life jackets. So you'll need to supervise your child while they use the life jacket. And if your kid is chubby, the jacket might chaff the skin around their neck.
You'll be hard-pressed to find a better-looking, premium-design jacket than the Full Throttle Child life vest at its price point. It is durable and does a great job of keeping kids afloat in water.
This life vest has a lovely, quintessential design and comes at a really affordable price. Factors To Consider When Buying A Kids Life Jacket.
All life jackets look almost identical on the surface, but the best life jackets for kids have a few factors in common. Here's what you need to look for.
Fit.
Gauging fit is difficult when purchasing a life jacket online, so be sure to check it as soon as it arrives.
Never buy a life jacket designed for a 30-50 lb kid when your child is still 20 lbs. "He'll grow into it" isn't a good argument when your kid's safety is on the line.
The life jacket must fit snugly. If it rises above your kid's face when in the water, or crowds their neck area, it's likely too large.
Weight.
Kids life jackets are designed to support the weight of a 30 - 50 lb child. Get your kid to jump on a scale before buying.
Materials.
The best life jackets are typically made of nylon, and sometimes with neoprene inserts for improved drying times. Floatation is enabled by dense layers of polyethylene (PE) or expanded polyethylene (EPE) foam, which is extremely buoyant and 100% recyclable.
What Are The Maximum And Minimum Weight Limits Of Kids Life Jackets?
Kids life jackets typically accommodate children who are between 30 lbs and 50 lbs.
Resist the temptation to buy a jacket that's slightly outside of these parameters. A life jacket that's too big for your kid will ride up towards their neck, potentially causing breathing difficulties. A life jacket that's too small will fail to provide adequate buoyancy.
What Is The Best Life Jacket For 2 to 3 Year Old Kids?
The Stearns Heads-Up PFD took out the #1 spot in this review of the best kids' life jackets. I recommend it for kids who are not strong swimmers, are 2 years older and weigh more than 30 lbs.
The O'Neill Reactor is my next recommendation, and it is the better option for kids of the same age and size who are capable swimmers. It trades off some buoyancy for improved comfort and freedom of movement.
When Does Your Kid Need To Wear A Life Jacket?
Kids under 12 must always wear life jackets when in boats, canoes or kayaks - even if they're strong swimmers.
Laws in many states require life jackets to be US Coast Guard-approved. You may not be allowed to rent a boat or use a water park unless all life jackets in your family meet the requirement.
How We Selected The 10 Best Kids Life Jackets.
After reviewing hundreds of first-hand reviews and professional recommendations to get a sense of user feedback, we studied US Coast Guard's recommendations to hand-pick the best and safest options for your kids.
We eliminated any items that appeared to be prone to durability or performance issues, and only included top brands like O'Neill, Gogokids, Stearns, and Stohlquist.