A family day out at the lake or on the boat doesn't mean that you have to leave your infants and babies behind. They can come along – if you choose the correct life jacket for their size. The best infant life jackets are likely to keep your baby's face out of the water in an emergency – without restricting movement during everyday use. In this review, I compared 11 life jackets, picking my #1 winner and a few runners-up to help you make the right decision. If your baby is currently between 8 lbs and 20 lbs, you're in the right place. If your baby is 20-30lbs, you're better off with one of our best life jackets for toddlers.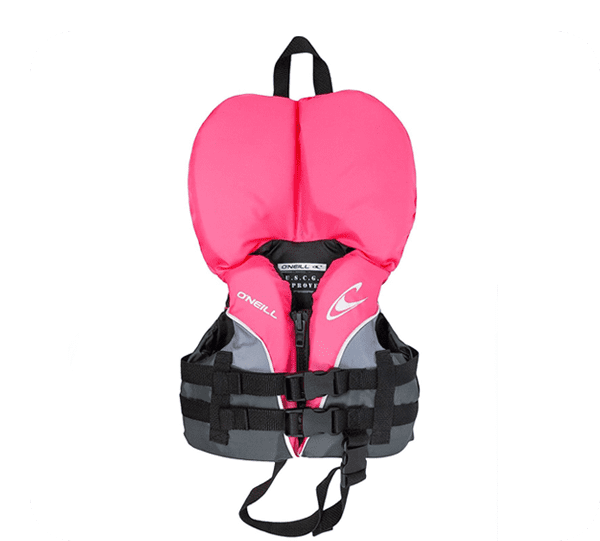 1. O'Neill Wake USCG Infant Life Vest.

Best overall infant life jacket (12 lbs +).
Pros
Cons
Bottom Line
Price
Safety is the key differentiator of this Type II infant life jacket. Very few baby life jackets are rated this highly by the Coast Guard.
Type II means this jacket may turn a non-swimmer on their back in the event of an emergency (a type III is less likely to). This is why I recommend Type II jackets for kids between 4 and 18 months of age.
While it will technically fit babies as small as 8 lbs, its best suited to carrying human cargo that is upwards of 12 lbs.
(If your baby weighs less than 12 lbs, consider the Full Throttle or Airhead Wicked, below).
Apart from safety features, I love that the O'Neill infant life jacket is very comfortable, with a large V-neck opening on the front to prevent choking and head support on the rear. It looks sharp on the kids, and the colours are eye-catching and vibrant.
The biggest - and only - downside of this O'Neill infant life jacket is its bulkier construction. Unfortunately, this is unavoidable with Type II life jackets, as they require a larger amount of foam to move your infant onto their back.
I believe it's a fair compromise to make for an added level of safety - especially if you plan to go boating offshore.
(Even though the vest is bulky, it fits babies properly - and they love wearing it).
Remember that this vest can't be used while teaching your baby to swim, as it will always attempt to flip them on their back.
The O'Neill Wake is the best infant life jacket on the market because it balances safety with comfort.
Coast Guard-approved, it will attempt to flip your baby on its back if the worst happens, has a convenient grab strap for plucking your kid out of the water, and is comfortable, durable and attractive.
The O'Neill is the best baby life jacket in my books, but it is not overpriced.
2. Airhead Treasure Infant Life Vest.

Cutest life jacket ever (12 lbs-20 lbs).
Pros
Cons
Bottom Line
Price
I love the Airhead Treasure's adorable ocean-inspired design!
But don't let the vest's cute looks fool you - it's a serious personal flotation device with a Type II rating. Like the O'Neill above, it will attempt to flip your infant on its back if they land face first in the water.
Like the O'Neill vest, it's ideal for babies between 4 months / 12 lbs and about 18 months / 20 lbs.
Super comfortable, this USCG-approved life jacket allows your baby to move around without much restriction while providing neck support and a snug fit. Quick-release buckles make it easy to put on and remove, and the V-neck design doesn't crowd the child's chin.
The Airhead's PE flotation foam is thick - and it needs to be to keep your baby floating - but it means the life jacket is on the bulky side. As is the case with the O'Neill, this is unavoidable with a Type II jacket.
The crotch strap is unusually long, but you can solve the problem by tucking it behind the zipper.
The Airhead Treasure is perfect for keeping your little afloat, and is one of the best infant life jackets on the market.
Its durable nylon shell looks excellent and, unlike other life jackets rated Type III and lower, it doesn't deprioritise your infant's safety.
The Airhead Treasure life is one of the best-priced infant life jackets! Slightly cheaper than the O'Neill, it represents excellent value for money.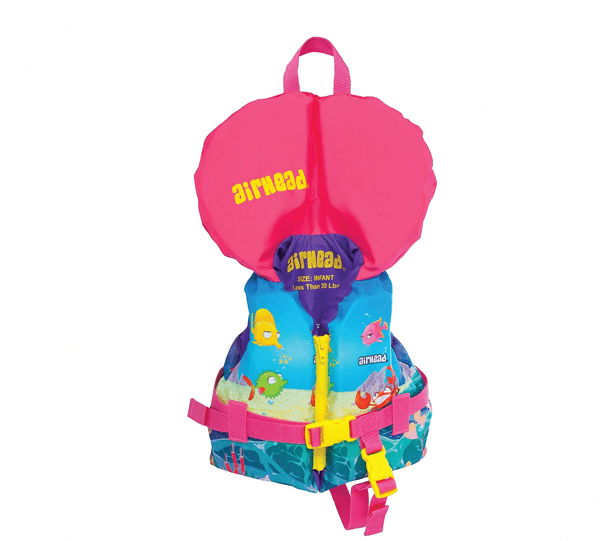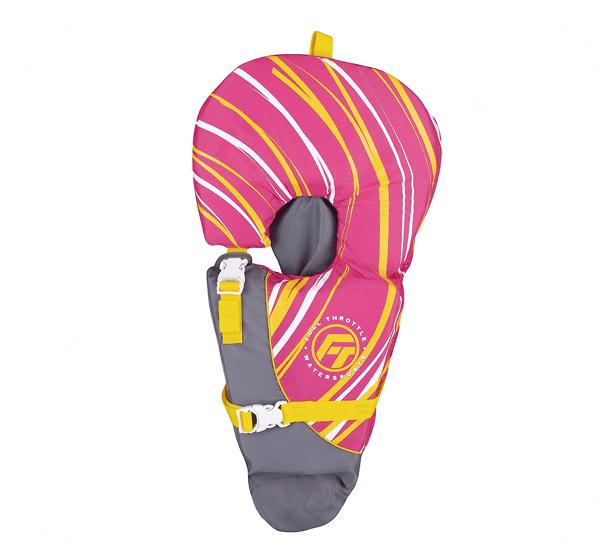 3. Full Throttle Baby Life Jacket.

Best infant life jacket for newborn, preemie and underweight babies (8 lbs-12 lbs).
Pros
Cons
Bottom Line
Price
This design lends itself well to very young, underweight or premature infants. It will fit tiny babies who are as young as 4 weeks and weigh 8 lbs, making it a perfect choice for parents wishing to take their baby out on the water from an early age.
This infant life jacket's maximum weight rating of 30 lbs is the same as that of the O'Neill and Airhead life jackets above - but is very optimistic. Your baby will grow out of it much sooner; expect to upgrade to a "real" toddler life jacket much sooner - around 18 months / 25 lbs at the latest.
Consider this Coast Guard-approved vest as an interim measure for tiny babies, or if you find that your baby hates traditional life jackets.
Babies love it because the comfortable open-back design reduces bulk, the elasticized fabric leg strap prevents chafing, and the large padded collar ensures no water gets into their ears.
This vest isn't suitable for chunky babies. Instead of a V-neck, full throttle uses a round, snug-fitting collar that makes larger babies uncomfortable.
This collar design is the key reason why your baby is likely to grow out of it sooner than the O'Neill or the Airhead.
Last but not least, this is a Type III jacket, which means it trades off some flotation ability for increased comfort. It is less likely to flip your baby on its back than the O'Neill and the Airhead models above.
This Coast Guard-approved vest is great for introducing smaller babies to the water! It's made from quality materials with excellent stitching and is slightly more comfortable to wear than the Type II models from O'Neill and Airhead above.
That said, it is a Type III vest, so it ranks #3 in our review of best infant life jackets.
The Full Throttle Infant Life Jacket has a fantastic price. It is one of the cheapest life vests on the market.
That said, it's only cheaper in the short term. Your outlay will be the same in the long run - because your kid won't outgrow the premium models as quickly.
4. Airhead Wicked Flex Baby Life Jacket.

Very comfortable option for smaller babies (11 lbs-20 lbs).
Pros
Cons
Bottom Line
Price
This is one of the most comfortable Coast Guard-approved life jackets on the market today. Your baby won't mind wearing it all.
It's also very well-sized for smaller babies. Yes, the vest is "officially" rated for babies heavier than 15 lbs, but in the real world, babies between 11 lbs / 2 months and 19 lbs / 6 months use it without issues.
Large collar provides neck support for your child's head, while the padded grab handle means you can grab your kiddo out of the water with one hand. A leg strap prevents it from riding up on the baby's chin.
The unique chic design with vibrant pink and zebra stripes gets mixed opinions. Some parents think it's superb. Personally, I prefer the smart, bright colours of the O'Neill. Regardless, the colour stands out in a busy swimming pool or a lake; you can easily spot your baby in the water.
Unlike the best infant life jackets with a Type II rating, this Type III prioritises comfort over floatation.
What you gain in supreme freedom of movement, you trade off in the jacket's ability to keep your baby floating face-up in the event of an accident.
The Airhead Wicked is one of the best infant life jackets out there, but it sits at a difficult cross-road.
It has fewer safety features than the O'Neil and the Airhead Treasure, so your kid will need even closer adult supervision.
Its head and neck support are excellent, but its leg strap isn't.
It is very good at accommodating small babies, but so is the Full Throttle - at half the price.
In the end, it's an expensive, comfortable Type III jacket that doesn't encourage face-up flotation. If you have a tiny baby, I suggest you purchase a Full Throttle vest instead and upgrade to the O'Neill or the Airhead Treasure as soon as they weigh 14 lbs.
The Airhead Wicked is a bit more expensive than the O'Neill (our #1 best infant life jacket for 2023), but the price difference isn't consequential in the grand scheme of things.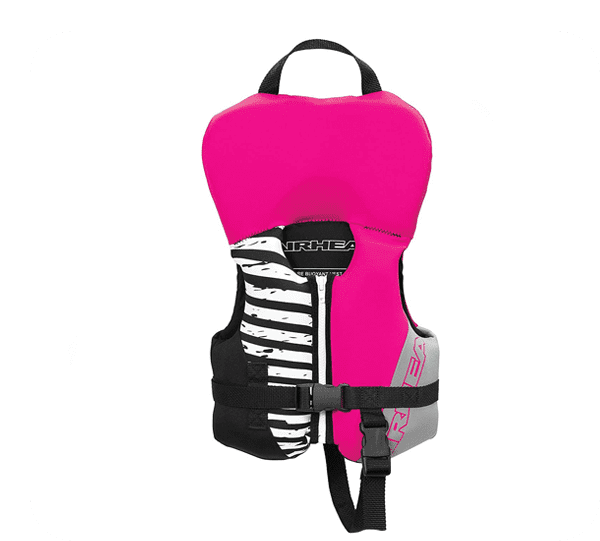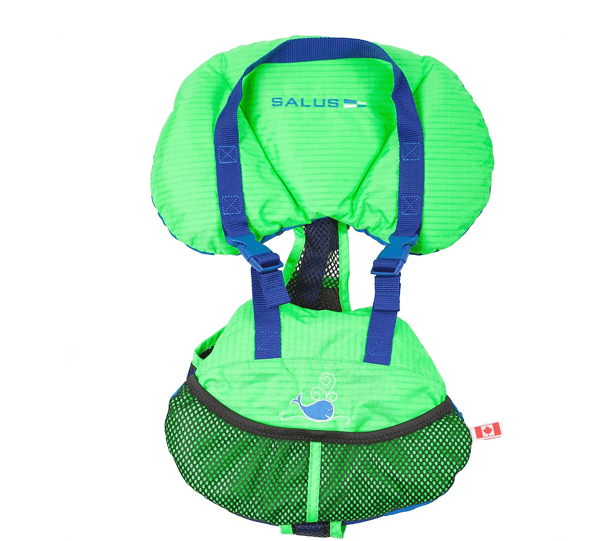 5. Salus Bijoux Baby Life Vest.

Best for small babies (8 lbs-20 lbs) and and very hot, humid climates.
Pros
Cons
Bottom Line
Price
The open-back design of the Salus Bijoux, combined with dry-aerospace liner and a webbing harness system, makes the vest very breathable and comfortable to wear in hot weather. If your baby has a tendency to overheat and is uncomfortable in all other infant life jackets, this is a great choice.
The 3-piece modular design makes the vest quick and easy for the parent to remove. If your infant panics in the water you simply press a couple of clips and they're free.
Like the Full Throttle, O'Neill, and Airhead Treasure infant life jackets, the Salus has an oversized head support, and the crotch strap is padded.
Top grab handle makes it easy to lift your baby out of the water if necessary, the materials are top notch and the fit is great.
Like most life jackets on this list, this is a Type III jacket. It's less effective than the O'Neill and the Airhead Treasure at keeping your baby's head out of the water.
As I mentioned in my analyses of other Type III infant life jackets, what you gain in baby's comfort you sacrifice in flotation capacity.
While it's designed for helping your baby stay afloat in swimming pools and near-shore situations, it's not ideal for saving lives in off-shore boating emergencies.
The jacket is also quite expensive.
The Salus is an ultra-comfortable vest that can be used from birth until about 16 months.
Its unique design doesn't restrict your baby's freedom of movement while keeping them cool.
The Salus is the most expensive infant life jacket on this list. It's only worth the money if your baby is very sensitive to hot temperatures and refuses to wear more bulky life jackets.
6. Overton's Infant Vest.

Decent alternative to the Full Throttle vest.
Pros
Cons
Bottom Line
Price
The Overton's is a great budget US Coast Guard approved infant life jacket. The crotch area is elastic, offering a snug fit that won't rub your baby's thighs.
Because it's elastic it prevents chafing and has a lot of room for growth. Also, the armholes are softly padded. This will allow your baby to swing their arms as much as they want without any scrapes at all.
The oversized collar design provides excellent head support, which is great, especially for younger babies, while the single adjustable chest strap makes it one of the easiest life jackets to remove.
Overton's rates this as a Type II jacket, but I'm concerned that they may be stretching the truth a little. As far as I can tell, it's a rebranded version of The Full Throttle child's life vest above, which is clearly rated as a Type III.
Personally, I'd rather err on the side of safety and assume that this is a Type III design, rather than falsely believe that my child is safer than they are.
Overton's infant vest is US Coast Guard approved and, colour scheme notwithstanding, appears to be identical to the Full Throttle jacket above. It is comfortable, but won't offer the same level of face up flotation as the O'Neill Infant USCG Vest.
Overton's pricing is very affordable, but you may have to pay more for delivery than you would with Amazon Prime.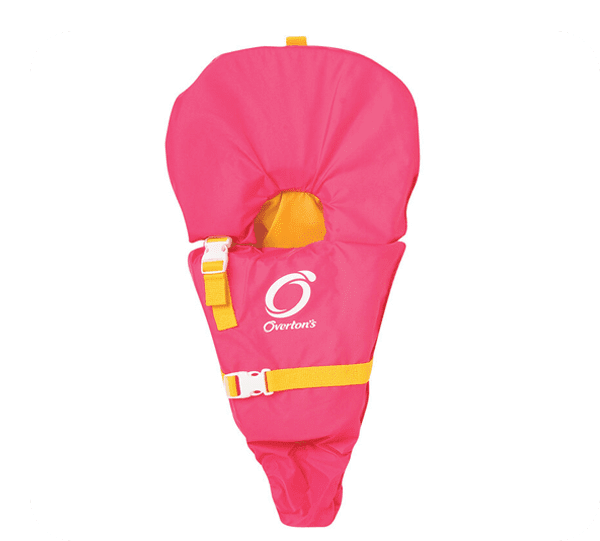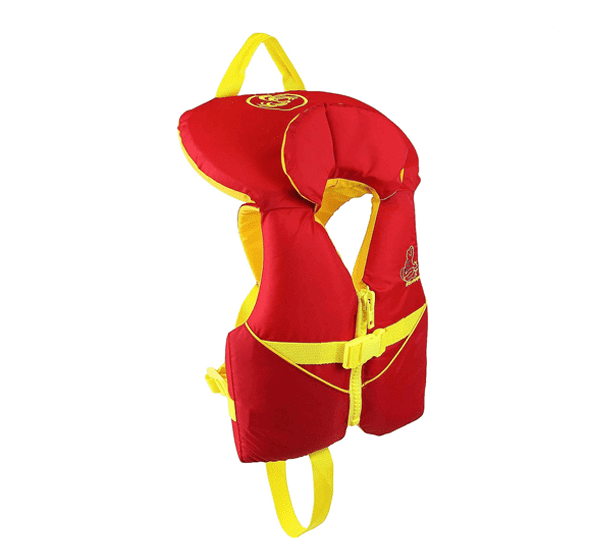 7. Stohlquist Infant PFD Life Jacket.

Middle-of-the-road life jacket that prioritises mobility (8lbs-20 lbs).
Pros
Cons
Bottom Line
Price
Stohlquist Infant Life Jacket has large arm holes that are great for mobility and preventing chafing.
Like the Overton's, Full Throttle and the Salus Bijoux Baby Vest, it has a breathable open-back design that offers a comfortable, secure fit with plenty of head support.
Thanks to soft construction materials, it's one of the most comfortable US Coast Guard approved infant life jackets around.
The primary issue with the Stohlquist Infant PFD Life Jacket is its durability. Quite a few customers have complained that it tends to rip along the seams quickly. Others have noticed that the colours bleed after just a couple of uses.
There's some confusion about its rating - while Stohlquist claims that it's a Type II jacket, the Amazon shop categorised it as a Type III.
Finally, the leg straps are not padded - this could cause chafing if your infant wears the vest for too long.
Stohlquist Infant PFD Life Jacket is middle-of-the-road design that prioritises freedom and mobility. It is US Coast Guard-approved, lightweight, but is far from the best infant life jackets on this list. The durability concerns are worth paying attention to.
The jacket is relatively pricey, which is a concern when you take some durability issues into account.
8. Oceans 7 Infant Life Jacket.

Decent but bulky budget infant life vest.
Pros
Cons
Bottom Line
Price
The Oceans 7 Infant Life Jacket takes safety very seriously. Boasting a Type II rating, it is one of the highest rated toddler life jackets by the US Coast Guard.
Oversized collar provides ample head support while the crotch strap prevents it from riding up. Grab handle rounds out the list of safety features.
Because the main focus of this vest is safety, it is quite bulky. It will be OK for larger toddlers, but if your kid weighs less than 19 lbs, I recommend that you consider other options on this list. It will restrict movement of babies under 14 lbs and will look absolutely enormous on them.
The Oceans 7 infant life jacket is US Coast Guard-approved. It was designed with nylon construction and thick EPE floatation, which increases its durability. And it remains one of the safest infant life jackets you can get.
Oceans 7 isn't one of the best life jackets on the market, but it's an honest, affordable (albeit not very comfortable and aesthetically pleasing) product.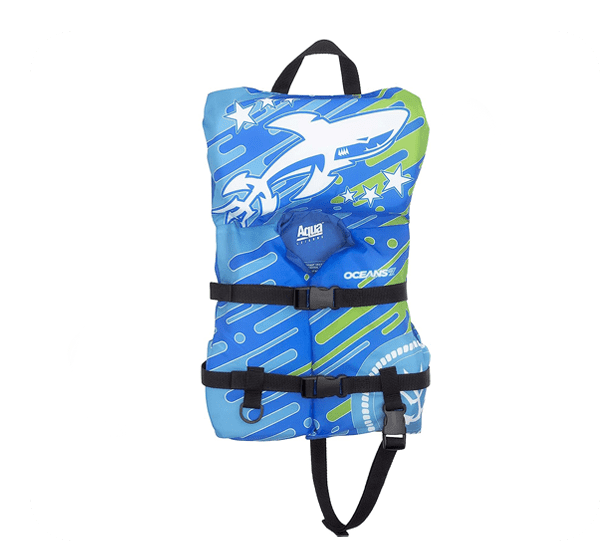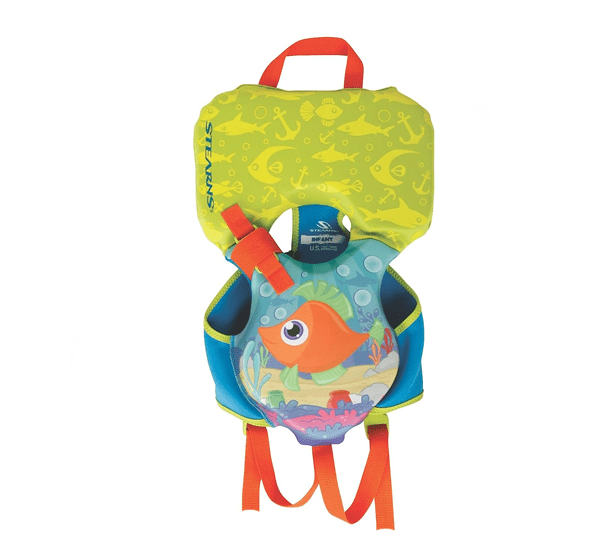 9. Stearns Infant Puddle Jumper.

Good life vest for smaller babies.
Pros
Cons
Bottom Line
Price
Take the Stearns Infant Classic Series, improve on its flaws, and you have the Stearns Infant Puddle Jumper Hydroprene Life Jacket. It is lightweight, fits most babies perfectly, has an adorable design and is made of super-soft neoprene that prevents chafing.
The jacket comes with two leg straps - rather than the usual single crotch strap that most life vests have - and a very convenient buckle at the neck area.
It is not bulky around the back, and allows for great mobility.
Great option for tiny babies, it will fit infants weighing between 7 lbs and 30 lbs.
One drawback of Stearns Puddle Jumperis that it can be tricky to get on. You will need to flip your baby back and forth to get all clips done up.
Also, the neck opening will be a little tight for chubby babies with extra rolls.
As a Type III vest, it's not as highly rated by the Coast Guard as Type II options above.
The Stearns Puddle Jumper is a supremely comfortable, US Coast Guard-approved, Type III infant life jacket. It's best suited for smaller, underweight, skinny babies.
This Stearns jacket is definitely at the premium end of the price spectrum.
10. Stearns Infant Classic Series Life Vest.

Another great budget infant life vest.
Pros
Cons
Bottom Line
Price
The Stearns Infant Classic Seris is a decent infant life vest that doesn't pretend to be anything it's not.
It keeps price down by dispensing with cute graphics and fancy materials. A grab strap is included for plucking your little one out of the water in the event of an emergency.
The Type III vest contains a substantial amount of padding, making it more bulky than Type II vests in this review. It's definitely not well suited to babies under 15 lbs. Yes, it will fit them, but it will also swallow them. A lot of smaller babies don't find this life jacket comfortable to wear.
The Stearns Infant Classic Series is a fairly average, inexpensive vest. There are far more versatile and comfortable options on the market.
Compared with some of the best infant life jackets in this review, the Stearns Infant Classic Series is quite affordable.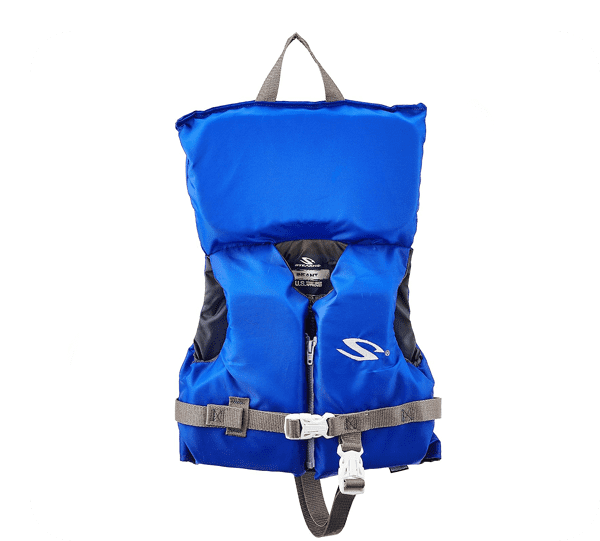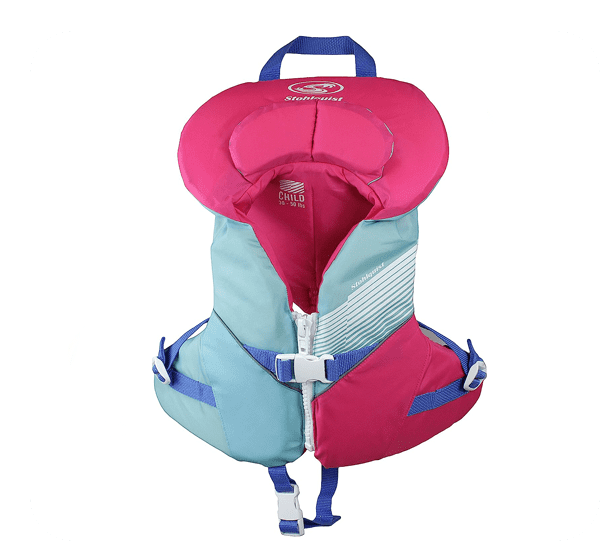 11. Stohlquist Infant Vest.

Least impressive life jacket for infants and babies.
Pros
Cons
Bottom Line
Price
This Stohlquist jacket, like the Stohlquist Infant PFD, also prioritises comfort and mobility. The large arm holes help prevent chafing and scraping, and the double collar is excellent. The collar gently cradles your baby's head without restricting mobility.
Unlike Stohlquist Infant PFD, this one comes in three nice retro colours, and the materials are quality. The double collar also makes it easier for the kids to float on their backs, even when they fall asleep.
It also has a convenient grab strap, and is easy to dry and store.
First, the colour bleeds. Quite a few customers report that, after hand washing, the purple colour bled into the pink.
Second, quite a few parents mentioned that the vest failed to float and, in some cases, pushed a child's head down into the water.
Whilst this occurred in a minority of cases, I decided to rank this vest lowest just to be safe. With so many infant vests on the market you have no reason to take chances.
Stohlquist Infant vest will keep most infants comfortable, but has a history of underperforming as a safety device in a non-negligible number of situations.
The vest priced at the premium end of the spectrum.
What To Look For In An Infant Life Jacket?
Have you started looking for a life jacket and realised your head is spinning? We're here to simplify and help.
1. Type II Rating.
Infant life vests are rated between I and V, but most options you'll see in consumer shops will be either Type II or Type III.
I always recommend a Type II vest for children and infants.
Why?
Type II PFD Near Shore Life Jacket.
Not as comfortable as Type III and not always fashionable, they will turn some unconscious wearers face up. They're a longstanding favourite among parents and professionals looking to minimise risks and satisfy Coast Guard requirements.
Type III PFD Floatation Aid.
More comfortable to wear than a Type II, a Type III vest is designed to help conscious wearers with an imminent chance of rescue stay afloat.
A small baby who can't swim won't fare well in open waters for a long time, regardless of which jacket they wear. But wearing a Type II may extend their life just long enough for help to arrive in the event of a catastrphe.
Don't treat a Type II as a failsafe, or a reason to leave your kids less supervised. It's simply extra insurance against a scenario where all adults are incapacitated and the baby's survival depends on its ability to float on their back.
2. Comfort.
If your baby isn't comfortable in the jacket, it will refuse to wear it. Unfortunately, floatation and comfort are diametrically opposed. It's impossible to design a baby PFD that is excellent at both.
Babies often "hate" their jackets, which is why you should always put it on for the first time a few days before your first trip to the water. Get your child used to wearing it and if the child is old enough, make a game out of it (hint: rewards!).
3. Aesthetics.
Most life jackets are bright and eye-catching (usually red, yellow, or orange), making them highly visible to rescue services and recreational boaters. Is it essential? No. Is it a good idea? Yes. The less you leave to chance, the better.
Manufacturers often add cute colour schemes to amuse kids and other parents. If it increases to odds of your child wearing it, it's a good idea.
4. Price.
Infant life jackets are not cheap, with best models costing between $50-$90. Additionally, it's likely that your infant will grow out of it within 1-2 seasons, forcing you to upgrade to a toddler or a youth life jacket.
But in the context of overall cost of raising a child (and the price of their safety), the price is negligible.
5. Durability.
Durability is not a huge factor for infant life jackets because - you guessed it - most babies only wear it for a season or two. Yes, you need to make sure that the jacket is reasonably robust, but if it lasts for the first 30 days it will probably last until your kid grows out of it.
Can A 3 Month Old Wear A Life Jacket?
Yes, in most cases - but it depends on your baby's weight. The absolute minimum weight is around 8 lbs. If your baby weighs less I recommend you wait a few more weeks.
What Is The Smallest Life Jacket For An Infant?
The Airhead Wicked Flex, The Overton and The Full Throttle are your best bets. They can carry kids as small as a few weeks and weighing 8 - 12 lbs.
What Are The Downsides To Using A Life Jacket?
Whoa, hold on. Did you just say there is a downside to using infant life jackets? You bet. Keep in mind that jackets are not designed to be used as swimming aids for everyday use.
First, a good infant life jacket will keep pushing your baby on its back, which isn't something that most kids want.
Second, a child that routinely wears a personal flotation device will get used to being supported by the device, and will become overconfident in the water.
Make sure that you teach your baby the sensation of being in the water without a life jacket. Let them experience the feeling of water in the face and to develop healthy reactions they'll need to stay afloat.