Swim floaties are an essential kids' summer swimming accessory. With summer fast approaching, we recommend you audit any swim aids packed in cupboards and purchase replacements. They're cheap to buy yet provide oceans of fun (excuse the pun) for the whole family. While swim floaties encourage children to be more water confident – especially during the learning-to-swim phase – they must not be used as a replacement for life jackets. They're not water safety devices! We've compiled the best toddler swim floaties you can buy in 2023. Every floatie on this list was chosen for its superior design, durability and fun factor.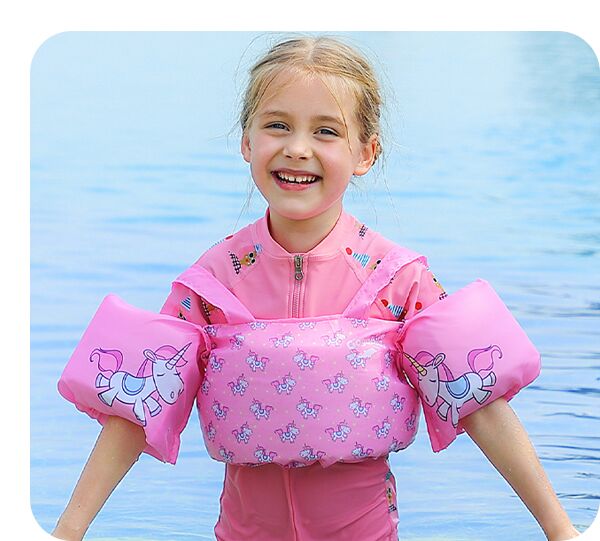 1. Gogokids Kids Swim Floaties.

Best toddler floaties for 2+ year-olds.
Pros
Cons
Bottom Line
Price
The Googkids Swim Vest has permanently inflated water wings that add buoyancy plus polyester construction, making it lightweight and comfortable.
Yes, the vest weighs less than 0.3 lb, meaning is easy to carry. I throw it inside my bag with towels and spare clothes - and hardly notice it. A permanently inflated design means I don't need to bring an air pump.
It supports toddlers between roughly 2 and 6 years of age and weighing between 30 and 50 lbs.
You can order the Gogokids Kids Swim Vest in multiple colours and designs (my daughter's favourite is Pink Unicorns).
The main minor frustration about the Gogokids Vest is that the armbands tend to slip down on smaller toddlers.
If your toddler is underweight or between 18 months and 2 years old, you'll be better off with the Stearns Puddle Jumper (#2 on this list).
Build construction isn't exactly bulletproof, with relatively thin materials used throughout - but you have to remember that this is a very inexpensive swimming aid. Floaties like these are not designed to last longer than 1-2 seasons.
Last, the Gogokids isn't a US Coast Guard-approved floatation device, so you may not be permitted to use it at certain public beaches or water parks.
The Gogokids Swim Vest is one of the best floaties for kids. Despite some shortcomings, the range of cute designs and a reasonable price point make it our #1 best overall toddler floatie.
The price-to-quality ratio is very good. No fancy bells or whistles - only what your toddler needs to have fun in the water.
2. Stearns Puddle Jumper.

Best USCG-approved toddler floatie.
Pros
Cons
Bottom Line
Price
The Stearns Puddle Jumper swim floaties offer a higher water safety ranking than most other toddler floaties on this list, though I must emphasise that it's not a water safety device. You must closely supervise your children at all times.
It is made with comfortable, breathable nylon and polyester combination, just like the Gogokids Swim Vest. Where it differs from the Gogokids Vest is the strapless design, making it a better option for smaller toddlers (the straps on the Gogokids Vest tend to slip down on smaller kids).
You get a huge range of fun, vibrant and bright colour options. The weight capacity of this swim aid is between 30 to 50 lbs.
The Stearns Puddle Jumper retains water for about 20 minutes after swimming! So, you'll need to take some time to drain the water off before packing it away.
Like the Gogokids Vest, the Stearns is a non-inflatable swimming aid, so you don't need to worry about air pumps or leakages.
Finally, the sleeve openings are on the smaller side. If you find them difficult to put on, apply a bit of sunscreen or lotion on your toddler's skin first to make the process easier.
The Stearns Original Kids Puddle Jumper is a top-quality, budget-friendly US Coast Guard-approved swim aid with little to complain about.
It's designed to assist toddlers who are already somewhat competent in water to float. Like all other swim floaties on this list it is not designed to hold a child's head above water on its own.
It loses the best overall title to Gogokids because it's about 30% more expensive.
While the Stearns Puddle Jumper is decently priced, the Gogokids Vest (above) is about $10 cheaper.
Not a huge difference, but something to consider if you're on a strict budget.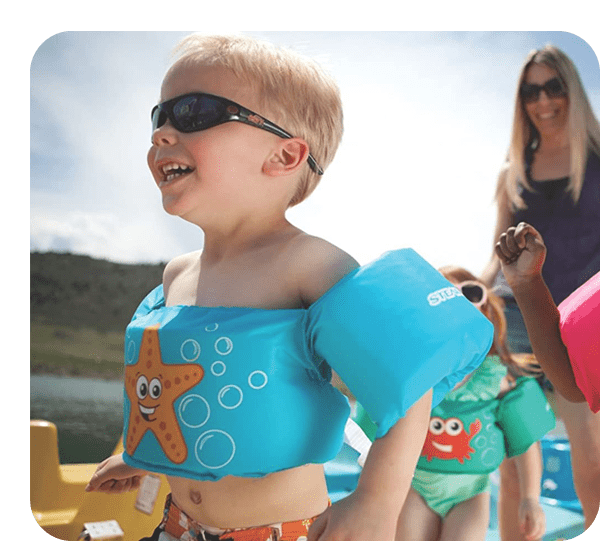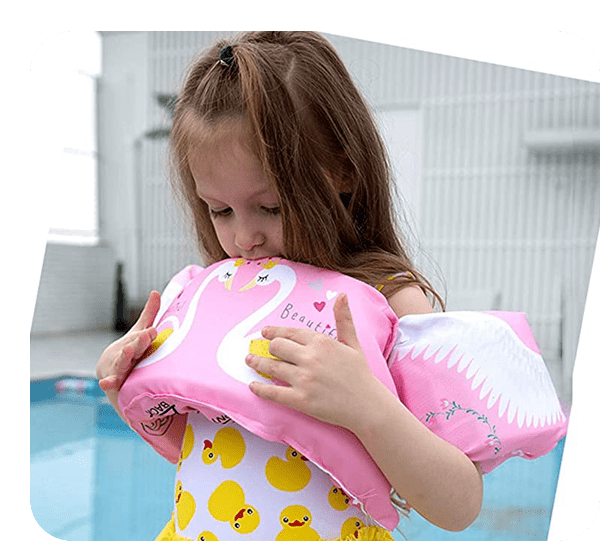 3. GoKiddie Puddle Jumper.

Best budget swim floatie.
Pros
Cons
Bottom Line
Price
The GoKiddie Puddle Jumper includes additional accessories - a swim cap and goggles!
The swim goggles and swim cap are made of quality materials and GoKiddie also claims that the swim cap is non-allergenic.
The GoKiddie Puddle Jumper has a rear safety buckle that only an adult can loosen. It's made with soft, flexible nylon and polyester fabric for maximum comfort.
I love that it comes with a 12-month warranty - more than most floaties on the market!
Unfortunately, the main issue with the GoKiddie is its hit-and-miss quality. Some customers are very happy with the construction, while others have noted that the jumper's fabric degrades and the strap becomes loose over time, reducing safety and comfort.
The second issue I have with the GoKiddie Puddle Swim Jumper is that it isn't available in wide variety of colours, unlike many other swim floaties in this review.
You can only order the GoKiddie Puddle Swim Jumper in Blue-Whale, Pink-Swan, and Pink-Unicorn. That's way too limited.
The GoKiddie Puddle Swim Jumper is an affordable toddler floaty that saves you money. You won't have to buy a pair of swim goggles and a swim cap for your toddler.
It is reasonably comfortable to wear and does a great job of keeping your child buoyant in water, but its construction is cheap.
The GoKiddie Puddle Jumper is cheaper than the Stearns and Gogokids floatation devices I reviewed above.
Yet, you get a swimming aid, swim cap, and swim goggles - for less than the cost of other swim floaties.
4. Zerlar Float Suit.

Best swimming aid for older toddlers.
Pros
Cons
Bottom Line
Price
The Zerlar is a regular swimsuit with protective layers that contain eight removable buoyancy sticks. Using these removable sticks, you can tweak the buoyancy of this suit, depending on your child's swim proficiency over time.
I love the adaptability of this swimsuit and its longevity. It's comfortable to wear and made with high-quality polyester material. Plus, it dries fast and isn't susceptible to overstretching!
The major difference of the Zerlar is that it fits older children - up to 10 years of age.
Bonus! The float suit comes with arm rings for added buoyancy and a backpack to take it on the go.
My main complaint with the Zerlar Kids Float Suit is that colours are limited, with only girl-oriented pink and red options on offer.
There's also the price. The Zerlar Kids Float Suit is more expensive than every other toddler swim floatie we've reviewed.
Expert Tip: Don't machine wash it. It's designed to be rinsed in water by hand.
If you want a swimming aid with a difference, the Zerlar Kids Float Suit is a good option.
However, the Gogokids Kids Swim Vest and the Stearns Puddle jumper are much cheaper!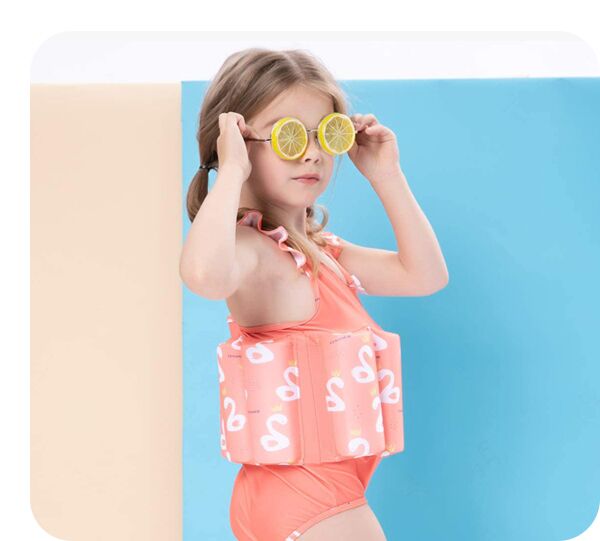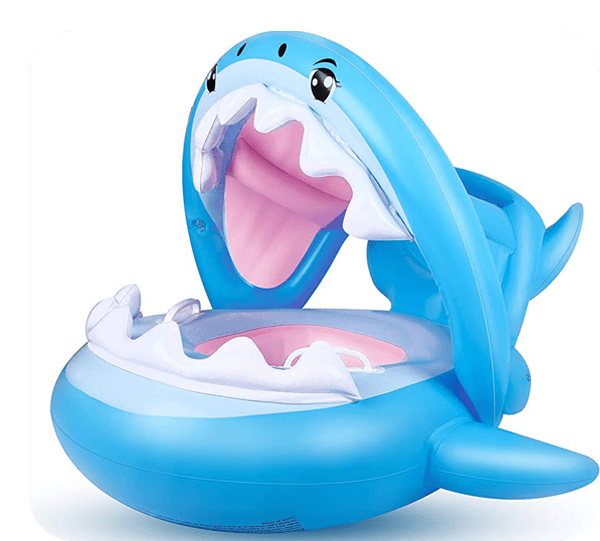 5. Flyboo Toddler Float.

Best flotation device for 18-month-old toddlers.
Pros
Cons
Bottom Line
Price
The Flyboo Swimming Pool Baby Float is an inflatable toddler floaty designed to introduce your child to water. We love the sun-safe canopy cover! Your younger children (ideally aged between 18 months and 2 years can float around in this adorable shark while under your supervision.
The adjustable sunshade canopy is made of PVC, and you can tilt or raise the canopy to any angle for your toddler. You can also detach the canopy whenever you like!
The added handles make the floaty easy to manoeuver in the water. Plus, it comes with leg holes so your toddler can familiarise themselves with the feeling of kicking and treading water.
I love the added play features: eight small bells which make soft 'squeaky' sounds to entertain your toddler.
Unfortunately, you need an air pump to inflate the Flyboo Float. This is unlike other toddler floaties that you unfold to use.
It's designed for shallow water use only, and some customers have raised that the leg holes are pretty limited in size.
Only three available colour options are blue, pink, and yellow.
The Flyboo Float is an excellent option if all you want is an inexpensive flotation device for your 18 month year old.
Unlike other designs in this review, this is a float (not a swimming aid).
It's a wonderful way to introduce your child to the feeling of being in the water. However, they may quickly outgrow it!
The Flyboo Float is inexpensive compared to other toddler floaties.
6. Silfrae Swim Flotation Vest.

The best cheap toddler floatie.
Pros
Cons
Bottom Line
Price
The Silfrae offers basic features compared to other float options, likely due to its price point.
You can choose from multiple designs and between a regular arm floaty and a toddler life-jacket design. It's made from comfortable polyester fabric and has double buckles for additional protection.
Some customers have complained about the arms being too large for their children. They also mentioned that the foam could be uncomfortable or displaced in the vest.
The durability of the vest is basic. However, it's an affordable option for short-term use (like a holiday).
The Silfrae Swim Floatation Vest is a budget toddler floaty. It's much cheaper than other options we've reviewed.
Although it has durability issues, the Silfrae Swim Vest is a solid budget-friendly floaty. We love its multiple design options and recommend that this is best suited for smaller children.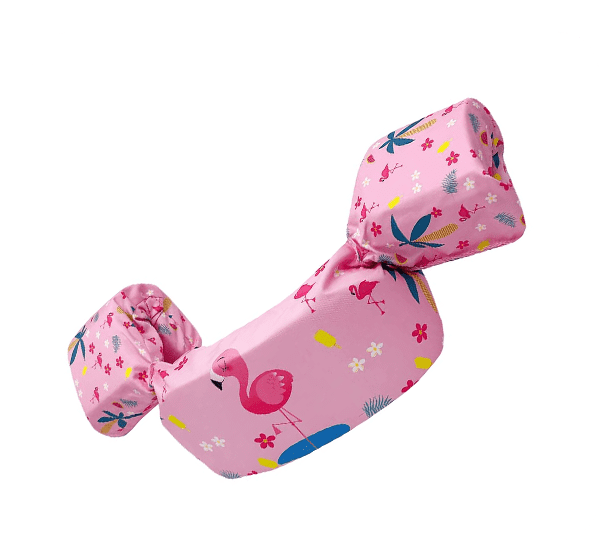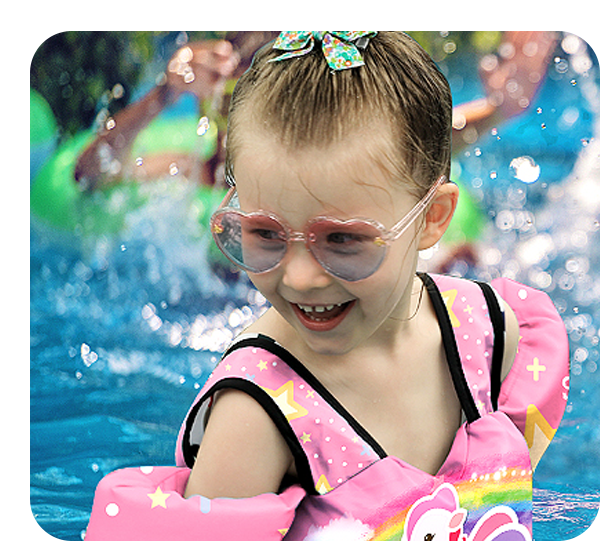 7. Chriffer Swim Vest.

Good flotation device for 2-year-olds.
Pros
Cons
Bottom Line
Price
The floaty is made with environmentally friendly products (a big plus!) and is lightweight to wear.
Like the Silfrae Swim Vest, it has double straps for a secure fit, plus an extra center button for added security. Your toddler won't be able to open the back strap accidentally!
The jacket is compact when folded, easy to store, and available in about 12 colours and design options.
A few users might complain about the slightly cumbersome double-safety, double-buckle design of the Chriffer Kids Swim Vest Life Jacket, which can make it a chore to put on and off.
Others complained that this jacket could be too tight for some kids, with the arm holes being slightly constrictive.
With a wide range of design and colour options, the Chriffer Kids Swim Vest Life Jacket is a solid all-around toddler swim floaty! It's the best option for high-safety features.
This toddler floatation device is very well priced.
8. HeySplash Swim Vest.

A decent swim jacket for kids.
Pros
Cons
Bottom Line
Price
The HeySplash Swim Life Jacket Vest uses double stitching for its nylon exterior. These materials are odourless and non-toxic to keep kids safe, plus they're durable and better protected against wear and tear.
The jacket weighs less than 0.5 lb and is designed for kids weighing 20 lb to 30lb. This makes it perfect for toddlers and preschoolers.
It is also durable and long-lasting, coming with a one-year warranty.
This option could be loose-fitting on some children. If your child is small, you may be better suited to the Chriffer Kids Swim Vest Life Jacket.
Some customers have noted that the strap has been known to have durability issues.
The HeySplash Swim Life Jacket Vest is a satisfactory toddler floaty. It's an excellent option for larger toddlers. Just be wary that the strap and buckle require extra attention to ensure safety!
Another budget floatie option!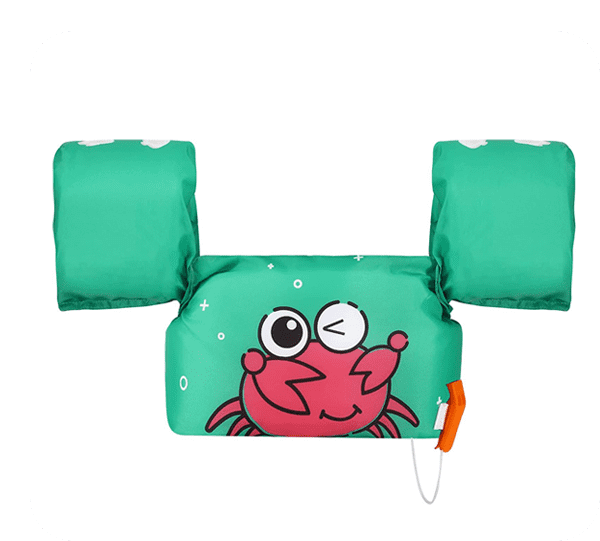 9. MIGCDE Arm Rings.

The best arm floaties.
Pros
Cons
Bottom Line
Price
The MIGCDE 6 Pack Kids Swimming Arm Float Rings is a collection of six arm float rings in three pairs, a must-have for all swimming households! The float rings are worn on children's arms to keep them afloat, whether at the beach, pool, or lake.
The Arm Float Rings are made with high-quality PVC material and packed deflated for compact storage. You can inflate them with an air pump or by blowing with your mouth.
The simple arm design allows your child extra flexibility and comfort, with less material on their skin. The floaties are suitable for children up to 70lb in weight!
They come at a decent price point and are great for children with basic swimming skills.
As mentioned, you need to inflate the MIGCDE Arm Float Rings whenever you want to use them. That said, an air pump does come with your purchase. However, some customers complained that the air pump broke after only a few uses.
When you're done with the arm floaties, you'll also need to deflate them before storing them away, which can be time-consuming.
The MIGCDE 6 Pack Kids Swimming Arm Float Rings are perfect for parents with experienced toddlers or older kids learning to swim. They provide children with more flexibility and range of motion, for a reasonable price.
They're more expensive than I expected, to be quite honest.
10. Toysharing Safety Swim Trainer.

Best for preschoolers (3-6) and school-aged children (6-10) learning to swim.
Pros
Cons
Bottom Line
Price
Designed like a backpack, the TOYSHARING Back Float Safety Swim Trainer is a unique safety vest for children ages three to ten. It comes with varying degrees of buoyancy, and you can adjust it depending on how experienced your toddler is at swimming!
It's made with top-notch, skin-friendly EVA foam, which is durable, waterproof, and non-absorbent. This keeps it from getting soaked with water and becoming too heavy for your kid.
The floaty has excellent longevity. It comes with four multicoloured layers, meaning you can remove or add a layer according to your child's swimming capability.
The TOYSHARING Back Float Safety Swim Trainer is not designed for young toddlers or those with little to no swim skills.
While the trainer is relatively small, it doesn't fold flat and isn't easy to store. It has a basic design devoid of fun patterns or images.
Finally, the float isn't US Coast Guard-approved.
If your child is older and yet to learn to swim, the TOYSHARING Back Float Safety Swim Trainer is perfect for them. It's affordable, and your child can always use it at multiple swimming levels throughout their young life.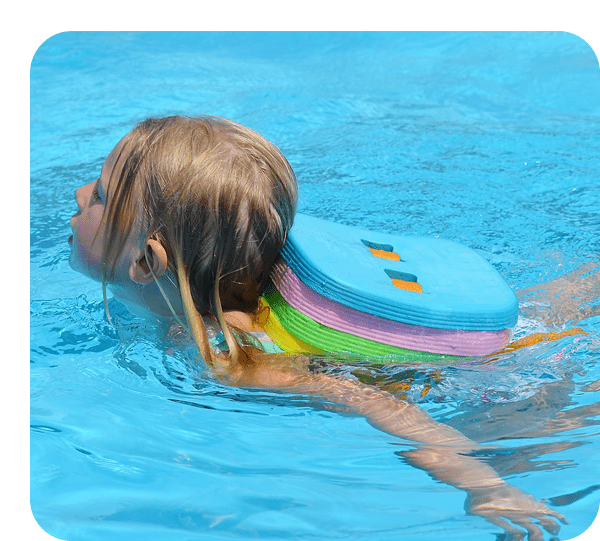 11. Intex Kiddie Float.

Best budget floatation device.
Pros
Cons
Bottom Line
Price
The Intex Kiddie Float is designed for babies that are within the age range of 12 months to 24 months old.
The first thing I like about the Intex Kiddie Float is the sun canopy that protects your toddler from the sun and other weather conditions. Similar to the Flyboo Float, the Intex Kiddie Float has two leg holes for your toddler. The canopy is also inflatable, just like that of the Flyboo Float.
The Intex Kiddie Float also has a play area for your toddler, just like the Flyboo Float. There is a hand bar with a rattle ball and two plastic balls.
The Intex Kiddie Float weighs just 0.3lb when deflated. This makes it extremely lightweight, and easy to transport.
The Intex Kiddie Float's canopy can't be adjusted as much as you can adjust the Flyboo Float's canopy. You can only raise it up slightly to put your toddler in.
Just like the Flyboo Float, the Intex Kiddie Float comes in limited colour options.
Worse, you can't even select a colour option when placing your order. A random colour is sent to you.
The leg holes could be better with more space for the legs and better rash protection.
The holes are kind of close together, and they could chafe your baby's legs. So, you might need to apply some lotion to your baby's legs before putting them in the float, especially for big babies.
The Intex Kiddie Float is less stable than the Flyboo Float. Sometimes, it tips slightly to a side; depending on the seating position of your toddler.
Finally, you need an air pump for the Intex Kiddie Float the same way you need one for the Flyboo Float.
If sun protection is top of your priority when searching for the best toddler floaties, then the Intex Kiddie Float is the best budget option seeing that it comes cheaper than the Flyboo Baby Floater.
Should Toddlers Wear Floaties?
Wearing swim floaties isn't mandatory or essential. That said, floaties (or also known as puddle jumpers or water wings) are a tool that helps toddlers and their parents experience water with less stress.
Not to be confused with safety devices, they simply provide additional buoyancy and are ideal for kids who are already reasonably confident in the water.
They're not a replacement for swimming lessons.
As your kid's swimming skills improve, you can (under supervision) gradually test their swimming capabilities without the floaties. Be sure to do this in shallow, controlled learning environments.
Which Type Of Swimming Aid Is Best For A 1 Year Old?
A lot of different swimming aids are available to parents. They include swim floaties (aka puddle jumpers), swim vests and arm rings. Each has its pros and cons, and we've made an effort to provide you with a comprehensive list of all in this review. 1 year olds are generally happiest in a baby float while 2 year old toddlers appreciate the freedom of a swim floatie.
Can A 2 Year Old Wear A Puddle Jumper?
Yes, most puddle jumpers are designed to accommodate kids who are between 2 and 6 years of age.
Can A 1 Year Old Use A Puddle Jumper?
No. Smaller babies and infants are best off with a baby pool float.
At What Age Can A Child Swim Independently?
We can't answer this specifically, as it depends entirely on your child's swimming proficiency and confidence.
Generally, children can start paddling around without an adult holding them at between 18 months and 24 months, as long as they wear a life jacket or a swim floatie. Many children start classes at a professional swim school from 2 years of age.
Are Swim Floaties Antibacterial?
Yes some (e.g., the Stearns and Gogokids models) are made from antibacterial materials to prevent funky smells.