Planning to spend long days by the water? Awesome river tubing action awaits you. In this buying guide, I ranked and reviewed the best river tubes so that you can pick the best one for your summer aquatic adventures. Whether you're seeking a relaxed river ride or a thrilling race downstream, we found the best inner tubes for maximum fun, safety and comfort. Unlike leisurely days of floating on a lake mat, tubing requires more heavy-duty toys. This is where tubes come in! If you're new to tubing, I recommend purchasing a cheap paddle for improved control and an electric pump for faster inflation.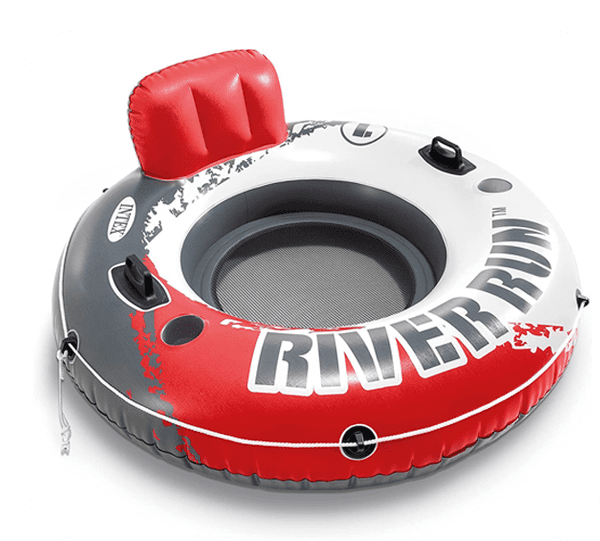 1. Intex River Run 1 Float Tube

Best overall float tube.
Pros
Cons
Bottom Line
Price
The River Run 1 is an awesome raft for lazy 2-5 hour trips down the river.
I took one of these on a trip with friends and felt a bit silly when everyone else showed up with simple doughnut-shaped inner tubes. Everyone got jealous as the day progressed! People started asking if they could use my cup holders (err .. no). The backrest is in a perfect position, a grab rope is included, and the mesh floor from below prevents your underside from hitting rocks.
My friends range from petite (120 lbs and 5' 1") to heavy (265 lbs and 6'1"), and this Intex river float tube had no problem supporting people of all sizes without causing rashes or burns.
Durability is excellent. We scraped rocks during a 3-hour float, and it held up amazingly, without suffering any damage or leaks. Oh, and you can connect it to other Intex floats using their proprietary clip system.
While cup holders are great, I wish they were adjustable in diameter to accommodate super-large drinks. They're perfect for soda cans but will struggle to fit larger bottles.
I also noticed that the graphics tend to rub off after a while. The paint doesn't hold up very well to friction with the skin.
Finally, I noticed that a tiny minority of customers received a leaky float. Be sure to inflate yours as soon as you receive it and leave it for a few hours, looking for signs of deflation.
The Intex River Run 1 is the best river tube on the market, with only minor downfalls.
I wouldn't use it as a wild river float tube on strong rapids and falls (that's what the GoSports and Zangeroi models below are for). But for lazy river floats, it offers the perfect combination of comfort, practicality, and durability.
If you love to lounge and enjoy the pace of a calm river, sipping drinks with friends, this is the float tube for you.
The Intex is worth every penny and, compared with other floating tubes on this list, the Intex is very well priced. It's not the cheapest, but I don't recommend buying cheap tubes as they tend to leak.
Believe it or not, it's also cheaper than renting!
2. GoSports Heavy-Duty River Tube.

Best heavy-duty floating tube.
Pros
Cons
Bottom Line
Price
This heavy-duty river tube is bulletproof (figuratively - not literally - so don't shoot it), thanks to the reinforced inner tube. It's roughly twice as thick as the Intex River Run 1, so it will not pop if you bounce off a sharp rock.
At 11 lbs, it's also heavier than the Intex but comes with a strap and a hook that makes it easy to carry by slinging it across your body.
With four padded handles at different heights, it can be used by people of different sizes. It also comes with straps and clips for easy attachment to other floating devices.
The canvas cover keeps its surface cool, and inflation is very quick. A single cup holder and a mesh bottom are standard.
Although the canvas is extremely durable, it can be a little rough on the skin. It's not something that you can avoid if you want a float tube that can withstand punishment, so I recommend that you wear a polyester shirt if you have sensitive skin and are planning to float for longer than 2 hours.
Remember that the inner tube is smaller than the Intex, measuring 44" vs Intex' 53". The inside opening is only 17" in diameter, so people above 6" and 210 lbs will find themselves sitting "on" rather than "in" the tube.
It comes with a deflation tool, but takes a long time (about 15 minutes) to deflate on its own. Make sure you set aside enough time at the end of the day.
The GoSports float tube is an excellent choice if you're serious about river tubing. This is one of the most durable river tubes on the market. I was very surprised by its detail and craftsmanship.
It doesn't get hot in the sun, the valve stem won't poke your skin, and the mesh floor protects your skin.
The only bad online review I could find on the GoSports went like this: "I am forced to give this a poor review because someone stole mine. It's that good." Talk about a raving review!
With top-notch build quality, the GoSports 44" heavy-duty tube is one of the best river tubes money can buy. It is pricey, but you get what you pay for.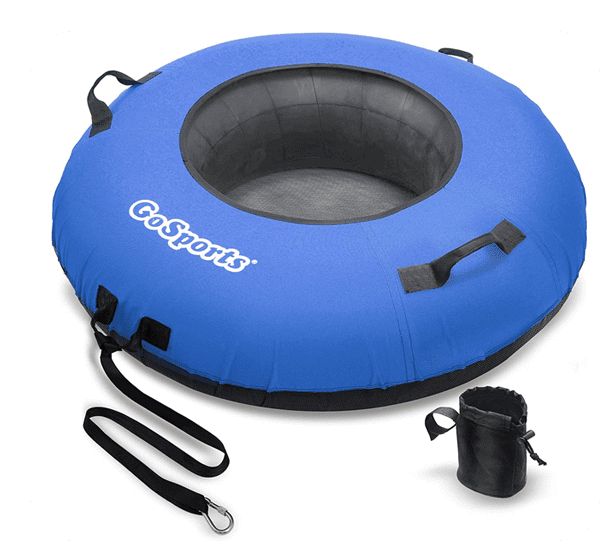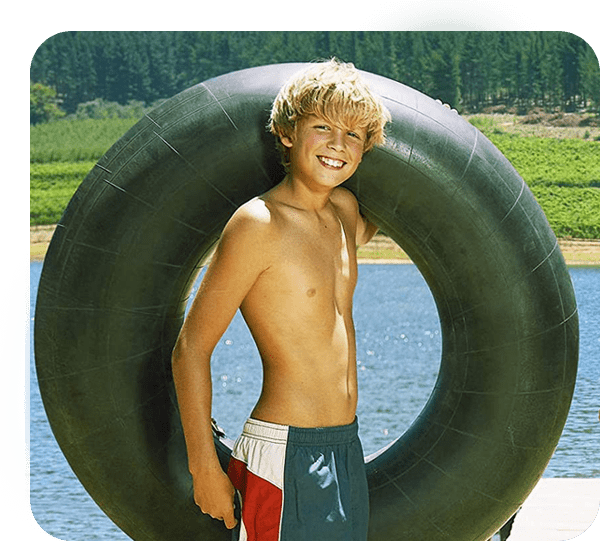 3. Zangeroi Heavy-Duty River Tube.

Best inner tube for riding the rapids.
Pros
Cons
Bottom Line
Price
The Zangeroi inner tube is made from thick, 100% commercial-grade rubber. It's hard to beat for toughness and durability.
I used it in fast river rapids, thinking that a puncture was inevitable - but it survived unscathed. If you do puncture it, a repair kit is included.
While the Intex and GoSports tube floats offer just one size, the Zanzeroi gives you a choice of three. The 38" tube has a 17" inner hole diameter, and the 44" size increases it to 18", while the 48" size has a 20" inner hole.
Inflating is easy with the included valve stem tools (you inflate the tube just like you would a bicycle tire), and I was relieved to notice that the safety valve stem is short so as not to scratch the skin.
You'll notice a strong rubber smell when you unbox this inner tube. I suggest you buy it a few weeks before your river trip, wash it in the yard with soap and let it sit for a while. The smell will eventually dissipate.
Because this is a simple, black tube, it will get hot in direct sunlight - and it doesn't have cup holders.
Zanzeroi experienced a streak of quality control issues a couple of years ago. Customers complained about uneven inflation, wrong sizes and punctures. It appears that these issues have been rectified, with no complaints since the start of 2023.
Personally, I love the idea of a plain inner tube that won't pop when I abuse it.
If you raft in fast water and are tough on your gear, the Zanzeroi is for you. It's one of the best inner tubes on the market for young guys who like to go fast.
Despite some drawbacks, the Zangeroi offers one of the most value-for-money options on the market. It's perfect for going fast in rough, shallow rivers.
6. Intex Double Water Lounge.

Ideal vessel for floating with your partner.
Pros
Cons
Bottom Line
Price
Like the idea of a luxuriously smooth tubing session with your friend or partner? The Intex Water Lounge is the Tesla of river tubes, ideal for a laidback time on the river, sipping drinks and enjoying conversation!
I'm impressed that it offers two cup holders, a central compartment to store waterproof devices and a drinks cooler in the middle. The cooler is 10" in diameter and 10" deep; it will fit about 15 cans.
Meanwhile, the middle area is handy for waterproof items (e.g. GoPro and phones) or spare beer. It's 16" long x 9" wide x 6" deep.
The bottom is made from mesh and allows water through without forcing you to sit directly in the water - just enough to keep you cool. A Boston valve is standard for fast, reliable inflation.
This is a large river tube, so don't expect it to be manoeuvrable. It's very wide, and because you can only reach the water from one side, steering without good teamwork is impossible. I highly recommend investing in a paddle - you'll have more fun and possibly prevent a divorce.
Because there are 5 chambers to inflate (main body, backrest 1, backrest 2, cooler, cooler lid), inflating is a moderately fussy affair. Set aside at least 10 minutes - especially the first time.
The entire contraption weighs 20 lbs. It's not super heavy, but the weight and the bulk make it difficult to carry on dry land alone. Grab a buddy to help you bring it down to the water.
I loved the Intex Double Water Lounge. Intex continues to live up to its reputation by delivering a high-tech, comfortable dual lounge for river cruising. I'm super impressed with the abundance of features and substantial build quality.
It is available in blue, black, and white.
The Intex Double Water Lounge is one of the more expensive items on this list, but represents great value for money. After all, it enables fun for two people at a time!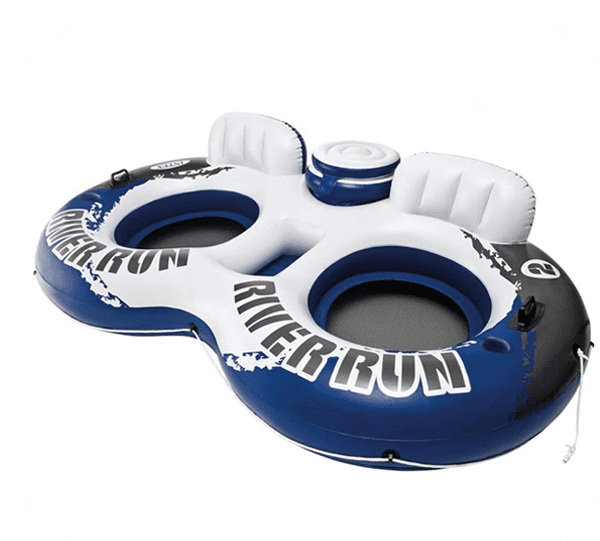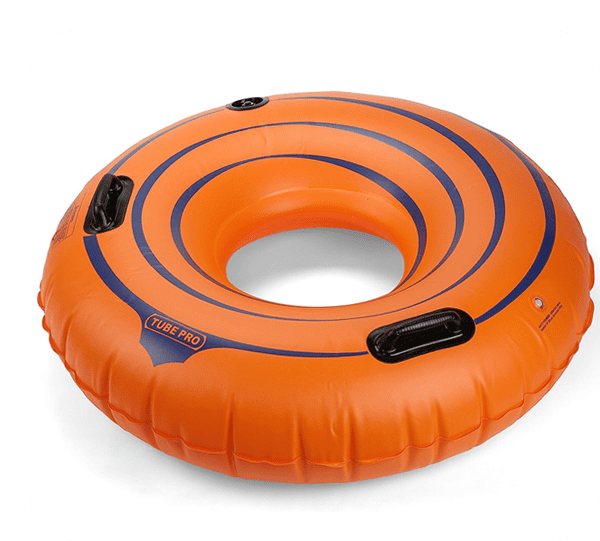 7. Tube Pro Premium River Tube.

Best for commercial river tubing.
Pros
Cons
Bottom Line
Price
With an extra heavy-duty 30 gauge blue PVC Vinyl build material, the Tube Pro Red is incredibly tough at dealing with rocks and underwater logs.
The PVC material can also endure UV and chlorine exposure, making it an excellent long-term option.
It's incredibly comfortable with a mesh bottom and is easy to wash or clean.
On top of that, it is built with safety in mind. Complete with two air chambers plus a safety chamber, you will have a very buoyant and protected ride, with no possibility of sinking!
Although the extra heavy-duty blue PVC Vinyl build material makes the tube resilient, it is heavy and difficult to carry to and from your location.
The tube has no storage pack or handle, so you'll likely need two people to carry it.
The Tube Pro is a luxurious commercial river tube. It is built with high-end material, which will make it last for years. If you're into extreme tubing or rent out tubes in your business, this is by far the best option.
The price is higher than most but is still reasonable.
8. OZARK Trail River Tube.

Best budget float tube.
Pros
Cons
Bottom Line
Price
The Ozark Trail River Tube comes does not pretend to be anything it's not. It's an inexpensive middle-of-the-road tube for light to moderate tubing.
Furthermore, in terms of functionality, the Ozark is very durable. It offers grab ropes to aid your navigation, plus it can handle the weight of multiple children playing; an excellent long-term family option!
Unfortunately, some customers have noted that the colours can rub off onto your skin. The material isn't as durable as the alternatives from Intex and Zangeroi - and can be susceptible to punctures.
The floating tube doesn't offer a headrest, and this can place additional stress on your back and neck during long days on the river.
While this isn't the most durable option, the Ozark is an excellent option for short-term use if you're on a budget.
If you're low on budget but are seeking a functional and fun river tube, this is your option.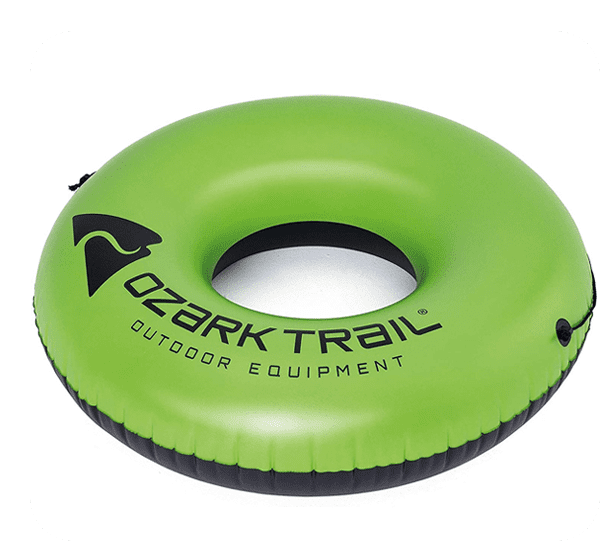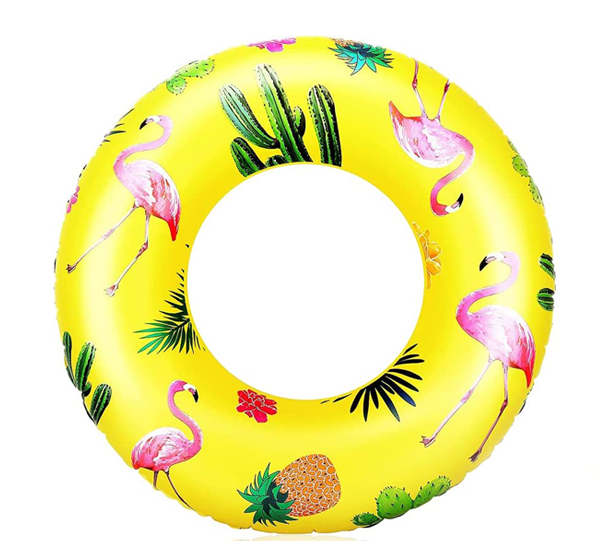 5. HeySplash Swim Ring.

Bes float tube for gentle waterways.
Pros
Cons
Bottom Line
Price
The HeySplash swim ring's bright colours can be easily spotted from a long distance, making it an excellent option for kids on family holidays.
But to be honest, I prefer the colour scheme of the Safigle Donut Float more.
Apart from the different colours, the products are very similar. The HeySplash ring is is also built from carbon-strong polymerized PVC using ultrasonic seamless bonding technology. This ensures the float is soft, highly buoyant, and durable, reducing the chances of air leakages.
One of our only cons is that the HeySplash brand often sells out!
The significant point is that there is no mesh bottom, meaning it's not as supportive to sit in and can result in you slipping into the water.
Being a simple tube it doesn't offer drink holders, handles or recliners.
The HeySplash Swim Ring is just that — fun! I love the colour options, making it great for parties or for identifying your children amongst large crowds of people.
This is one of the cheapest floating rings in this review.
4. Safigle Donut Float.

The most colourful floating tube ever.
Pros
Cons
Bottom Line
Price
The rainbow design makes this tube a perfect option for kids and teenagers. They'll love using it at parties or during long days at a water park.
It's easy to carry, store, inflate, deflate, and wipe down. Plus, the top sides of the doughnut feature a handle for stability.
I noticed that the colours don't fade, either. After using it for an entire summer the colours were as vibrant as on day one.
While the Safigle may take the top spot for design, it isn't the best-floating tube for durability, or toughness. Some customers, myself included, have also noted that the internal seam can hurt your hands.
It doesn't offer a mesh bottom, headrest, or armrest, meaning it won't be as comfortable during long days on the water.
The Safigle 1pc Inflatable Lifebuoy Float is a super-fun option for kids' parties.
If you're looking for a tube to have you and your kids noticed from a mile away, we have the option for you!
The Safigle is a colourful, fun tube that is also highly functional.
However, we would stick to something more durable for regular river floating.
The Safigle is very reasonably priced, but I have a feeling that it won't last for more than two summers. Its light-duty construction means you'll need to spend money on buying a new one every now and then.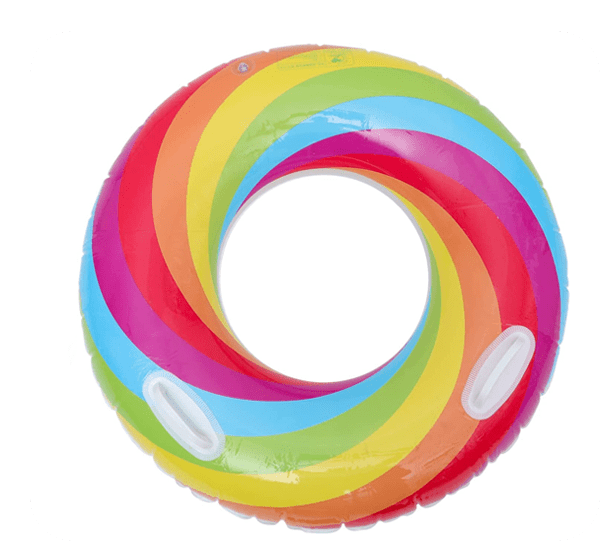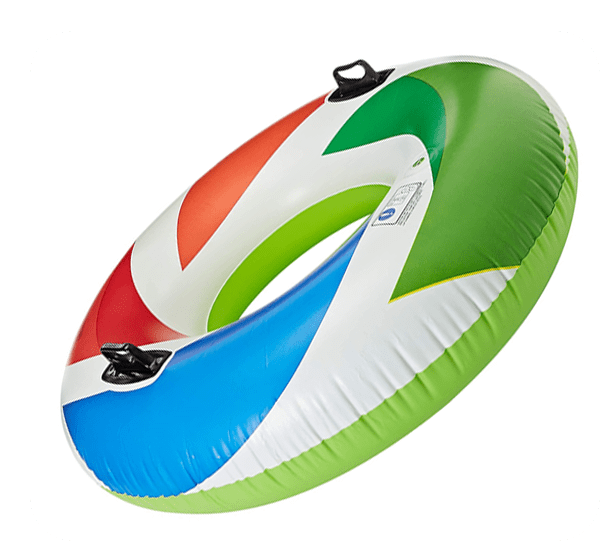 9. Intex Colour Wheel Tube Raft.

Best float tube for teenage kids.
Pros
Cons
Bottom Line
Price
While it doesn't have the same capabilities as premium options, the tube is designed with multiple air chambers for safety, meaning it won't fully deflate if punctured.
There are two tubes per package, which is great for bigger families. The tubes have semi-flexible handles and are comfortable to use.
A big plus is that Intex delivers very fast, which is great for last-minute trips!
As you can expect with this price, the Intex isn't the sturdiest option for a river floating tube.
It may look fun and modern. However, it's a heavy option, making it difficult to carry.
Some customers complained that Intex delivered the wrong colour option to them!
The Intex Inflatable Colour Whirl Floating Tube Raft is a fantastic river tube for a relaxed day on the river. It can handle minor obstacles or hazards and is comfortable. However, it's heavy, and colours fade quickly.
A budget floating mat at a good price.
What To Look For In A River Tube?
If you're new to tubing, there are a few things to keep in mind.
A floating tube must be high-quality and durable to adapt to the conditions of each river, including rocks, twigs, water currents, and hazards.
Also look for a large valve for faster inflation and deflation.
Do River Floating Tubes Get Punctured Easily?
The best river tubes are surprisingly resilient to rock impacts. Sharp tree branches are a different story - they're much more likely to cause a puncture. Get a heavy-duty tube if your local river has a lot of those.
Do River Tubes Get Hot?
Depends on the colour. Black and grey tubes are likely to get hot, especially on days that are above 90 degrees. White, light blue and red tubes stay comfortably cool regardless of weather.
Do I Need A Special Pump To Inflate A River Tube?
Depends. Some tubes include a decent hand or foot pumps while others require you to have your own (or use an air compressor or a tire inflator).
If using a compressor, bike pump or tire inflator you'll need to purchase a valve adapter. They're not expensive ($5-$10) and available online or at your local outdoor shop.
If you plan to use your river tube frequently, I recommend that you buy a cheap air compressor (between $20-$50) that you can run from your car's 12 volt cigarette lighter outlet.
Do not inflate the tube with your mouth! It takes a lot of lung power to inflate.
How Long Does A River Tube Take To Inflate?
Depends on the size of your air pump. Expect 10 minutes if you're using a manual pump and 2-4 minutes if you're using an electric one.
I'm A Large Person Weighing Over 300 Pounds. Will I Fit Into A River Tube?
Yes, the Intex River Run, GoSports and Zangeroi will handle your weight and size well.
I Have A Bad Back. Which Tube Is Best For Me?
The Intex River Run has the best back support for people with back issues. Customers report being able to float for 2 hours feeling supported and without experiencing pain.