Summer of 2023 is almost upon us, and it's time to start planning those awesome lake family adventures. Here's something you might want to add to those plans: floating mats for the lake! There are tons of mats and lily pads to choose from, and they come in sizes that range between a portable 9×6 and a humongous 18×6. Prices also vary – from a modest $100 to a borderline ridiculous $2,000. Which mat is the best choice for your family's next trip to the lake? In this guide, I compared the 13 best floating water mats and lily pads to help you make the right decision. 1. Rubber Dockie Mat.

Best overall floating mat for the lake.
Pros
Cons
Bottom Line
Price
The Rubber Dockie floating mat comes in two sizes, with the larger 18X6 capable of supporting up to 1000 lbs. We had five large adults and four children on it without issues. The more compact 6X9 size will accommodate about three adults and two kids max.
Unlike some other brands, the material doesn't get slippery when wet and feels comfortable under the skin. Despite being comfortable, it is robust and doesn't tear easily. (A friend parked a jet ski on his Rubber Dockie, and it was fine!).
The mat has a 12-foot-long elastic tether that allows you to fasten it to stationary objects. If done right, you could create a mini island right at the edge of the lake. A family picnic under the beautiful summer breeze? Sign me up!
Unfortunately, the mat's bright orange and green colour starts might fade a little after several uses in direct sunlight. But don't worry - it doesn't stain clothes or objects.
One grommet is included for securing the Rubber Dockie to a stationary object, but I think two should be standard (you can add extra grommets yourself).
Some customers also complained that some Rubber Dockies were sent without the tether included, so don't forget to inspect the foam mat thoroughly for holes or defects when you get it, and ensure that the tether arrives with the packaging. That said, the helpful customer service will gladly send you a replacement if you notice any defect.
The Rubber Dockie will be a hit with your family in your pool or on the lake. Tie it to a pontoon or your boat to create a new level of water enjoyment.
Your kids will enjoy sunbathing, jumping, running, and playing on this floating foam mat. It also works fine for pets, but watch out for tears from your pet's claws. And if you have questions, Rubber Dockie has impressive customer service that will quickly respond to all enquiries.
Even though it's huge on the water, it's portable when rolled up and easy to carry. You can move it around by yourself, but rolling it up is best done by two people simultaneously.
It's the best floating mat for the lake on the market today.
Let's get one thing out of the way - floating mats aren't cheap.
That said, the Rubber Dockie is decently priced relative to other floating water mats on the market.
You will be hard-pressed to get a better floating water pad at this price point.
2. SOWKT Inflatable Floating Dock.

Best premium inflatable dock.
Pros
Cons
Bottom Line
Price
The SOWKT Dock is a stable, heavy duty inflatable water platform. Available in a choice of 6X8 and 6X12 sizes, it supports up to about 4 and 9 people respectively.
The dock inflates into a firm, flat surface that can even support pool chairs. Unlike traditional water pads it remains rigid under your weight and doesn't submerge you in water. You don't have to get wet if you don't want to.
The package ships with a foot pump, an electric pump, and a patch kit that helps repair the floating dock should any damage occur.
You can anchor the SOWKT dock to anything with the stainless steel D-ring available in each corner. It also comes with an impressive carry case, and a tether leash for strapping down personal belongings.
Weighing between 33 and 40 lbs depending on size, the SOWKT is on the chubby side! You will appreciate having a second pair of hands to help you carry it, although the included carry bag does make it more manageable.
The included electrical pump requires an external 110V power source. It won't run off your car's 12V cigarette adapter, so be sure to bring the foot pump if you think access to mains power may be a problem.
Apart from that I have no gripes. It's an excellent product throughout.
The SOWKT floating island is a perfect addition to a day out on the lake, with a boat or without. Your kids will love it as much as the adults.
Easy to deflate, deflate and store (but not carry long distances), it's better than cheap, disposable inflatable mats that you have to buy and throw away each year.
Because it's rugged enough to last a few seasons, the SOWKT is worth every penny.
Buy this once instead of going through cheap inflatable mats each year.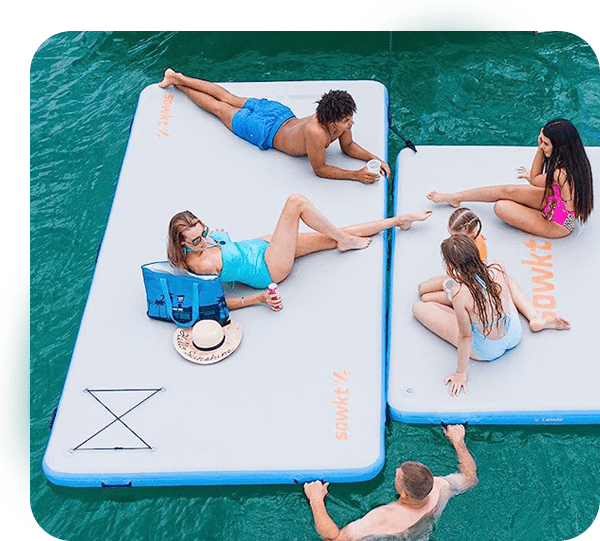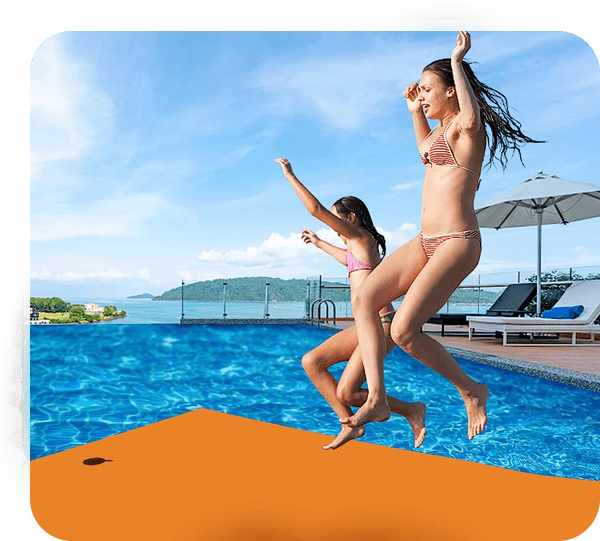 3. Zipfun Lake Mat.

Best floating water pad if Rubber Dockie is sold out.
Pros
Cons
Bottom Line
Price
The biggest problem with my #1 recommended best water mat, the Rubber Dockie, is that it sells out due to its popularity!
If that happens, this option from Zipfun is your next best bet.
Available in 3 sizes that range from small 7X3 to medium 9X6, the Zipfun floating mat can support up to about 500 lbs.
You get an extra long (16 ft!) tethering bungee for attaching the mat to poles or boats. Foam quality is excellent, and I can see this mat withstanding multiple seasons of abuse.
A few customers complained about receiving defective mats with chunks of foam missing. Carefully examine your package to detect any imperfections immediately.
Because this floating mat is quite thick it can be cumbersome to transport and ideally needs two people to roll up. If you don't like fuss and find yourself in a position where you have to deploy and pack it every day you may be tempted to not use it.
Like the Rubber Dockie, it will lose some colour after a few days out on the lake in direct sunlight.
The Zipfun is a very good and relatively affordable floating water mat.
It doesn't pretend to be anything it's not.
Compared with lower-rated alternatives from Aqua Lily (below) it offers most of the features for a much lower price.
The Zipfun is a great deal - especially if you manage to buy it during a promo period.
4. Intex Inflatable Mat.

Best budget floating mat.
Pros
Cons
Bottom Line
Price
Available in one 9.5 X 7 size, the Intex' measurements sit roughly half-way between the two size options (18X6 and 6X9) available from Rubber Dockie. This size is enough to accommodate two adults and 2-3 children comfortably.
The deflatable design makes it a lot easier to transport and store than the Rubber Dockie, SOWKT or Zipfun options above.
No need to roll it; simply deflate it, fold it and pack it away. Once folded it doesn't take much space in the shed or the back of the boat.
But inflatable floating water mats mean air leaks, right? Not at all. The Intex has surprisingly rugged and durable construction for its price, and families report using it for multiple seasons without leaks. Oh, and despite the huge size, inflation takes less than 5 minutes.
Last but not least, the Intex is very inexpensive. Compared with the cost of mats and docks above is very easy on the pocket.
First of all, because this is an inflatable floating water mat, you will need an air pump. Unless you have lungs of Superman you won't be able to inflate it with your mouth. (Intex sells small compressor pumps for less than $30).
Second, it's not as sturdy as large foam mats like the Rubber Dockie, so you can't stand, walk or jump on it. It's definitely a floating water mat that you lay on and use as a raft. Well, you could try standing, but it will be a challenge.
Finally, it's on the heavy side (about 20 lbs when wet), making it a challenge to carry by yourself.
The Intex inflatable floating water mat isn't as tough and versatile as the mats from Rubber Dockie, SOWKT and Zipfun, but it's also significantly cheaper.
It's a great mat for transforming your pool into a floating bar. Place it in the middle of your pool with snacks and beverages in its center and tell your friends to form around its sides.
If affordability is your priority, it's the best floating water mat for you.
The Intex inflatable water mat is an absolute steal at its current price. If you don't wan to pay upwards of $400 on a floating foam mat, this is your best bet.
And does it deliver despite its cheap price point? Yes, it does. You won't find better inflatable mats as cheap as this one.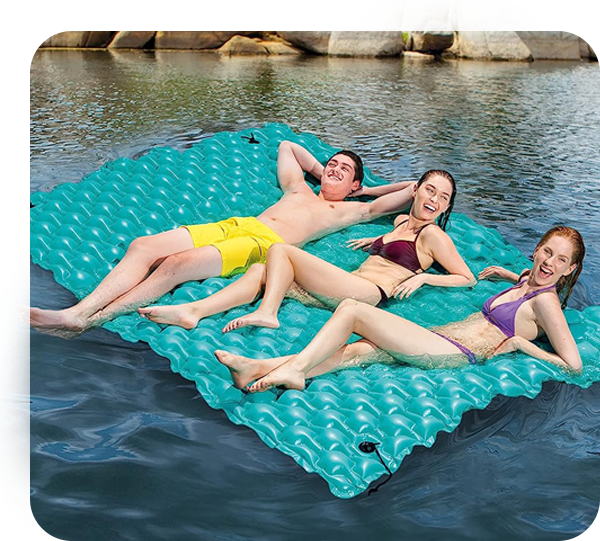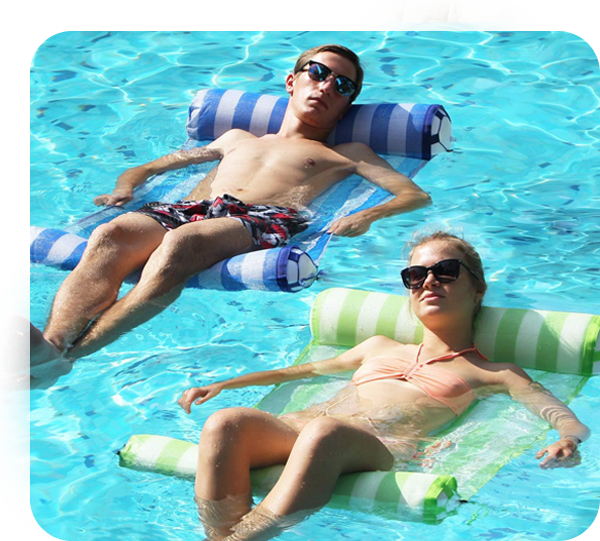 5. FindUWill Pool Hammock.

Best cheap floating hammock.
Pros
Cons
Bottom Line
Price
Picture this - you're floating in a pool or on a lake in funky inflatable hammock, beverage in hand. You can do that with the this "hammock".
"It's not a floating water mat!", I hear you object - correctly so. But I decided to include it in this comparison because - just like a mat - it lets you float effortlessly on the lake or in your pool - without taking up much space or breaking your budget.
Portability and low price are its biggest strengths. The hammock deflates enough to fit effortlessly into a bag and the price is very affordable.
The hammock comes in multiple colours, and it has a pillow on each end that you inflate with air before placing it on water. The package includes a small air pump, so you do not need to buy one.
Let's talk about ruggedness and longevity. They're not great!
A lot of customers have complained about air leaks and torn fabrics - sometimes straight out of the box!
It seems that buying one of these hammocks has some Russian Roulette overtones. You may get a good one, or one that's already on the verge of breaking.
By the way, the 30-day warranty period is a joke, but can you really complain at this price point?
Cheap, cheerful and compact, these hammocks will help you chill on the water during your next summer holiday or weekend.
They will support adults up to about 6"2' and 240 lbs.
Don't expect them to last for longer than a couple of uses and you won't be disappointed.
FindUWill hammocks are sold in pairs, which makes them incredible value for money. For less than $25 you get two hammocks and an air pump!
It's the most affordable option on this list. That said, it's not a mat or a floating platform, but a hammock.
6. Maui Floating Pad.

Good (but expensive) lily pad for the lake.
Pros
Cons
Bottom Line
Price
Also manufactured by Aqua Lily in USA, the Maui Mat is a large, solid water contraption with two cross-linked tear-resistant XPE foam layers for sturdy feel. The mat has a lovely, tropical ANZ design to it.
The Maui comes coated with UV-stabilized graphic film for extra protection in salt water. This makes it one of the best floating pads for saltwater bodies.
You unroll this water mat for your kids, and they can start using it immediately. No need to inflate anything. The multifunctional storage straps help to tether the foam pad and tie it up for storage.
Like the Aqua Lily, the Maui is less durable than I expected for something so expensive. You might see holes in its surface after some months of usage.
Even when rolled up, the Maui Mat is still big. Make sure that your vehicle has enough space to transport it.
The Maui is one of the best floating water mats on the market with a lovely design. But the steep price point is a turn off for me.
Frankly, it's a rebadged and overpriced version of the already expensive Aqua Lily Pad.
The Maui Mat is over $200 more expensive than the Aqua Lily pad.
I do not think the extra Maui designs on the mat justify the extra price.
Yes, you are getting a uniquely designed mat. But for that price? Too steep.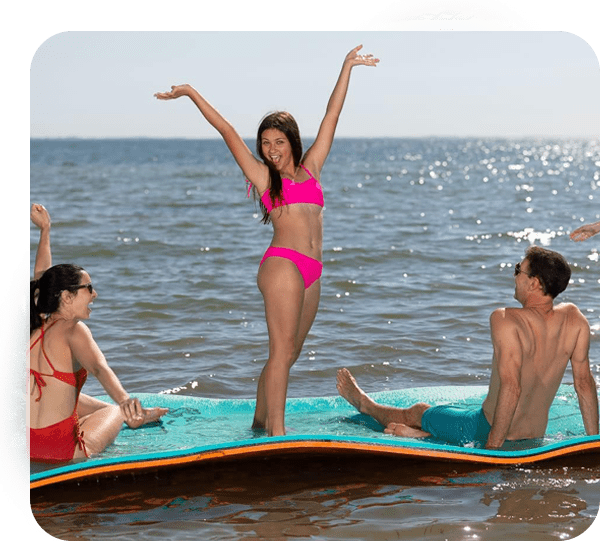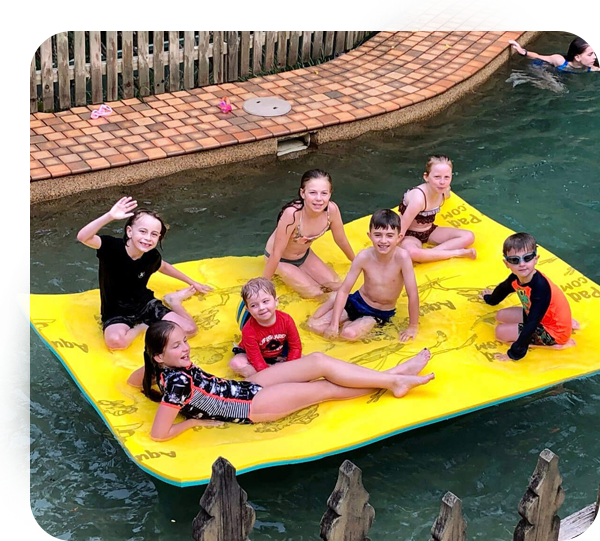 7. Aqua Lily Mat.

Best for epic lake parties!
Pros
Cons
Bottom Line
Price
Available in three sizes, the Aqua Lily Original Floating Water Mat is the most popular of Aqua Lily's floating pad offerings.
It is available in 3 sizes. The largest 18ft Aqua Lily mat supports mind-boggling 1500 pounds of weight - that's about 5 men, 5 women and a bunch of kids! You will be able to host epic, enviable water parties for all your friends and family.
It is strong enough to support children jumping on it and playing other water games. You can even place beach chairs and water coolers on top.
The Aqua Lily one-ups the Rubber Dockie with its patented UV protection that prevents discolouration and anti-saltwater rust technology. The mat also comes with unique flex core technology that makes the pad easy to roll up with no roll memory.
The The Aqua Lily is quite heavy in larger sizes, but that is to be expected.
My main issue is its price. Compared with the Rubber Dockie, which is very similar, it seems obnoxiously overpriced.
Yes, you're paying for a well-known brand.
Yes, it's made from high quality XPE foam.
But at some point I have to ask - does paying almost $700 for a mat seem excessive?
My concern is amplified by some reports about underwhelming reliability, with some customers reporting sun damage after a couple of uses. Wasn't the surface supposed to be UV-proof?
There are many similarities between the Aqua Lily and the Rubber Dockie mat.
If money is no object, go for the former - in the largest size possible. But if you want a great product at a sensible price, go for the latter.
There's no other way to say this - The Aqua Lily mat is expensive.
8. SOWKT Floating Water Pad.

Similar to the Aqua Lily, but cheaper.
Pros
Cons
Bottom Line
Price
The SOWKT floating water pad is a very large, lengthy floating water mat. In its largest size it can hold 14 kids or seven adults.
It's a copy of the popular Aqua Lily design, but because it's not made in the USA it's about 30% cheaper.
The floating pad is made of durable anti-slip material to ensure your kids won't slip no matter how wet the pad gets.
SOWKT uses a proprietary inner net and heat-sealing technology to ensure the mat is less susceptible to rips and tears. It also comes with a 12-foot-long tether.
There were a few complaints about defective items. As always, scrutinize your package for any wear, tear, or missing parts.
As with other mats you might find that the colour starts to wash out after some use, especially if you stay in a very sunny area.
The SOWKT premium water pad is great for those who want to fit many kids or adults on a single floating water mat.
It is also great for those who want to avoid going through the hassles of inflating a floating mat.
The SOWKT Floating Mat costs more than the SOWKT Inflatable Floating Dock, but less than the Aqua Lily mats.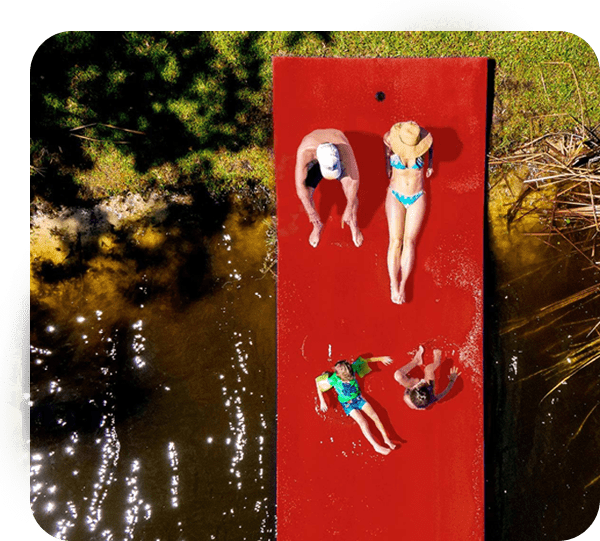 9. Aqua Ultimate Mat.

An affordable inflatable mat.
Pros
Cons
Bottom Line
Price
The Aqua Ultimate Floating Water Mat is an inflatable pad with zippers on three sides to connect additional water mats. A single mat can seat a family of four comfortably.
The water pad comes with a cozi-soft cooling fabric that is water-activated. This makes the Aqua Ultimate brighter and more colourful when wet. The fabric will keep your skin cool, which is super helpful during the hot summer months. The core material is thick, with Aqua claiming it is 60% thicker than many floating water mats. The thick material prevents the mat from having leakages.
Several people complained about how easy it is for the Aqua Ultimate mat to attract stains, dirt, mould, and mildew. Kids could get messy, and you may not like the state of this mat after a long day on the water.
In a weird plot twist, some users complained about leaks to the inflatable mat after a few uses. But those units might be defective units.
Kids will also find it hard to stand on this mat. It isn't as balanced as the Aqua Lily or other mats featured in this review. That said, it's great for seating or lounging and serves as a good trampoline if your kids are into that.
The Aqua Ultimate Floating Water Mat works as expected at its price point. Cleaning it can be a hassle. So keep that in mind.
The Aqua Ultimate Floating Water Mat is a fairly well-priced mat. I can't complain about the price
10. Floating Oasis Lake Pad.

Yet another expensive mat.
Pros
Cons
Bottom Line
Price
Like the largest Aqua Lily pad, the Floating Oasis pad can support up to 1500 lbs of weight with a dimension of 6 ft by 15 ft. It can easily take a family of 6 with space for snacks, drinks, toys, and other items. I like the fact that the floating pad is available in at least six colours.
It has two layers of polyethylene foam with an additional tear-resistant inner layer to prevent wear and tear. It doesn't absorb water and is easy to clean with soap and water.
The Floating Oasis Lake Pad has two velcro straps to keep it secured when rolled up. There is also a bungee cord and D-ring to tether it to other objects.
There have been multiple durability complaints about the Floating Oasis pad. Customers have complained about rips, tears, and the tether hook coming undone and falling out.
I expect a product as expensive as this to be more durable.
Remember to inspect the package immediately after it arrives to ensure that it comes in the right size and colour. Check for any manufacturer wear and tear too.
The Floating Oasis Lake Pad is an expensive, but less durable alternative to the Aqua Lily Pad.
I think you have better options.
A bit pricey, just like the Aqua Lily pad.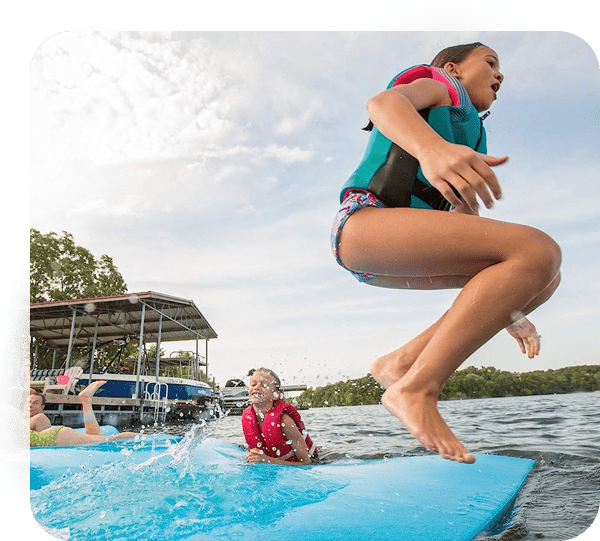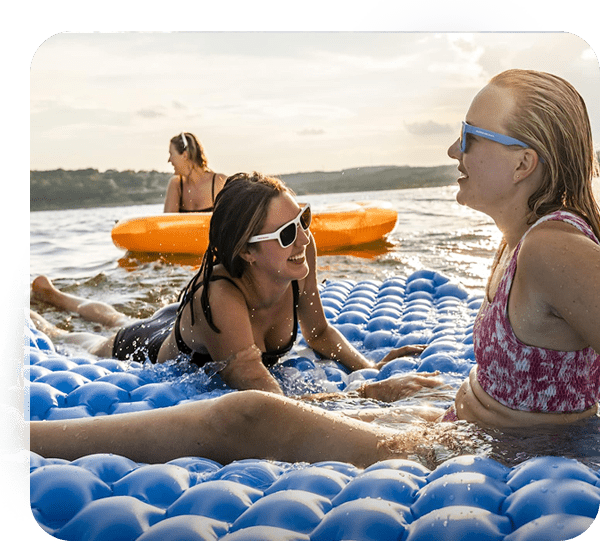 11. Airhead Air Mat.

Budget-priced inflatable floating mat.
Pros
Cons
Bottom Line
Price
The Airhead Air Island is a decently-sized, reasonably heavy-duty inflatable mat.
It comes with zip link chains for linking multiple mats to one another. I like that you can flip the mat over for another colour. And the mat is available for order in multiple colours.
It comes with a unique speed safety valve that makes it easy to inflate and deflate.
While the mat does cover a large surface area, it has a relatively low weight capacity.
It's a kids mat - don't expect a 6"3' man to not capsize it!
The Airhead Air Island is a decently-sized budget inflatable mat. Take care not to overload it with weight.
A budget floating mat at a good price.
12. Stonful Inflatable Pool Mat.

Great for holidays.
Pros
Cons
Bottom Line
Price
The Stonful 2-Pack Inflatable Pool Float Mat is a one-person inflatable mat. Made of eco-friendly vinyl, the Stonful 2 Pack Inflatable Pool Float Mat is an inexpensive, comfortable water mat that comes with 21 holes in it for extra cooling.
Weighing just 4 lbs, the deflated and rolled-up pool mat is compact and very easy to transport and store. You can take it to the pool, lake, river or beach.
You and your kids will enjoy lounging or lazing around on the water. It works fine for a budget floating mat.
The pool float only supports one person at a time. But the package comes with two floats, which makes up for this a little. But it won't work in cases where you need large floating water mats for a family.
The 21 cooling holes keep the body in constant contact with water. If you want a pool float that keeps you and your kids dry, this product is not for you. It is also easy for little children to get their feet caught up in the cooling holes. You must be vigilant if you are using this float with a child.
The holes also reduce the durability of the mat, and it tends to get punctured after some months of use.
The Stonful 2 Pack Inflatable Pool Float Mat is an extremely portable and compact float mat that comes cheaply. It is perfect for families with adolescents and teenagers.
Similarly priced to the FindUWill hammock and the Intex inflatable floating mat, the Stonful 2-pack mat is inexpensive.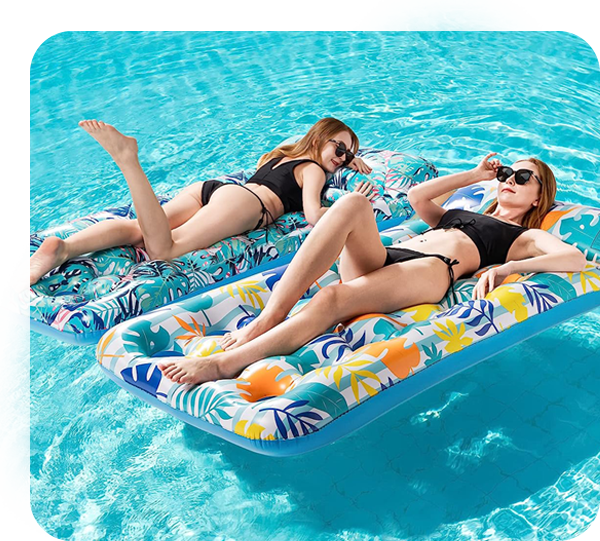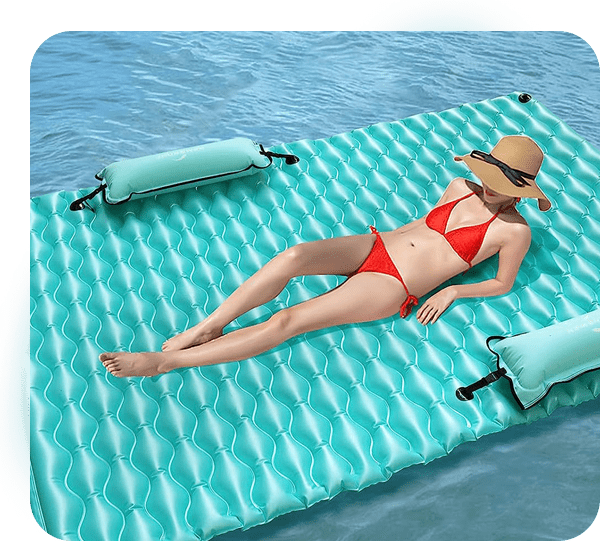 13. JHUNSWEN Lake Float.

Floating mat that adjusts.
Pros
Cons
Bottom Line
Price
This inflatable mat comes with a comfortable, ergonomic water wave design that allows you and your kid to relax to the fullest. It even has two detachable air pillows that can be combined to form a standalone hammock for your child.
The detachable pillows can be fixed anywhere on the mat to support your neck, unlike most other water mats that do not consider your neck.
It comes with a handy air pump that makes it easy to inflate the float within 3 minutes. It is also easy to deflate.
Adults can't stand or play on this float. It is not that durable for an adult to move on. You'd enjoy the water better when sitting or lying on it. Its weight support is limited. But children can stand on it comfortably.
The JHUNSWEN Lake Float is as comfortable as it gets. It's hard to find a floating mat that offers the same comfort and customisation thanks to the movable pillows and the hammock.
The JHUNSWEN Lake Float is reasonably priced.
5 Factors To Consider When Buying A Floating Water Mat.
They're all made from plastic and foam, but they're not created equal!
1. Size And Weight Capacity.
How many people do you plan to invite along? Depending on size, floating water mats support between 4 and 9 people. The best way to make the right decision is to ask yourself - are you buying one for your immediate family (parents and kids) or are you planning to entertain a number of families?
If you've answered "yes" to the former, then you'll be happiest with:
Budget inflatable water mats like Intex Mat, Stonful, Aqua Ultimate

SOWKT Dock or Rubber Dockie mat in smaller sizes
If you're planning to entertain large groups, docks and foam mats that measure about 18X6 are your best options. Their weight capacity ranges between 700 and 1500 lbs.
2. Surface Quality.
The best floating water mats have surfaces that are comfortable and durable without being slippery. This is more difficult to achieve than you may think.
(Durable surfaces tend to aggravate skin, and soft surfaces tend to be slippery).
All of the floating water mats we recommend pass this test - and often defy physics. The SOWKT Dock, for example, has a perfectly level, heavy-duty surface. Yet it has enough give for you to lay on it comfortably with bare skin.
3. Foam vs Inflatable?
Foam mats are generally easier to pack away (just roll and store), but take up more space. Inflatables are more challenging from a logistical perspective as you need to bring an air pump, but are usually more compact when deflated.
4. Anchors, Straps & Grommets.
Your mat or pad will float away faster than you expect - unless you tie it down. Does your mat of choice have a built-in shackle, stainless steel D-ring or reinforced grommet?
Most manufacturers include these in at least one corner, enabling you to secure your mat with a bungee tether leash.
For floating foam mats one is sufficient, but for large inflatable models (like the SOWKT Dock) you need at least two.
5. Price.
How much should you pay? The best floating water mats in this review cost between $300 and $600. Paying more means the mat will last multiple seasons, saving you money in the long term.
Most floating water mats in the sub $100 price range typically last for one season before developing leaks and cracks.
Do Floating Mats Fit Inside Family Cars & Trucks?
Smaller (6X9 and 6X12) mats, as well as inflatables will fit passenger cars without issues. Larger floating foam mats (6X15 and above) may require larger-sized vehicles or trucks to transport.
Do Floating Water Mats Get Slippery When Wet?
They can, but the best floating water mats in this review have been selected, in part, for their anti-slip properties. Nonetheless, take care while on the water - and always supervise your children.
What Is The Best Floating Mat For Infants And Babies?
Infants and babies do not belong on mats - unless within an arm's reach of a parent.
Are Dogs Allowed On Floating Mats?
Dog nails can puncture outer layer of inflatable mats, causing slow leaks. Foam pads are significantly more resistant to dog paws, but can be vulnerable to chewing. That said, we've heard anecdotes from customers who have allowed their dogs on their mats for multiple seasons without issues. The real answer is - it depends on your dog.