Summer is for HUGE waterside parties and basking in the sun, and there's no better companion this year than an inflatable floating island. They're perfect for lazing around and watching the world go by, and they're also great for splashing around with friends and family. They come in all kinds of flavours and have lots of cool features, such as backrests, cup holders, built-in temperature controls, and overhead shades. There's just enough time before summer to grab one before all the best inflatable floating islands go out of stock. So in this guide, I am reviewing the top 10 best floating islands you can buy in 2023.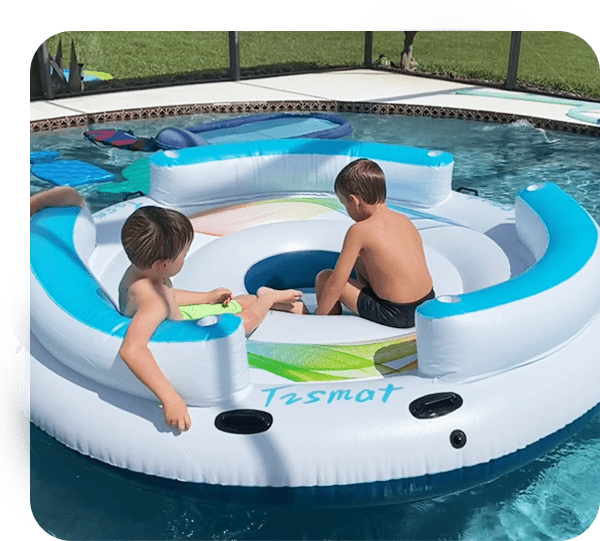 1. Tzsmat Inflatable Floating Island.

Best overall floating island.
Pros
Cons
Bottom Line
Price
This floating island seats up to six people (roughly 145 pounds each) and comes with six cup holders, so you can unwind and enjoy the pool or lake without spilling your drinks – even as you make your way on and off.
It boasts a rapid valve system – meaning it can be inflated and deflated five times faster than comparable products! It also has four separate air chambers, which are less liable to deflation, so this durable inflatable is perfect for use with boisterous children.
At its centre is a nifty space that allows water in, which is great for dipping your toes in, splashing or even storing your cooler.
The Tzsmat inflatable island is one of the best all-rounders, but it lacks luxurious bits like an overhead shade and a built-in cooler bag.
Another downside is that it can feel overcrowded when more than four people occupy it, compared to other floats like the Solstice, which has a wider platform. This one is best for smaller groups.
This inflatable floating island is big, and the best part is that it is made from thick vinyl, so it should last you many summers if stored correctly. It's just a simple all-rounder that does its job well.
If you want more luxury, you should check out other relaxing floating islands on this list, such as the Sport Dock (#4 on this list).
One of the most affordable island floats and entirely worth the price. Take a look!
2. Intex Funtastic Floating Island.

Best budget island float.
Pros
Cons
Bottom Line
Price
The Intex Funtastic Five Floating Party Island is awesome. It has five individual seats with an integrated backrest, providing additional support for long days lounging in the sun and sipping cocktails.
Unlike other floating islands, the dedicated seating arrangement allows for more personal space and optimal comfort.
An additional section extends out to serve as one of the most comfortable footrests among inflatable party islands – which is pretty useful for evening up your suntan!
It's an island designed for lounging, and while this serves its purpose well, it's less suited to children and adrenaline junkies more interested in jumping and bouncing around (the Splash 'N Chill is amazing for more adventurous gatherings).
Also, while this island float comes equipped with cupholders, customers complain they are too shallow and poorly angled, leading to drink spillages.
Though a bit functionally plain, the Funtastic Five Island is affordable and great for a floating lounge and conversation pit. Make sure to inspect it on purchase, handle it with care, and you're good to go!
Not just very affordable, the Funtastic Five is also the cheapest buy on the list. You might want to purchase sooner rather than later, as these are likely to sell out the fastest.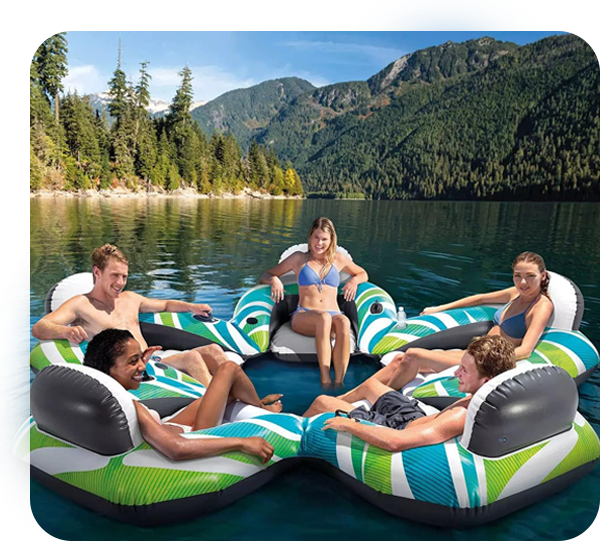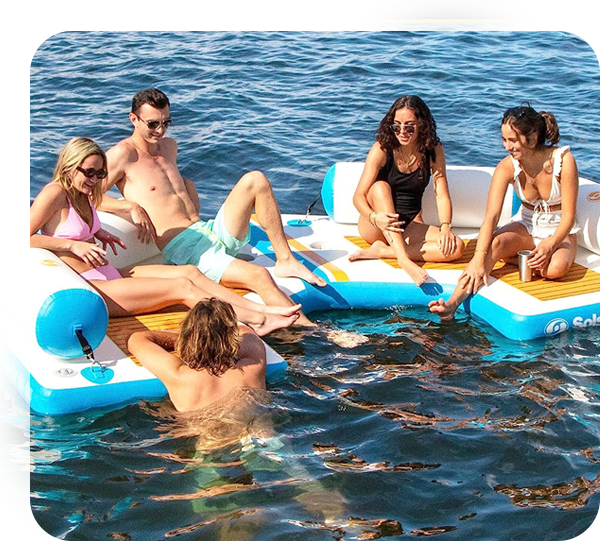 3. Solstice Floating Dock.

Best premium floating island.
Pros
Cons
Bottom Line
Price
With its cushioned trackpad seats and four integrated cupholders, the SOLSTICE is set up to provide hours of entertainment and leisure on the water.
The SOL-STITCH inflatable technology and the military-grade materials used in the construction of the SOLSTICE dock make it one of the best inflatable floating islands you can get. When inflated, it feels as solid as any other piece of rigid hardware.
It's easy to inflate and deflate, and it comes with a high-pressure HR valve for inflation and deflation, a high-pressure dual-action hand pump, a pressure gauge, a storage bag, and ten built-in stainless steel D-ring tie-downs.
The Solstice floating island is a lot of work to inflate, and the pump it comes with is not as effective as you might require, so it is advisable to get an additional pump to make up for its lack of pump power.
It is also more expensive than most floating islands.
The Solstice floating island is amazingly well-equipped and effective, and it should be for that price! It makes a great lounging party island, and it's definitely one of the best floating islands on the list.
The Solstice Original Floating Island is also the most expensive on the list.
4. Inflatable Sport Dock.

Great premium inflatable dock.
Pros
Cons
Bottom Line
Price
With the Yacht Dock inflatable floating island, your pool area can be expanded into a chic 10' x 6' swim platform. This inflatable floating island floats 6 inches above the water for superb stability and has a 1500-pound weight limit.
The sports boat inflatable island inflates in 8 minutes and deflates to a compact 40 inches by 16 inches by 14 inches for easy stowage.
The Yacht Dock boasts the marketplace's first and only heat-welded drop stitch structure, and it is topped with luxurious teak wood EVA foam about a quarter of an inch thick.
This large floating island boasts a lot of space and is more expensive than most other floating islands, but it has none of the luxurious features that make summer even more of a blast.
It's great if you only need more relaxation space, but it offers nothing beyond an extended inflatable party platform.
You should get this if what you need is lounge space. It is a perfect piece of gear for any kind of waterside activity you may want to try out this summer.
Being the second most expensive float on the list, it is still many times more expensive than the inflatable floating islands listed below, and it is overpriced when compared to the actual value it offers.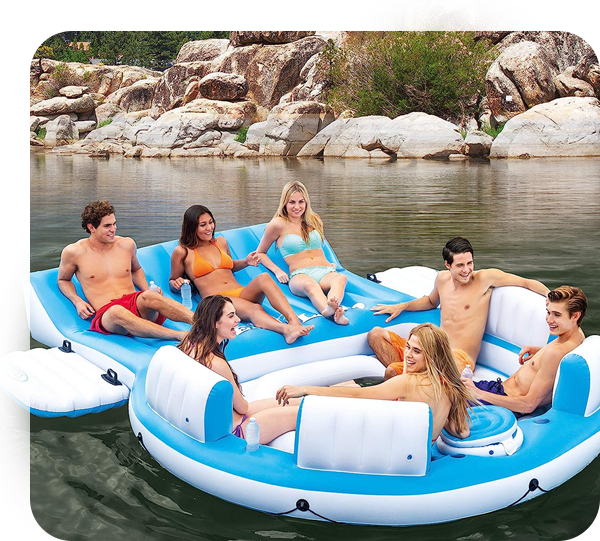 5. Intex Splash'N Chill Inflatable Island.

Great party island.
Pros
Cons
Bottom Line
Price
This inflatable party island has a built-in cooler that can hold enough ice to share with a party of friends. It also has six cup holders, a swim-up ramp to get onboard, and a hole in the "doughnut" for easy boarding.
It can comfortably seat six people, and it has just about everything you'd want from a party island including a grab line, inflatable pillows, sturdy grips, and a hole to drop your feet into (and slide in and out of the water).
Many customers have mentioned that the Splash 'N Chill is prone to micro leaks, so despite its size, it must be handled carefully. Also, because the island is mostly one major inflation chamber except for the smaller individual parts like the inflatable pillows, the whole island is affected once there is a leak in the main inflation chamber.
It may slowly deflate over a few hours. It also takes a while to inflate - unless you're using multiple pumps.
The Splash 'N Chill qualifies as summer luxury with its tricked-out features.
While it can't exactly take a whole village, all you need to lounge on a summer day at the lake can be fitted on the island with a few friends. If relaxation is your goal, you might want to get this.
Not bad for what this island has to offer. It's quite affordable and definitely a feasible purchase for summer.
6. Intex Lounger Raft.

Great for massive families.
Pros
Cons
Bottom Line
Price
It holds up to five persons and features three lounging backrests to ensure passengers experience the utmost comfort while floating. With its four handy cup holders and built-in cooler, this float makes it easy to keep beverages within reach while keeping them cool.
The Blue Tropic is designed with breathable mesh netting on the bottom to keep you cool and four strong handles to easily climb onto the island. The inflatable raft can be ready for use on the water or easily deflated and packed away in a matter of minutes.
Some customers complained that the inflatable floating island arrived with leaks. While it has a warranty, you might want to thoroughly inspect the return policy before the purchase in case you need to have it returned.
The "cooler" is unsubstantial - it's basically a hole with a drain. Some customers upgrade it by putting an actual cooler into the space.
This inflatable floating island has a lot of perks, but the possibility of getting a leaky one requires you to carefully consider it before making a purchase decision.
The Intex Raft is reasonably priced.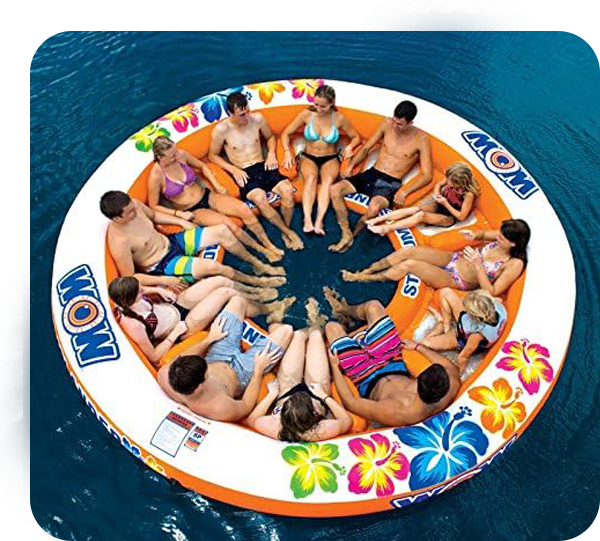 7. Wow Stadium Party Island.

Floating island with best seating capacity.
Pros
Cons
Bottom Line
Price
WOW's Stadium Islander inflatable island is perfect for a reunion or a large family outing. It's a 12-foot diameter large inflatable island and can comfortably seat 12 persons in cosy mesh seats!
With a good pump, you can set it up in less than 10 minutes, and then you and your party can slip into and out of the island from the large open "doughnut hole" in the middle.
The island has an anchor bag and a large reinforced grommet to secure it anywhere.
The island is more suitable for stationary fun than for floating down a river or lake. While it is fairly durable, it isn't built for turbulent use. So you would want to secure it in one spot to avoid possible capsizing,
Also, while it can take 12 people, the Stadium Islander would work better with a mix of adults and children. 12 full-sized adults might be a bit of a stretch.
As long as you have no further expectations than to find a sturdy and durable floating island that you can reuse for a couple more summers, this is a great buy!
The Stadium Islander's best feature is its seating capacity. It has no shade or cool features like cup holders and in-built coolers.
It's definitely a find if you plan to host a large party.
It's not exactly cheap, but it offers good value for your money.
8. Aquayam Boat Float.

Cheapest "boat" you can buy!
Pros
Cons
Bottom Line
Price
This 14-foot-long inflatable lake boat has enough room for six people. It is fitted with two extendable oars, an air pump that can run on household or vehicle power, a convenient carrying bag, and a repair kit.
The floating island can be used stationarily or steered with oars to propel it forward in a lake. It's quite sturdy, allowing you to relax and enjoy the outdoors everywhere.
There is a built-in cooler bag and cup holders for 8 cans or bottles on the armrests.
This boat is built to last through many summers and years of family fun thanks to it being made with heavy-gauge PVC.
The Aquayam boat float is great, but it does take a while to inflate. You might need some help to set it up.
If you are not into manual labour, I would advise getting one or two really good pumps and setting up the island to stay anchored to a spot instead of paddling down the lake; rowing takes a bit of work, and while that might be fun, it can also be tiresome.
This is a really great investment for yearly summertime fun. The float is truly durable, it has great features, and you know you'll want to use it again next year.
You can go right ahead and include it in your summer plans. Just remember to pick up a quality pump while you're at it.
While this option is considerably pricey, it's not a bad deal for the quality it offers. The float boat is a purchase worth considering.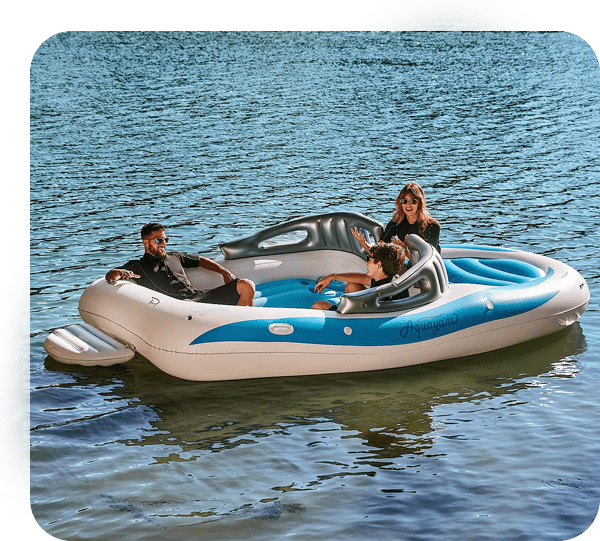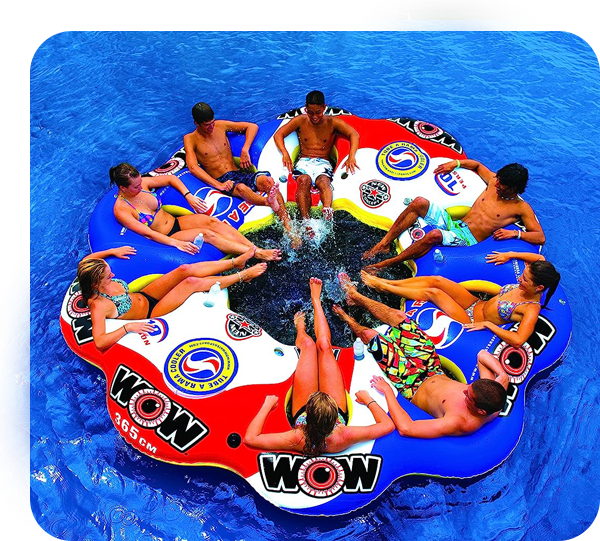 9. WOW Tube-A-Rama Floating Island.

High-capacity island float.
Pros
Cons
Bottom Line
Price
Constructed entirely of PVC, the WOW Tube-A-Rama floating island has 8 floating tubes lining its circumference. While it can take as many people as the WOW Stadium Islander, it's actually quite decent.
It can accommodate at least 8 people and it has 2 huge built-in coolers, 8 cup holders, 4 meshed seats, and 4 bare seats. There's also extra-seating capacity provided by the central mesh deck in case you'd like to seat a couple more people.
The floating island comes with both an anchor bag and tying rope to secure it, and the cooler bag is a nice touch. As a plus, you can also store dry items there.
One of its major perks is the fact that it only takes approximately 15 minutes to inflate it if you're setting up alone with a really good pump.
Many customers complained that the Tube-A-Rama is not durable enough for its price. The issues encountered include rips, broken seams, and torn eyelets, indicating that the island is unfit for vigorous use. It is also quite heavy to lug around all summer.
To get the best use out of it, I recommend keeping it stationary and anchoring it sturdily so it cannot be disturbed.
Durability is not exactly the Tube-A-Rama island's strong point. It's fun to use and may last you all summer, but it might be too much to ask to reuse next year. And summer is the time for carefree fun, so who really wants to walk (float) on eggshells?
This island is a little pricey. It's definitely a purchase you might want to weigh against other options first.
10. Moyaca Tank Pool Float.

Most entertaining floating island.
Pros
Cons
Bottom Line
Price
A water-firing tank float? Yep. I really put all the coolest options in this lineup. What is summer without an all-out water fight, including an inflatable tank to hide behind if needed? With this massive inflatable tank, you will rule the pool this summer. Get your family and friends together for the ultimate water fight.
This inflatable floating island is suitable for all water settings, including swimming pools, rivers, lakes, and beaches. It also has a hose that connects to the cannon and draws water from the pool so you can drench your foes with devastating force.
Water fights are no match for this inflatable island because it is constructed from tough vinyl. It inflates quickly using a hand pump, and when inflated, its dimensions are roughly 61 inches in length, 44 inches in width, and 24 inches in height. The tank holds up to 300 kg in weight.
As cool as this inflatable island is, it can only be used comfortably by one person at a time, and though the whole party can take turns firing the water cannon, it would have been really cool to divide into teams and ambush each other.
The inflatable island is quite big, measuring over 5 feet long, so it is a little disappointing to know it can't fit more people.
It's a water cannon floating island that actually works- what's not to like? Plus, it is durable and can be used by both adults and children. It's absolutely worth considering.
As expected, the price of this party island is a bit on the high-end. This is understandable considering that this float ACTUALLY shoots water!
It's left to you to decide if the price is worth the purchase.