Getting in the pool with your baby is a fantastic way to bond with them. This bonding experience becomes more fun and memorable when using a baby pool float. The soft, comfortable seats improve your baby's sitting posture while the bouncy floating feeling helps them savour all sensations – and you feel joy watching them float. In this guide, I ranked and reviewed the 11 best baby pool floats for 2023 to help you find the right one for your budget and unique needs. 1. Laycol Baby Float.

Best baby pool float for maximum fun.
Pros
Cons
Bottom Line
Price
The Laycol baby pool float prioritises your kid's fun above all else. Locked with a harness, they can move their upper body freely while letting their legs dangle in the water. They can kick away, feeling like the next Olympic world champion or lay back and nap (probably like their father).
It's ideal for babies between 5 months / 16 lbs and 18 months / 30 lbs. If your kid is heavier, the float may be at the limit of what it can handle.
A (somewhat flimsy) pump is included. If you forget the pump, you can easily inflate the float's four separate air chambers with your mouth.
The included adjustable sun canopy is a must, as glare and direct sunlight get very uncomfortable, very quickly (a small minority of parents reported that it was missing, so be sure to double check as soon as the package arrives).
Parents with bigger babies have reported that the Laycol baby float can be a tad difficult to get into. There have been instances where two adults were needed to help the baby in, stressing them in the process.
You might also find it challenging to work the straps, as the buckles can be quite tight when new. The front strap specifically (one that goes over the baby's head) has a proclivity for being stubborn. Be gentle with these as they're not replaceable; if one snaps, you'll have to buy a new float.
Like many baby pool float designs, the Laycol features four inflation points (main, two side cushions and crotch). A single inflation point would be a lot less fussy.
My final gripe is the absence of a pull rope (or at least a lashing eye for connecting one). Not a big problem, but it towing my baby around would be quite fun.
The Laycol baby float gives your baby independence and makes pool time more fun for everyone. They'll enjoy floating a lot more than being held in the water.
It's not for kids older than three years of age, so buy this while your child is between 4 and 6 months, and you'll get at least two summer seasons out of it.
Remember that this baby float isn't designed to be a safety device. It can (and probably will) tip over. Keep your floating baby within reach and never unsupervised.
It's worth every penny. The price of about $24 feels like a steal considering the many fun use cases and the included canopy.
It's a lot cheaper than many other brands, and even though the material is not luxurious, it's stronger than I expected. I think that the price/quality ratio is just right.
2. Free Swimming Baby Pool Float.

The cutest baby pool float ever.
Pros
Cons
Bottom Line
Price
To be perfectly honest, this float is very similar to the Laycol baby float above. The biggest difference is the adorable Bumblebee design!
The second difference is an included lanyard that can be attached to the front of the float (hooray!) and used to pull your baby around while the super-comfortable seat keeps them comfortable.
This model recently received an upgrade to make it wider and sturdier in the water. Nonetheless, remember always to keep your baby within arm's reach, as floats can tip over with your baby still clipped in.
As with the Laycol pool float, construction materials are good, and inflation stems look very durable.
Like the Laycol pool float, the Free Swimming baby float lets your kid swim in vertical OR forward positions.
While this is a great feature for preventing boredom, you will find that sometimes balls and other toys your baby is supposed to play with get trapped underneath them while they're in the forward position. You might have to reach in there periodically with your hands to free the toys and keep your baby comfortable.
The hand pump is handy but not ideal. Expect to spend 5 minutes pumping! The instruction booklet is somewhat confusing, too.
If you hope your baby will become the next Michael Phelps or Emma McKeon, you might want to give them early water exposure. And the Free Swimming Baby Float is ideal for giving it to them.
With two different buckle methods supporting a breaststroke and a backstroke, your baby can swim on their back and belly to kick, splash and have fun in the water.
It's about 10% more expensive than the Laycol baby float, but this difference is not consequential.
Get it if you love the funky design.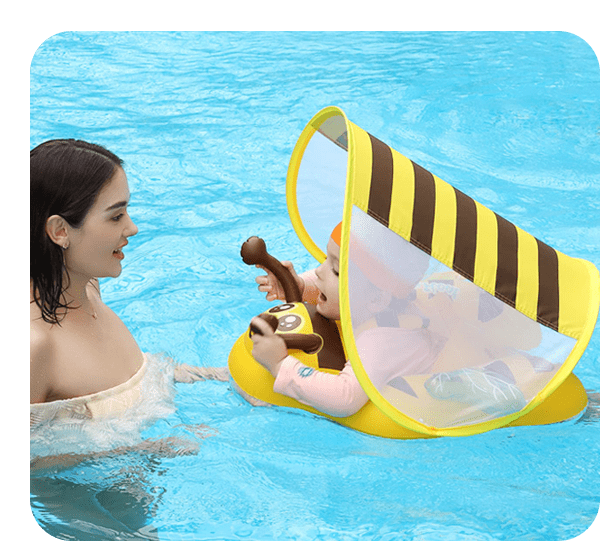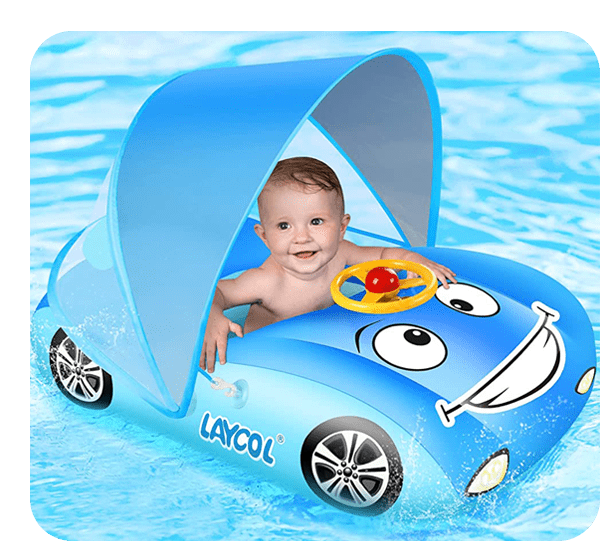 3. Laycol Car-Shaped Pool Float.

Best float for car-obsessed babies.
Pros
Cons
Bottom Line
Price
The car-shaped baby pool float redefines pool fun for babies, especially babies fascinated by cars.
Tuck their legs in the little leg holes provided, so they can sit in their car comfortably before placing their hands on the wheel. Now it's time to zoom off! The "vroom" sound from the horn completed the experience for my nephew. He couldn't get enough of it!
While the design emphasises fun, it doesn't trade off quality. All parts of the pool float are made of durable, leak-proof, yet soft-touch PVC, so you don't have to worry about rashes on the skin.
The design is different to the two pool floats above. Rather than strapping your baby in, you have them sit upright inside the float. This makes it less suitable for tiny infants who can't sit independently (if your baby is under six months, choose one of the alternatives).
The removable sun canopy is meant to protect the baby from sunlight at all times, but it tends to fall backwards.
This is a similar story with baby floats, regardless of their design. I recommend that you invest in a wide-brimmed hat for your kid for ultimate sun protection.
Other than that, I have no complaints - apart from my son loving it so much that he often refuses to leave the pool. He loves pretending to drive the pool float by interacting with the horn and the steering wheel.
If "killing two birds with one stone" was a product, it'd be the Laycol Car-Shaped Baby Pool Float. It is both a toy and a pool float!
I got to be the "cool aunty" at the family pool party when I got this for my nephew. With two horns at our disposal - one for me and one for the toddler - we were both having a blast.
My sister-in-law's face lit up when she saw how her 9-month-old son was into this product. It is a brilliant gift for kids aged 6-36 months.
This one is the most expensive compared to the other two best baby floats above.
But because you're effectively getting a toy and a float, it represents great value for money. It's one of my favorite baby floats.
4. Baby Float With Shark Canopy.

Best for memorable photos.
Pros
Cons
Bottom Line
Price
This pool float is very unique. It lets you bond with your baby in the water by riffing on the shark theme and singing fun songs like the famous "shark doo, doo".
Your baby will be entertained by sitting inside the cute baby shark while providing you with plenty of Instagram-worthy photo opportunities.
I get so many "it's adorable!" compliments when I take it out in our local pool.
It has a bag for storing it after use and a canopy for sun protection. Inflating it is a piece of cake, as a pump isn't necessary.
The shark-shaped design is adorable and liked by most kids. However, I've also heard stories of some kids being rattled by the shark's teeth.
It's also one of the least sturdy floats on this list, so extra close adult supervision is a must. Remember that floats like these have no safety features and do not ensure your baby's safety.
I also think this pool float would have been better if, like the Free Swimming float above, it included a lanyard that could be attached to the front, making it easy for parents to pull their baby around the swimming pool.
The quoted 50 lbs weight limit of this float is a bit unrealistic. I think it's best suited for babies between 20 and 40 lbs.
This shark-shaped baby pool float by Flyboo is one of the cutest baby floats on the market and is one of my favourites. It's cheap, adorable, and includes a sun canopy and toys.
Compared to the Laycol Car-Shaped Float, this one is very cheap. It's almost half the price!
It sets out to give babies fun in the pool on a budget, accomplishing the goal very well.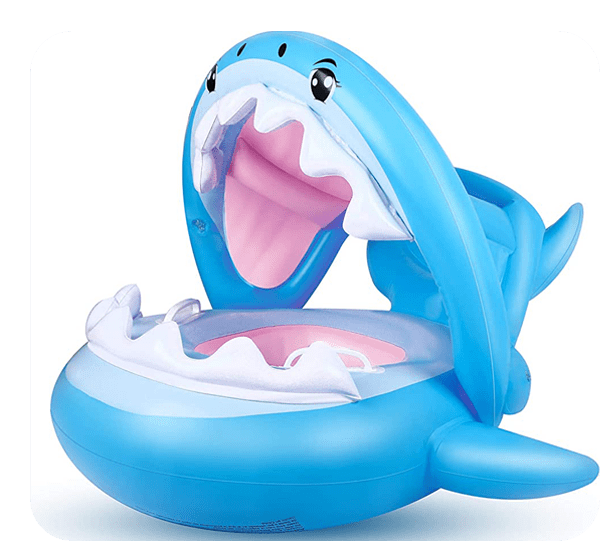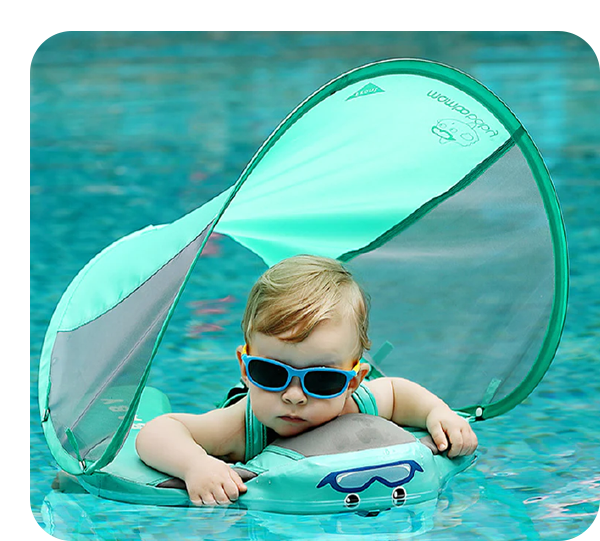 5. Mambobaby Baby Pool Float.

Best premium pool float.
Pros
Cons
Bottom Line
Price
Unlike all other infant pool floats on this list, the Mambobaby will never leak, doesn't need a pump - and never needs to be inflated.
Made from a solid foam core construction, it's always ready for action. You won't have to waste time inflating and deflating with each pool session, plus you never have to worry about it accidentally deflating.
Because it's more expensive than the others, it offers much more premium construction.
Its material feels much nicer and softer than that of other floats in this review, while the removable tail offers extra protection against tipping.
Because the Mambobaby doesn't deflate, it will take up more room in your car than other floats on this list. Remember to set aside dedicated space in the car for it, as you won't be able to squash it into a tiny space.
The detachable canopy can be tricky to fold the first time, but you'll be fine after you do it once.
It's more expensive than the others (and you do get what you pay for), but this may put it out of reach for families on a strict budget.
The fact that you don't have to blow it up is a game-changer. You don't have to fuss with air pumps or worry about punctures.
The Mambobaby is much more stable on the water than the other baby floats, but don't consider it flip-proof.
No baby float is ever flip-proof! If your baby leans too far to one side, it will tip over. Always stay within arm's reach of your baby.
Yes, the Mambobaby is 2-3X more expensive than all other baby floats I reviewed.
If you're looking for a cheap, disposable pool floaty, this is not for you. This is an expensive, well-built infant floatation device that will last quite a few seasons.
6. SwimWays Green Octopus.

Best floating activity center.
Pros
Cons
Bottom Line
Price
The Green Octopus has the best canopy in this review - one that actually works 100% of the time! Large, sturdy and made from see-through mesh, it offers UPF50 sun protection without restricting your kid's visibility.
The float is very comfortable, with mesh base acting like a mini hammock for your baby and holding them in an ideal swimming posture.
The blow-up toys are ideal for 4-11-month-old infants; older kids will quickly outgrow them from a developmental point of view.
The toys are likely to obscure vision of the smallest infants; thankfully, they're easily removable.
While inflating the activity center is a piece of cake (a pump isn't required), deflating can be tricky.
I found that pinching the valve while sucking out the air while applying pressure the float works best. Leaving the float inflated is another workaround - particularly if you use it frequently.
The sides are quite low to the water surface, which means they can submerge and take on water. This is not ideal - particularly for squirmy babies that never sit still. Both options from Mambobaby are better in this regard.
This is an excellent product with outstanding sun protection, a carrying case for portability, and easy to set up.
If SwimWay rethinks the design for the air valves, they will have one of the best floaties on the market.
This is one of my favorite baby pool floats on the market.
Babies love being inside the Green Octopus A tonne of value for money, ths activity center offers your baby a comfortable floatation device and a selection of fun toys.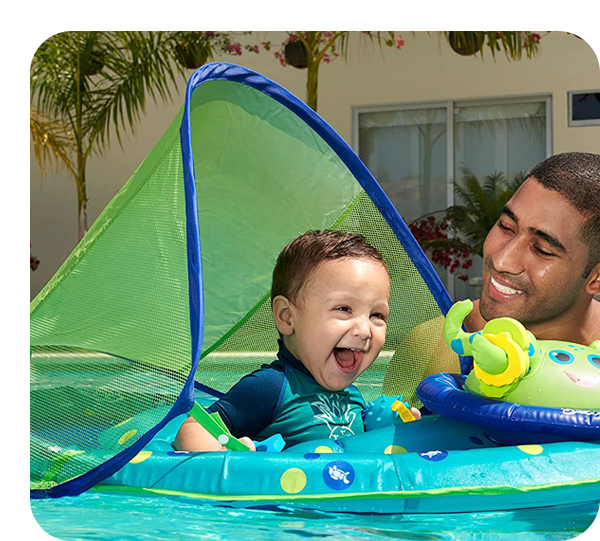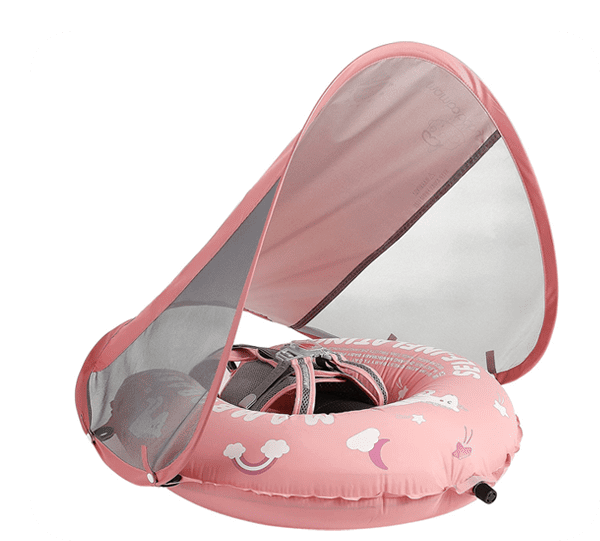 7. Mambobaby Self-Inflatable Pool Float.

Best self-inflatable infant float.
Pros
Cons
Bottom Line
Price
Infants love love love this float, as do their parents.
Inflation is easier and quicker with this baby pool float than with all the others - because it inflates all by itself! No need to bring a hand pump or blow into it with your mouth. Just open the valve and leave it - it will be fully inflated within 3 minutes. If you're like me and dislike unnecessary fuss, this is a godsend.
I also love the fact that the material is soft, so it doesn't irritate baby skin. Meanwhile the straps are wide, comfortable and snug, making it extremely easy to take the baby in and out.
While this float is well made, the sunshade is doesn't appear to be of great quality. At this price point I was hoping for something that feels less flimsy.
Some parents have reported that the shade fell apart after 2-3 months of constant use, and needed to be replaced.
Chest straps are very sturdy and comfortable, but need to be longer. If you have a baby that's tall for their age and weighs more than 30lbs you may not be able to strap them in properly.
Be careful - there are many knock-offs of the Mambobaby float. Buy directly through my links to ensure that you get the genuine item.
This float is high quality, adorable and highly practical. It's not a cheap throwaway item that you'll need to replace every year; rather it's designed to last a few seasons - and maybe handed down to your next kid.
At $49, this baby pool float is at the lower premium end of the market. It's expensive enough to ensure premium construction while being affordable enough for most families.
8. SwimWays Spring Baby Float.

Best compact baby float.
Pros
Cons
Bottom Line
Price
I loved the construction of this little floatation device. The seat is fabric - not plastic - so it feels nice against the baby's skin.
For something that costs about $25, it's not flimsy at all. Yes, the sunshade is a bit cheap, but that seems to be consistent across all baby floats - regardless of price.
Your baby's legs remain free, which means they'll be able to kick underneath the float, learning "baby breaststroke".
Finally, there's no need for a pump! This flat can be inflated with your mouth alone.
Design of the inflation valve could be better. The nozzle doesn't come out far enough, making it difficult to grab and pinch. This is where the design of self-inflating floaties, like the Mambobaby above, is superior.
Oh, forget about fully deflating the Spring Float in any reasonable amount of time. Some air gets trapped, and you'll spend at least 20 minutes getting it all out.
Although SwimWays indicates that the float is for infants and babies, I've seen babies from 6 months and 12 lbs to 4 years and 24lbs having a lovely time in this.
If you plan to take this float on a plane with you, set aside about 10" by 3" of space in your luggage for it.
Compared to the LAYCOL Car-Shaped Float, this float is very cheap - it's almost half the price!
It sets out to give babies fun in the pool on a budget, and accomplishes the goal very well.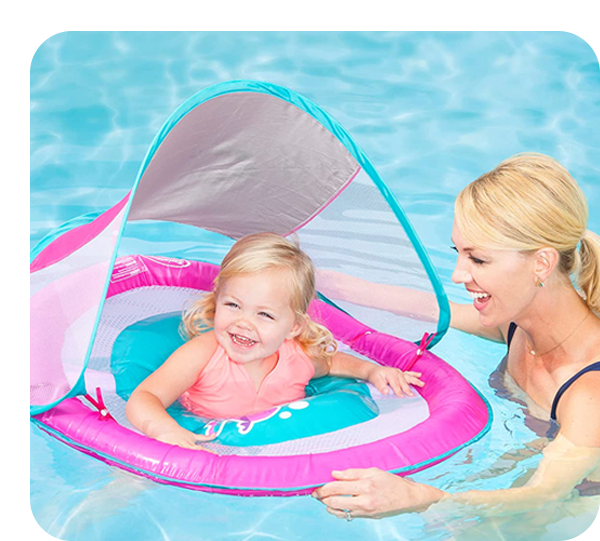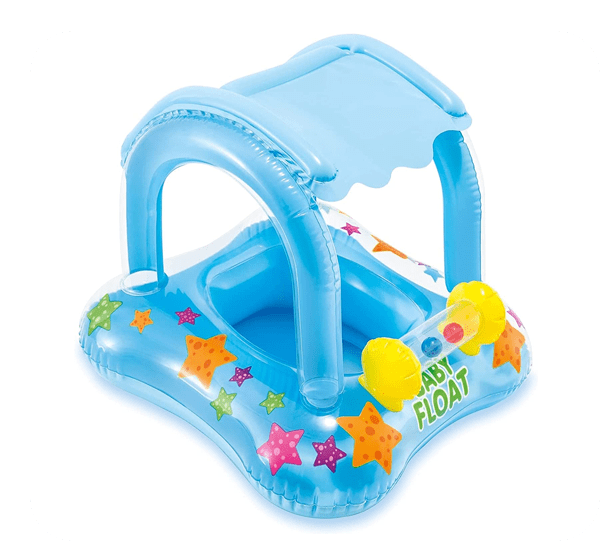 9. Intex Kiddie Float.

Most Instagram-worthy infant float.
Pros
Cons
Bottom Line
Price
For a baby float that costs so little, the Intex kiddies float's versatility is surprising. Yes, it is meant for water use, however, I've also encountered babies getting so used to it that they also get inside it on the ground.
Of course, this is when the parents and caregivers do not deflate it after using it in the pool. And believe me, most parents and caregivers do this. It's probably out of procrastination or being occupied, but the good thing is that the air doesn't leak no matter how long you leave it inflated.
Isn't that something? This first-time mother told me how she left it inflated for about a month, and her baby lounges in it on the grass without leaking the air. One month!
The toys are in the way of the baby's face. I think the abundant space in this float can be put to better use rather than putting the toys in the baby's face. Some put them in their mouth, while others can't even see past these toys to get a view of the water.
The leg openings are cut sharply and can cause chafing after spending some time in them. This chafing is unlikely to cause any kind of rash or other skin issues. However, the discomfort might make the baby a bit restless.
The Intex Kiddie float might have parents and caregivers who dug deep into their pockets for a baby pool float questioning their choices because this float is not delivering less in terms of functionality.
I mean, what do you need in a baby pool float?
A sitting chamber for the baby, playthings, and an ability for the float to stay afloat. The Intex Kiddie float has all that and probably some more!
It's a super inexpensive way to keep your baby entertained on a vacation.
The Intex Kiddie floatie is one of the cheapest baby pool floats out there, yet, it is also one of the best options for children that can sit up in a bouncer. It represents a value-packed bargain.
10. Finduwill Infant Float.

The cheapest baby float you can buy.
Pros
Cons
Bottom Line
Price
As you can see in the picture, the float is built to be bulked up around the edges such that water doesn't splash on the baby's face. This is good for the safety of the baby, especially at times when the parent or caregiver gets a little distracted.
This feature and the vertical inflation at the back, which serves as a form of lumbar support, also give the baby great support in the water. It helps babies who're just learning to sit upright with their posture.
For entertainment, there's a toy steering wheel that you bet most kids will be unable to get their hands off. The whole set-up kind of sells the impression that they're driving a car on water. You can push them around to make them feel like they're controlling it.
While steering the wheel, they can also blow the horn as well. An enjoyable additional feature of the product for the baby was the presence of the toy mother duck and the three tiny ducklings.
The float itself can't seem to stay inflated for long periods while not in use. Compared to the Intex kiddies floatie, it deflates very quickly.
So you might want to deflate it after use and inflate it only when you need to go in the pool with your baby.
The Inflatable Baby Pool Float by FindUWill is an excellent float for a toddler. Although you might need a little extra supervision when in the pool with your baby and some additional maintenance to keep it in use for a long time, it is a fair deal for its price.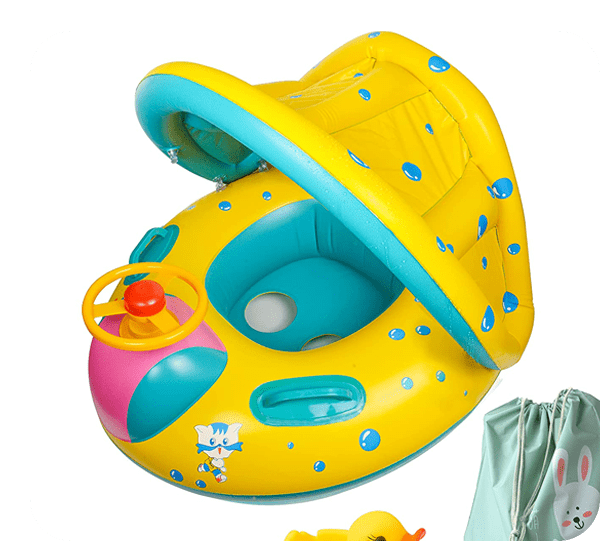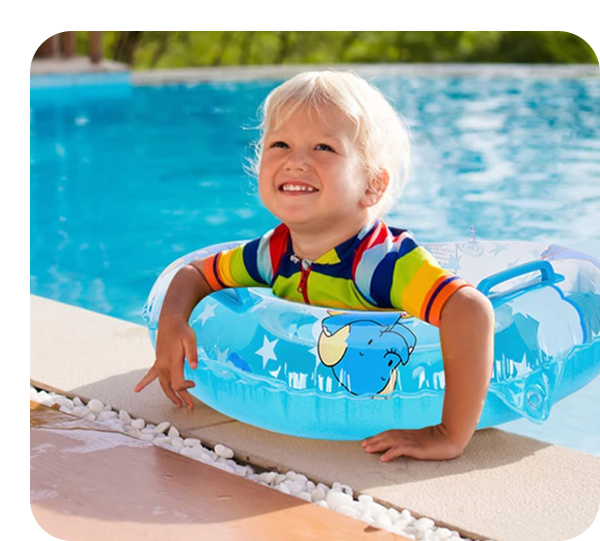 11. Sealive Baby Float.

Best infant float for bathtubs.
Pros
Cons
Bottom Line
Price
The baby float is also very roomy and gives babies plenty of space to play and have fun. This room, together with a Velcro through which the sun shade is attached to the base, makes it very easy for you to get your baby into the floaties.
Another thing I discovered during my investigation is how light this raft is. I could almost lift it with just one finger. So, you most likely will find it easy to move it around during your vacation or around the pool area.
The whole point of a baby pool float is to expose the baby to water. However, apart from the baby's legs, all other parts of the baby's body are kept out of the water. Its almost as if you're placing a baby in a container and then on the water.
Also, the inner lining sometimes bursts while you're trying to inflate it. Even worse, new ones come in with one puncture or the other. And, to complicate things, it doesn't even come with patches to mend the openings.
In terms of appearance, it is quite appealing. The blue colour rarely misses in the pool!
When compared with the other two best baby floats above, this one is the most expensive.
But because you're effectively buying a toy and a float, it represents great value for money.
What To Look For When Buying A Baby Float.
Many baby float manufacturers and reviewers mislead you by over-emphasising the importance of useless float features like child safety valves. Read our guide to focus on features that matter.
1. Canopy.
Is a removable canopy included? It's a must-have item, as babies' skin is extremely delicate and cannot be overexposed to direct sunlight.
2. Price / Quality Ratio.
Price-wise, you have two options. The first is a cheaper, inflatable PVC baby float that costs between $25 and $40 (e.g., Laycol Pool Float or Free Swimming Baby Float).
Your second option is a premium float that costs between $60 and $90 (e.g., both Mambobaby examples in this review). The latter is likely to feature more comfortable and long-lasting materials.
While you tend to get what you pay for, I recommend cheaper floats because longevity isn't usually a priority when buying a pool float. If you take reasonable care of it, a good baby float will likely outgrow the float long before you wear it out.
3. Fit And Size.
Most baby pool floats are designed for 6-36 month-old kids.
If the manufacturer offers several size options, I recommend that you err on the larger side, as the straps typically have a lot of slack, and your baby will grow very quickly.
Are Baby Floats US Coast Guard Approved?
This is a misleading and irrelevant question. Regardless of approval, a baby swim float isn't a life-saving device. Never rely on it to keep your baby 100% safe, and always stay within arm's reach.
At What Age Can Babies Use Pool Floats?
As a rough rule of thumb, 4-month-old infants can start using pool floats. If your baby is on the lighter side, you may need to wait until they're 6-8 months old.
Do Pool Floats Fit Premature Babies?
Yes, but it depends on the model. If your child was born early with low weight, we recommend the Mambobaby floats as they have straps with the largest range of adjustments.
Are Dual Air Chambers Important?
No. While they provide some redundancy against a leak, they're not a safety feature because you must never consider the float a safety device in the first place. If you're feeling safer knowing that dual air chambers are keeping your kid safe, you're probably too far away from your kid.
Do You Recommend Baby Neck Floats?
No. As the name suggests, a baby neck float fits around your baby's neck, leaving their legs and arms free for exploration. The jury is still out on whether baby neck floats pose long-term risks for children's neck and spine development.
Will My Baby Float Fit Into A Suitcase?
Yes, an inflatable swim float will easily fit into a 40-litre carry-on. Non-inflatable models (e.g., Mambobaby) are not practical for travel.
Is The Laycol Baby Float A Good Fit For A 1-year-old Who Weighs 25lb?
Yes. The Laycol float is excellent for babies who are between 5 months and 16lbs to 18 months and 30 lbs.
Does A Canopy Offer Sufficient Sun Protection? Should I Use A Sunhat Too?
Most floats come with adjustable sun shades, but they can be flimsy. It's best to have a sun hat as a backup.